Regional Report: The Middle East's global showpieces
By Neill Barston09 October 2014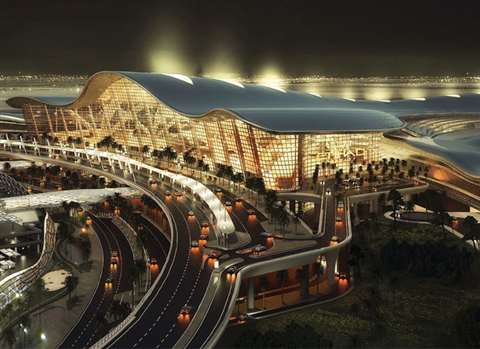 With some of the most breathtaking projects in the world under development, a growing sense of confidence has returned to the Middle East construction market.
While areas of the region may be firmly under the global microscope over instability in Syria and Iraq, the Gulf Cooperation Council (GCC) states of Qatar, UAE, Saudi Arabia, Bahrain, Oman and Kuwait have embarked on a raft of large-scale public works and major private ventures.
According to financial group Citi Research, more than US$ 2.2 trillion in infrastructure spending is underway in the region.
From the world's tallest building, the Kingdom Tower, taking shape in Jeddah, Saudi Arabia, to a series of prestigious stadiums for the 2022 FIFA World Cup in Qatar, through to the largest shopping centre ever created in Dubai - the Mall of the World - it is hard to ignore the scale of ambition being displayed.
Underpinning such schemes are major rail network improvement plans worth a total of US$ 200 billion as part of the region's Gulf Railway project.
Its scheduled 2,117 km of rail lines will connect the GCC states and is due to be complete by 2018.
Key infrastructure enhancements such as this were hailed by Saudi Arabian minister for the economy and planning, Muhammad Al-Jasser, at an International Monetary Fund forum in June as part of the GCC's "huge strides" being made to boost economic and social development.
However, he added that greater economic diversification through encouraging greater levels of private investment, was required to deliver sustained levels of growth.
With strong state backing, Saudi Arabia remains at the forefront of rail infrastructure development in the region. It has spent significantly on public works projects during the past five years.
The country is proposing to spend a further US$ 97 billion on rail upgrades by 2040, according to the Saudi Arabia Railway Master Plan.
This will involve a phased introduction of around 10,000 km of railway lines over the next 30 years.
There are also a number of key urban metro projects in the pipeline in Abu Dhabi and Dubai, UAE, as well as Doha in Qatar and Jeddah in Saudi Arabia.
This in turn has led to an improving picture for many contractors and other suppliers to the construction industry, with manufacturers such as Doosan Infracore reporting an increase in sales – particularly for staple products like excavators and loaders across the weight category spectrum.
Gaby Rhayem, Doosan's regional director for the Middle East and North Africa, said, "We are seeing growth in our business in the Middle East, particularly within the one to two tonne category of excavators that are used for landscaping.
"Saudi Arabia is the largest market at the moment with the railways it is building and a lot of other infrastructure works."
This has been supported by a trend reported by Procorre consultants, which said there had been a surge in demand for construction professionals in the Gulf.
The company's relationship manager Lisa Mangan believed there was now far greater optimism "as the regional recovery and high oil prices have combined to trigger another boom in building, particularly as the region prepares for major events like the World Cup."
Adrian Grigorita, Caterpillar's Middle East sales manager, confirmed the regional market had been promising this year.
While he acknowledge that civil unrest in Syria had been a factor within the region's markets, he believed the performance of Saudi Arabia, the UAE and Qatar had meant its overall position was strong.
He said, "The Middle East construction sector in general is showing growth- especially with excavators and other equipment including wheeled loaders and earth moving machines.
"The higher sales of excavators have been down to them being versatile machines that are capable of operating in many environments.
"Caterpillar has been involved in a lot of work developing specific excavating products for the region that have done well within the market. Our machines have been designed so that they are easily repaired and rebuilt."
Major projects
One of the most eye-catching multi-billion dollar developments within the region is Dubai's planned Mall of the World – already dubbed as a "city within a city."
This monumental 48 million ft2 (4.46 million m2) shopping centre scheme from investment group Dubai Holding has already captured global headlines,
Its 7 km of thoroughfares including its own versions of Broadway and Oxford Street, as well as 100 luxury hotels offering a total of 20,000 rooms.
In addition, there are also plans to include a huge indoor theme park, covered by a glass dome designed to open during winter months.
Also contained within the scheme are proposals for the city's largest events centre, capable of accommodating 15,000 people.
Scheduled to open in 2020, work is forecast to begin on the site early next year and it is envisaged this visually striking scheme will attract 180 million tourists a year.
The Mall of the World is expected to serve as the centerpiece for Dubai's World Expo event being staged in 2020, showcasing its grand architectural vision.
Other major plans within the city include proposals to replace its airport, which is among the busiest in the world.
The new US$ 32 billion project known as Al Maktoum International is part of the Dubai World Central master plan.
This centres on the development of eight specific zones located within Jebel Ali, southern Dubai that includes areas dedicated to aviation, logistics and commercial offices. It will take up to eight years to construct.
Events within Dubai's leisure sector continue to progress apace with plans for new theme parks including Legoland in Dubai – to be constructed by the Besix Group. Proposals have also emerged for two other major facilities including a Hollywood movie themed park to be built by Laing O'Rourke.
Dubai's near neighbour, Abu Dhabi has also put significant infrastructure projects on the agenda.
The largest scheme currently underway is the new Midfield Terminal Complex at Abu Dhabi International Airport, which is due for completion in 2017.
Costing US$ 2.9 billion, it is being developed in order to enhance the emirate's credentials as a tourist destination and meet the demands of around 20 million passengers a year.
The initial phases of the project started in 2006, with a
4,000 m long runway designed to handle the Airbus A-380 aircraft.
But with Saudi Arabia driving a large share of the region's economic development, it is perhaps unsurprising the Middle East's grandest scheme, the Kingdom Tower in Jeddah, falls within its territory.
Building work on the US$ 1.2 billion project which at 1 km high will become the world's tallest tower, began this April. Prior to that Bauer Foundation Contractors completed foundation work on the project, which is due for completion in 2018.
Qatar
Another of the region's construction hotspots is Qatar. Chosen as the venue for the 2022 FIFA World Cup, preparations are said to be on track despite the controversy over staging the event in scorching summer temperatures.
Tenders for the stadiums, which will cost a total of US$ 4 billion according to Qatar's Ministry of Business and Trade, will be issued later this year.
Aecom has been appointed to work on one of the World Cup venues, the Al Wakrah Stadium which will hold up to 40,000 people. Its design, according to its developers, is said to 'reflect the seafaring heritage of Al Wakrah and the traditional dhow pearl fishing boat."
The second venue to be unveiled, the Al Bayt, was announced this summer. Located at Al Khor, 30 miles (48 km) north of Doha, it has been designed as a 60,000-seat venue forecast to be completed by 2018. Its modular construction is to be based on black and white tents used by nomadic tribes in the region.
According to Qatar's Supreme Committee (SC) for Delivery and Legacy, the venue will stage one of the semi-finals for the World Cup. The stadium has been designed with removable seating for its upper tier to enable re-used for other sporting venues after 2022.
SC secretary general Hassan Al Thawadi confirmed that plans for five of the country's venue are now under way. The final matches of the tournament are to be played at Lusail Iconic Stadium, which is a new development north of Doha that has yet to be constructed.
Sustainable?
While there have been plenty of signs indicating markets within the region are recovering, questions have been raised as to whether there is the capacity in the region to deliver them on time and on budget
Anthony Holmes, economic analyst and director of the UK's Institute for Infrastructure Studies, warned that the considerable range of mega projects' in the GCC planned by 2030 were at risk of running into financial overspend.
He said, "The chances of there being problems with the region's megaproject programme are enormous. Elsewhere in the world, these projects tend to go 40-80% over budget. International experience has also shown that big projects don't get delivered on time."
"What's happening in the Middle East region to suggest the outcome will be different? There is nothing. It is all being done in the same way.
"This could mean that the project programme in Qatar alone is going to cost at least US$ 80 billion more than budgeted."
"What is clear is that there's an enormous concentration of planned project activity in the region," explained the economist, who did not believe there had been sufficient planning into the raw volume of materials required for such an extensive building programme within the region.
While he believed some of the most affluent nations in the region – Saudi Arabia and the UAE may not require finance from outside the GCC, in his opinion, nations including Egypt and Oman may be in a position where external financial assistance was necessary to deliver the levels of infrastructure improvements being projected.