Regional Report: Tough times in South Africa
By Gavin du Venage09 September 2015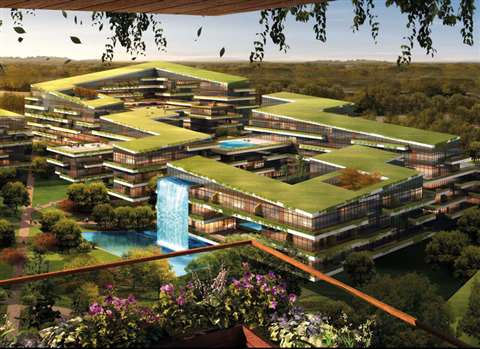 Hard facts on the South African construction industry paint a grim picture. In July Group Five, which is the country's fifth largest contractor in market capitalisation terms, warned it was expecting a sharp fall in performance this year. The company saw core operating profit plunge -35.5% in its interim results to December last year.
Meanwhile, Murray & Roberts, another large contractor, saw half-year profits fall to ZAR 369 million (US$ 28.6 million) from ZAR 863 million (US$ 66 million) last year as headline earnings per share from continuing and discontinued operations stayed flat. Others in the sector are reporting similar results.
The industry's troubles are numerous, but two issues stand out. The first is the on-going tumble in commodity prices. This has drastically curtailed mining activity, a cornerstone of South Africa's economy and of construction contracts in particular.
"The harsh truth of the matter is that the mining sector has inflicted debt, impairments and write-downs on itself without making provision for its own long-term future, and is in a sorry state," said Randgold Resources' chief executive Mark Bristow. Across the sector mining companies are cutting back projects, retrenching staff and shelving new construction work.
The second factor is that major government projects have been slow to materialise.
This is in stark contrast to the period leading up to 2010, when a combination of heady investment in mineral extraction as well as the frantic 2010 FIFA World Cup build, kept the country's construction order books full. Five stadiums, a dedicated airport rail link and a general upgrade of the country's roads all helped South Africa sail through the then-global economic crisis with minimum pain.
Today though, a deep funk has settled over the industry as it battles to keep afloat, with many companies' order books dependent on contracts abroad.
The perceived lack of urgency in executing desperately needed local construction projects, such as the leisurely rollout of electricity infrastructure, is a case in point. The country has experienced regular blackouts over the past few years, in part because of lengthy delays in giving power projects the go-ahead.
Those that did eventually begin are now years behind schedule. Two large coal fired plants under construction in the north, Medupi and the twin plant Kusile, will be the world's largest dry-cooled coal-fired power stations upon completion. Dry cooled means the steam exiting the turbines is cooled by air, rather than the traditional water, which leads to a massive reduction in each plant's water consumption. Each will have a capacity of some 4.8 GW.
Slow progress
For now, both are more than four years behind schedule as contractors battle with complex engineering requirements and a strike-prone workforce that has repeatedly brought construction to a halt. One of the lead contractors, French giant Alstom, was fired midway through and replaced by Germany's Siemens. Around the same time, Japanese firm Hitachi was forced to begin, from scratch, re-welding 10,000 flawed seams in Medupi's boilers after faults were found.
Other large-scale projects that have been completed have also gone toxic. An ambitious toll road highway system that weaves through the economic heartland of Gauteng Province was completed several years ago at a cost of around ZAR 20 billion (US$ 1.55 billion). The 200 km network was intended to serve as the model for other road system upgrades around the country, but instead it has encountered fierce public opposition to paying the tolls.
So intense has the opposition been to the tolls that even the ruling African National Congress' Gauteng branch supported the boycott. As a result, commissioning body the South African National Roads Agency (Sandral), which was expected to continue to issue tenders for road developments across the country, is now effectively broke.
"It was foreseen that tolling would have been the financing mechanism of these projects," Alex van Niekerk, project manager of Sanral's Gauteng Freeway Improvement Project, said. "If there is no alternative found, we will not be able to roll out phase two." He added that Sanral was losing ZAR 200 million (US$15.5 million) in revenue each month.
To make its predicament worse, Sanral is also fighting a court battle to allow it to begin a similarly ambitious project in the Western Cape province, where traffic congestion is acute. The City of Cape Town has taken Sanral to court in a bid to stop a similar project in the region.
"The road network is a virtual parking lot," said Sanral communications manager of Vusi Mona, referring to the daily gridlocks that motorists must navigate into the city. Until the court case is resolved however, work is unlikely to begin.
Within this gloomy picture, there are a few bright spots,
the Western Cape being among them as one of the few areas that is showing some growth. Industry Insight senior economist David Metelerkamp told the Cape Construction Conference and Trade
Expo in Cape Town in August that the construction sector would drive the province's economy over the coming half-decade. "The Western Cape definitely outperforms the national average, with fantastic growth in new residential construction in excess of 70% over the past year," he said.
Apartments, townhouses and free-standing suburban homes had doubled in the past year, Mr Metelerkamp noted. Demand for office space was also robust, even as it lagged in other parts of the country. "The province outpaces the rest of the country on the private side of building. If you are a private developer in office space, the Western Cape is the place to be," he said.
The province is also moving ahead with an industrial zone at Saldhana Bay, north of Cape Town, which broke ground earlier this year. The project will last at least three years, and will include a rig repair depot as well as a rail corridor.
This, and other similar projects, are springing up along both African coastlines as countries move to capitalise on a burgeoning offshore energy industry. Angola, Nigeria and Ghana are among those planning similar port projects.
"These dedicated ports ensure that the needs of the oil and gas industry are addressed in a way that ensures efficiency and reduction of operating costs," said Ghana's Atuabo Free Port Development Manager, Steven Gray.
Atuabo has also announced a development that just began work. The scheme will eventually service oil rigs and ships off the West African coast, competing with Shaldhana. African countries, Mr Gray said, are adopting these facilities as a way to stimulate economic growth and develop home-grown skills.
"The market assessment suggests substantial interest for dedicated oil and gas freeports. The pipeline of tenants on the project is very strong."
Lagging areas
For South Africa, the inland areas continue to lag the coast in construction growth, but show some promise. In Gauteng, two mega-residential projects are underway. The first of these is Steyn City, a vanity project by insurance mogul Douw Steyn, between Johannesburg and Pretoria. The development already includes residential units and a Jack Nicklaus-designed golf course, as well as shopping, recreational and medical facilities. Now a ZAR 50 billion (US$3.9 billion) phase two is about to begin, and will include junior and senior schools, two high-end shopping precincts, a business park, a medical centre, a retirement home and a private bus service.
Even more ambitious is a plan by Chinese developer Shanghai Zendai to build a new city east of Johannesburg. Zendai acquired land that had formerly been used as part of a buffer zone around dynamite factories for the mines – more than 1,600 Ha in area – a few years ago. By 2030, the developer said, it will be home to 100,000 people and include its own train station.
Energy remains the outlier for the construction sector. The government has renewed its commitment to securing up to five nuclear plants, which will make South Africa one of the larger players in this field. Procurement has already begun with Russia, China, South Korea, the US and European companies vying for the contract.
The critical electricity shortage has also obliged the state utility Eskom to consider quicker solutions, these include renewables and private sector coal plants. As with all government backed projects however, timing is everything. The nuclear build first announced in 2010 has encountered fierce opposition and is proving a hard sell to the public. Coal-fired plants too are becoming a tricky option, given the level of environmental opposition.
"The South African Government's ongoing National Development Plan and its continued commitment to public infrastructure investment of ZAR 847 billion (US$ 66 billion) over the next three years, are positive signals for future growth in the industry," said Price Waterhouse Coopers in its second construction industry survey.
What's less certain is how this commitment translates into orders. Unless this happens soon, the South African construction industry is in for a tough few years.