Registration open for Hydrogen Summit
Early bird rates available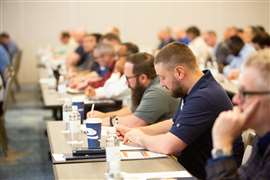 Registration is now open for the second annual COMPRESSORtech2 Hydrogen Summit.
The event, scheduled for April 16-17 in Houston, Texas, is designed to bring leaders together to network and share successes and challenges related to hydrogen blending, equipment and compression.
Speakers at the first event included Jeff Falkiner, manager of Storage and Transmission Operations for Enbridge, Jacob Saletsky, Williams' New Energy Ventures group, Burak Bekisli, director of materials engineering, Dover Precision Components, Hans Mathews, VP of Engineering, Cooper Machinery Services, Marybeth McBain, senior Sales Enginner, Elliott Group and Joel Sanford, senior key expert, Technology and Innovation Group, Siemens Energy. Here's a link to the event site, which includes speaker presentations: https://ct2summit.com/index.html.
Speakers for next year's event, which will be held at the Hyatt Regency, will be announced in the coming months.
Attendees at the first event represented a cross section of the industry; Cummins, Siemens Energy, Sundyne, Pentair, Mitsubishi Chemical, Cat, Kistler Instrument and Ariel, to name but a few. 
Passes for next year's event are available at a discounted rate until Dec. 31. The package includes a conference pass, networking breakfast, lunch and coffee breaks during the event and access to sessions and technical papers after the event.