Remote controls: master and servant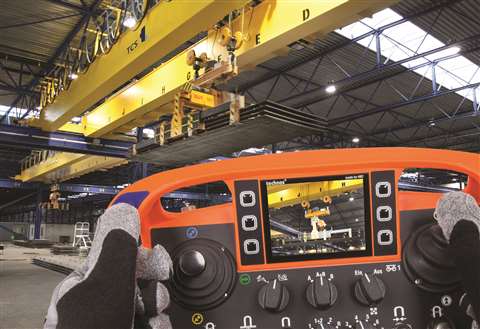 Speaking at April 2017's ConExpo trade show in Las Vegas, USA, automation expert Dr. Wayne Book made the point that "what we want machines to do [on the construction site] is still a human operation. We never want to get away from that, as we want machines to be our servants not our masters." His remark may have been directed more at the increasing 'automisation' of the job site but it serves to underscore one of the main reasons why the use of remote controls is so popular in the heavy transport and construction industries: it's an area in which the human operator remains very much in control, even if they no longer need to be physically 'in the driving seat'.
This line of thought is followed by Jamie Sanderson, head of quality management at the US division of HBC-radiomatic, a German developer and producer of radio systems for the wireless control of cranes and other machinery. "People are becoming more accepting of the remote control of machines in general," he says. "For a long time the operator had to be in the machine to get a feel for what was going on but now, with the operator removed, thanks to the availability of information that's on the remote control, the operator can look at readouts to gauge the feel and operation of the machine from the data on the display in front of them. Most of our controls are designed in such a way that they mimic the controls found in the cab so you could take a seasoned operator, give them the radio remote, give them an hour or so to get used to the remote and the feeling of the operation, and they could be up and running."
Safety first
Sanderson identifies the primary reason as to why an operator would use a remote control as being safety. "Safety is the primary focus, and radio remote control allows the operator to really control the machine in a safe way," he states. "It enables the operator to be in a better vantage point to see the area they are working in; and if they are in a hazardous zone, it allows them to be in a safer area. It's a lot easier to replace a piece of equipment than repair an injured person, so if we can get the operator out of the cab and keep them safe, then that's what we like to do."
One of HBC-radiomatic's latest innovations, designed to further increase safety, builds on the intuitive nature of its remote controls by integrating camera feeds into the display. "Our radio remote controls have had built-in displays for many years now, so you have that same machine data that you would have in the cab right there at the operator control console," explains Sanderson. "But now we've integrated cameras into that so you can switch between machine data and cameras to get a unique perspective of the machine while it's operating. The operator could be in a safe area but they may have some blind spots, so the cameras now allow the operator to switch views to eliminate the blind spots and work in a safe and efficient manner."
Branded as the "radiomatic photon", HBC-radiomatic says that its camera assistance function offers valuable help for demanding operations, complicated driving manoeuvres, and complete machine surveillance tasks. The live video images are displayed on a 3.5-inch (89 mm) colour display with a resolution of 320 x 240 pixels to ensure that the operator always has a good view of the application.
The live images are transmitted via an independent transmission link. Depending on the environment, the range is typically 100 metres. HBC-radiomatic says the transmission unit is very robust and is designed to interface with a range of Orlaco cameras from the FAMOS and CCC series. Cameras with different viewing angles can be used, and infrared cameras for use in low light conditions or even in complete darkness are a possibility. Radiomatic photon is available as an option for HBC-radiomatic's technos 2, technos B and spectrum E radio controls.
Good location
This emphasis on safety is echoed by Matt Gergeni, senior digital marketing technologist at US manufacturer, Magnetek. Magnetek claims to be America's largest supplier of digital drive systems for industrial cranes and hoists. "By providing equipment operators with the ability to move about freely, they are better positioned to clearly see the work that is being performed by the crane while staying clear of any danger zones," Gergeni says. "All of Magnetek's radio remote controls are designed with safety in mind and meet EN 13849-1 PL d safety legislation standards. They are designed to ensure that should an unsafe condition occur (like the remote falling) then functions will not be inadvertently operated. We also have the ability to detect a dropped remote and shut the unit off to ensure the operator and load are kept safe.
"Radio remote control systems have been around for years. However, in the last few years the technology has advanced rapidly so that today's innovative wireless control products are much more versatile, reliable, and cost-effective both for manufacturers and end users."
This is reflected in Magnetek's latest product offerings: a range of radio remote controls designed for hazardous or potentially explosive locations, and a line of miniature transmitters designed to provide a lightweight and economic option for controlling smaller equipment. Gergeni explains, "Our line of rugged radio remote controls for use in hazardous locations include the XLTX remote control, which is ATEX- and IECEx-approved for EX Zone 0, Zone 1, and Zone 2 environments, while the MLTX is built for applications requiring non-incendive ratings.
"These extremely flexible systems provide precision control while allowing users to operate farther away from dangerous work environments than wired controls." They are made from durable nylon designed to withstand shock and include military grade auxiliary switches. Compatibility with a wide range of Magnetek's receivers gives the ability to build a customisable solution designed to meet specific needs.
Gergeni continues, "Our line of lightweight miniature transmitters retain many of the capabilities found in our full-sized wireless controls. However, their compact design provides an effective yet economical solution when used with smaller equipment. Our Flex Mini wireless control fits comfortably in the palm of your hand yet includes an 8 push-button configuration to provide accurate and smooth operations."
The Mini-MBT transmitter is one of the smallest and lightest bellybox controls on the market. It can be configured with up to ten toggle switches and with proportional controls.
Signal traffic
The increasing use of wireless systems and remote controls brings its own inherent challenges. "Signal traffic is a growing problem in the industrial workplace due to the presence of modern control panels, wireless networks, barcode readers, and two-way communication devices," explains Gergeni. As a result, Magnetek has introduced a new RF platform for the 400 MHz frequency band on the majority of its radio remotes. "All of Magnetek radio remote controls utilise synthesised technology, which enables a dynamic change in frequency ranges. Our synthesised technology is available for unlicensed (FCC Part 15/RSS-210) and licensed (FCC Part 90/RSS-119). Our new RF platform allows more radio remote controls to utilise bandwidth more efficiently and reject the most extreme levels of radio interference. We also offer limited two-way communications, as well," says Gergeni.
In addition, Magnetek now offers a spectrum analysis service. The company say it optimises radio communication by analysing the signal traffic present in the industrial workplace to reduce radio frequency interference. This avoids costly troubleshooting and new radio controls can be installed faster and more smoothly, the company claims. The spectrum analysis service includes a scan of the customer's entire facility, or a single area, and scans are conducted on all the commonly used operating frequencies. Magnetek then provides customers with a full report, presenting an analysis of findings, scan screenshots, identification of potential interference, and frequency recommendations. The company says the service can be used to diagnose current radio frequency issues, expand current radio control operations, or commission a new facility.
HBC-radiomatic also recognises the problem of signal traffic. "One of the major challenges for the operation of industrial radio control systems is the increasing number of radio users in the licence-free ranges of the frequency spectrum," the company says. Its solution, as demonstrated in the company's latest radio controller, the technos A, is to use automatic frequency management, or 'frequency hopping' in the 2.4 GHz band which, HBC says, always ensures high operating comfort and work without interruption. This frequency band also allows this technology to be operated around the world, the company adds.
Swedish OEM supplier of professional radio remote control systems to international crane and machinery manufacturers, Scanreco, has adopted a similar approach to the problem of radio interference from other wireless equipment. It too utilises automatic frequency management to provide continuous operation in a number of its transmitters. This falls in line with the company's 'Never-Stop Technology' branding – which promotes the robust and reliable nature of its technology which, by default, ensures increased safety.
Tough and tested
"The Never-Stop Technology concept," the company says, "means units are designed, manufactured, and tested to withstand harsh environmental conditions - such as shock, vibration, electromagnetic disturbances, dust, water and temperature extremes." The Never-Stop Technology concept is underpinned by the company's intensive approach to testing. "Our test procedures are constantly evolving in our in-house laboratory. We are certified in accordance with EN ISO9001:2008, but that is only a starting point. Our quality work goes beyond that. Certain tests are done automatically, others manually. It is always a matter of what we are testing and how complex the tests are," the company claims. In addition to in-house testing, products undergo third-party testing by accredited laboratories.
The results of this focus on testing and technology are evident in Scanreco's latest development, the Maxi. It is the company's largest remote control transmitter and can be supplied with up to four joysticks. The aim is to give it more flexibility and to open up new applications. Using the Maxi, the maximum speed of proportional movements can be adjusted using a 'turtle-rabbit' toggle switch in five steps. A 4.3 inch (110 mm) colour display, a monochrome display, or LEDs, provide feedback to the operator.
Scanreco says the transmitter communicates with the corresponding receiver using a Scanreco protocol and a unique identity code. This, the company says, guarantees that no other Scanreco transmitters or other products ever activate the machine unintentionally.
So as technology advances, we can see how companies are harnessing its potential (within the remote control sphere) to offer a more intuitive, user-friendly experience to increase safety and efficiency on the jobsite. Referencing Dr. Book's opening statement, when it comes to remote controls, the machines are serving us well.