Remote controls: Next level control
By Christian Shelton19 June 2018
The growth in the popularity of radio remote controls continues, even if application areas are shifting. Christian Shelton reports
The evolving ways of industry are having an influence on application areas for radio remote controls. For example, according to Spanish radio remote control manufacturer Itowa, over the last ten years logistics have become an increasingly important consideration for many companies around the world. As logistics have become more complex, Itowa observes, so too have their related storage systems. Itowa says it has seen many companies transforming their old warehouses into fully automated storage systems which, it claims, are increasingly using self propelled modular transporter (SPMT) or automated guided vehicles (AGV) instead of overhead cranes and gantries.
Itowa says these vehicles allow agile and fast cargo management. As they are often carrying heavy and potentially dangerous loads, however,Itowa states that remote control devices have become increasingly used to keep operators safe. The manufacturer says its Combi remote control is proving particularly popular for these types of applications, where being able to control the vehicles and stop them in an emergency are a priority. The company says the unit's two digital-analogue joysticks provide intuitive control, while LEDs provide further operator feedback.
A slow-down in the use of remote controls for overhead and gantry cranes is also noted by another Spanish radio remote control specialist, Ikusi. It says that, due to the maturity of the electric overhead travelling (EOT) crane sector, it is now the mobile crane sector that is experiencing an increase in the use of radio remote controls.
The latest Ikore handheld remote control from Ikusi is designed exclusively for lifting applications
Ikusi observes the increasing popularity among operators of a clear display and the use of haptic signals (sensory communication) in the human machine interface. Its latest handheld remote control, the Ikore, displays the hoist selection with three colour LEDs. It also indicates the status of communication with the receivers to further enhance safety. Ikusi says the Ikore is designed exclusively for standard lifting applications. The transmitter operates with a 2.4 GHz universal radio and its configuration is carried out automatically using FHSS (Frequency Hopping Spread Spectrum) modulation. Ikusi says the Ikore has been designed to be small and light to help users avoid postural fatigue. Its improved ergonomics make it easy to use and maintain, Ikusi states.
Standards
Ikusi says all its remote controls are designed to operate under strict European standards and its products are certified according to EN13489-1 as Category 3 and PL (Performance Level) Category D.
Another company that underlines the importance of standards is US tech company Magnetek. It manufactures digital power and motion control systems for material handling, elevator, mobile hydraulic and mining applications. Magnetek says that as radio remote controls become more popular, more standards are being released to ensure the safety of the sector. The company points out that all its new radio remote control products follow the functional safety requirements of ISO EN 13849-1 and are 'performance level d' rated, according to this standard.
Magnetek's newest release is its line of Flex handheld transmitters designed to operate in hazardous environments. These transmitters are approved for ATEX and IECEx Zone 2 operation, which allows for the use of radio remote control in hazardous environments such as found in the oil and gas, drilling, and petrochemical processing and refining industries. These units can also be put into explosion-proof enclosures that meet NEMA 7 or NEMA 9 standards for added safety, Magnetek adds.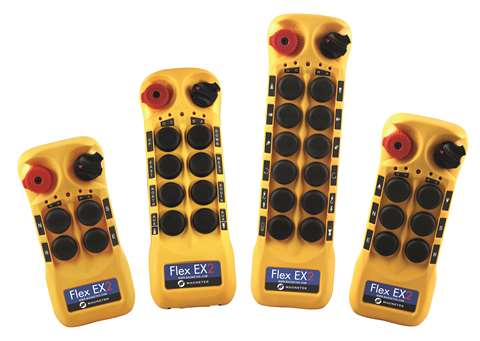 Magnetek's updated EX2 remote control has drop detection, remote pairing of a transmitter and receiver, and frequency agility technology
Magnetek hasn't neglected the existing market for crane remotes, either, releasing an updated version of the Flex EX2 radio remote control for overhead crane and hoist applications. New features include drop detection, remote pairing of a transmitter and receiver, and frequency agility technology. According to Magnetek, this means the channel receiving control data is constantly checked for interference. If interference is detected, then the receiver tells the transmitter to hop to an alternate, pre-determined channel. Channel switching is completed without interrupting command data from the transmitter to the receiver.
Harsh environments
Another company serving a wide range of industries with its radio remote control devices is Abitron. The company says that its products include solutions for chain hoists with push-button devices, industrial cranes, and joystick devices with two-hand operation for vacuum and magnetic lifting equipment. It says its products are used for a range of applications including industry, construction, for the control of mobile hydraulics and specialist vehicles, and for use in potentially explosive areas. Abitron also says its radio control solutions are well-suited for use in aggressive environments – like foundries, galvanising shops, or even for outdoor applications in adverse weather conditions – as they are protected against dust and water (IP 65) and can be equipped with a breathable GoreTex membrane. This, Abitron claims, means accumulated condensation is transported outwards without any moisture or dust penetrating into the device. The company can also supply seawater resistant versions.
Work environments don't come much tougher than the mining sector and Swedish based remote control specialist Åkerströms Björbo has won a Chilean order for delivery of crane remote control systems to one of the world's largest privately-owned copper mines, Escondida in Antofagasta, Chile. The order is worth one million Swedish Kroner (£86,110) and will go through Åkerströms' distributor in Chile. "This is a proof that our robust radio remote control systems have the quality required for these types of tough environments," says Anna Stiwne, vice president of sales at Åkerströms. "Escondida Antofagasta is one of the world's largest mines. We are very pleased that they chose to work with us."
New offices
The expansion of a number of companies in the radio remote controls sector is a positive sign. For example, Swedish company Tele Radio, which develops, manufactures and markets radio control systems for industrial use, opened new subsidiaries in Finland and Switzerland towards the end of 2017. Tele Radio says it opened the new offices in order to better serve the Finnish and Swiss markets.
Left to right: Susanne Küng (CEO) and Nadja Kaufman (technical support manager) at Tele Radio's new Swiss office. The company has also opened a subsidiary in Finland
"Establishing a local office in a market as promising and complex as Switzerland felt like a necessity for the group. With three speaking languages and a huge market potential we felt that it was imperative with a local presence to better serve our Swiss customers," says Tele Radio managing director Ola Samelius.
Commenting on the subsidiary in Finland, Samelius added, "With the market still growing at a fast pace we saw that a local presence would serve the Finnish market well."
Another Swedish company, Scanreco, has expanded its market presence with the opening of a German branch: Scanreco GmbH. Scanreco says the new company will further improve and increase accessibility and service capacity for the German market. It will be located in Dietfurt, 100 km north of Munich, and will be run by managing director Gerd Berger. According to Scanreco, Berger has worked for radio remote control company Hetronic and has been in the business for the past 25 years. "Germany is one of Scanreco's most important markets. There are many large, medium and small OEM companies here, and the growth potential is fantastic. But it requires that we have a local presence so that we can provide our German customers help and service. With the new company, we can give them that. A great competitive advantage," Berger comments.
From left to right: Gerd Berger (MD) will run Scanreco's new German office, along with Stephan Baumer and Bernd Mayr
So we can see, with new application areas opening up, new office openings, the continuing development of standards, and continual advances in technology that are manifest in new products and product updates, it looks like the use of remote radio controls in the lifting industry will continue to grow in popularity, further enhancing safety on the job site.
Retrofit solution for wireless control
US company Kar-Tech manufactures a range of remote controls for the off-highway industries. The company says its Ranger system, distributed by Giuffre Cranes, is a family of systems designed to let users retrofit wireless control onto manually-actuated valves that don't have solenoid (or electric-over-hydraulic) controls. By pairing a wireless remote with a linear actuator, Kar-Tech says users can manually control valves in response to commands from the handheld transmitter.
It does this by mating Kar-Tech's Packer wireless remote transmitter to a display and control centre which commands the J1939 actuators to push and pull the valves. Kar-Tech says that because the CAN actuators are internally clutched when the remote isn't being used, manual control is preserved as the actuators free-wheel.
A control centre provides the user with information on all aspects of the machine, and setup is prompted, says Kar-Tech. The complete package (including the actuators) is weather sealed, has a 1,000 foot (305 metre) range (with wired backup), and has platform control. Built-in enable/deadman buttons, a twist-to-release E-Stop button, and wireless link-state detection are designed to further increase safety. If power to the internally clutched actuator is lost for any reason,
Kar-Tech says that all valve handles spring back to the centre when freewheeling.
The company says all of its radio controls offer two-way digital communication, using advanced, proprietary protocols and frequency hopping schemes both in the license free 900 MHz and 2.4 GHz bands, with power outputs up to the legal limits.
Swinglift offers Autec Remote Control
New Zealand based company Swinglift, which manufacturers side loader systems for containers, is offering handheld toggle-operated remote control units from Italian company Autec with the latest models of its HC4020 container crane.
Swinglift worked with Autec to customise the layout of the control. According to Ian Patchell, Swinglift group director, "The operators of the new HC4020 really appreciate the intuitive design, the rugged and compact form factor, and the icon-based display. There is a full-colour HMI at the rear for control and diagnostics, but it isn't needed for day-to-day operation. The remote gives you the whole machine status at a glance."
Antonio Silvestri, technical director at Autec, said, "I think the approach that Swinglift took to this project is indicative of where the industry is headed. Modern machines have complex control systems that monitor machine condition and operator actions with the aim of ensuring correct and safe use. It is increasingly necessary to provide a display on a remote to efficiently communicate that status… it is something we see more and more demand for."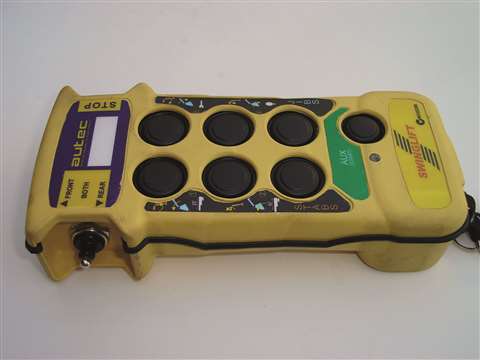 Swinglift is offering Autec remote control units for the latest models of its HC4020 container crane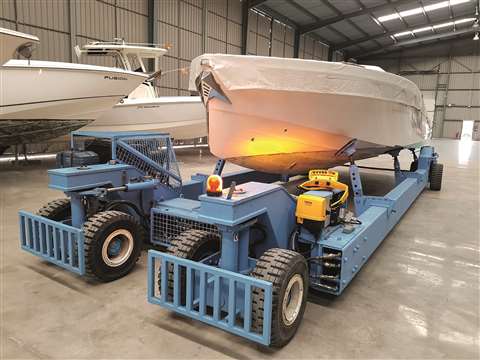 A Combi remote control from Itowa has been bought by the owner of a nautical store. It is being used to remotely control a specialist vehicle designed to enable him to lift and move boats.