Rental award winners announced in Madrid
By Murray Pollok15 May 2019
Bredenoord, Haulotte, Volvo CE and Germans Homs were among the winners at the 2019 European Rental Awards, held in Madrid on 15 May.
Haulotte had special reason to celebrate, winning product of the year for the first of its Pulseo electric machines, the HA20 LE, and seeing its founder and CEO, Pierre Saubot, honoured with the lifetime achievement award.
More than 280 industry delegates attended the awards at the Meliá Castilla hotel in Madrid during the European Rental Association's (ERA's) annual convention. The awards are jointly organised by ERA and International Rental News (IRN) magazine.
The winners and shortlisted companies were:
Large Rental Company of the Year (>€15 million)
Bredenoord - WINNER
A-Plant
Mollo Noleggio
The judges said: "Bredenoord is to be congratulated not only for its continuing growth, but for leading the way in developing innovative battery-powered rental solutions."
Small Rental Company of the Year (<€15m)
Germans Homs - WINNER
Arlift
Dromad Hire
The judges said; "Germans Homs has been performing strongly and is an innovative company. In 2018 it continued to develop its online rental offering."
Rental Product of the Year
Haulotte (HA20 LE) - WINNER
AJC Trailers – H2O Solar Pod (HIGHLY COMMENDED)
Caterpillar – 301.8 mini excavator
Hilti – TE 2000-AVR demolition hammer
JCB - 19C 1E mini-excavator
Manitou - 100VJR aerial platform
The judges said: "The HA20 LE is a very strong product, and as the first of Haulotte's all-electric Pulseo range, it makes a strong statement on electrification and sustainability."
Lifetime Achievement Award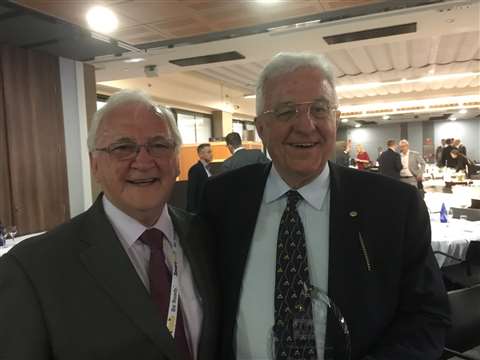 Pierre Saubot, Haulotte
Rental Person of the Year
Dan Vorsholt, CEO, GSV Materieludlejning
The Sustainability Award (judged by the ERA Sustainability Committee)
Loxam - WINNER
Atut Rental (HIGHLY COMMENDED)
A-Plant
Orenprokat
The ERA Sustainability Committee said: "The new policy launched by Loxam in 2018 - 'Safety, Anytime and Anywhere' - demonstrates the commitment of the company to safety among its other commitments to society."
The ERA Technical Committee Award
Volvo Construction Equipment
The ERA's Technical Committee said: "Volvo has demonstrated a continuous commitment to the satisfaction of the needs and requirements of the European rental industry. We are very pleased to recognise their involvement giving them the ERA Technical Committee Award."
The judges, from left: Pierre Boels (ERA President & CEO, Boels Renta), Alexander Greschner (Chief Sales Officer, Wacker Neuson), Murray Pollok (Managing Editor, IRN), Olivier Colleau (CEO, Kiloutou), Tapio Kolunsarka (CEO, Ramirent), and Michel Petitjean (non-voting chair of judges, Secretary General, ERA).
The judges were:
Pierre Boels, ERA President & CEO, Boels Rental
Alexander Greschner, Chief Sales Officer, Wacker Neuson
Olivier Colleau, CEO, Kiloutou
Tapio Kolunsarka, CEO, Ramirent
Murray Pollok, Managing Editor, IRN
Non-voting chair: Michel Petitjean, Secretary General, ERA