Rental boost for French excavators
By Sandy Guthrie05 April 2019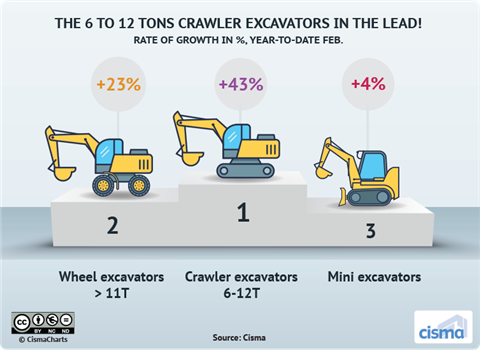 Sales of crawler excavators between 6 and 12 tonnes have been on the increase in France since the beginning of this year, the latest figures from CISMA (the French association of equipment manufacturers of construction, infrastructure, steel and handling equipment industries) show.
It found that January was very good, with a rise of 14%, with February showing a rise that CISMA described as "exceptional" at 70%.
CISMA said that compared to the first two months of 2018, the current market was up by 43% for the year to date, while mini excavators had grown by just 4.4%, and the market for excavators above 12 tonnes was up by 3.7%.
It said the explanation for this was simple, as sales to renters had increased. Compared with the same period last year, rental sales rose by 121%, while sales to the construction industry grew by 12% over this period.