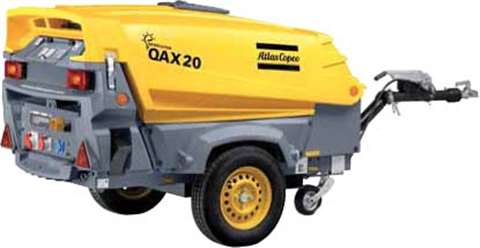 Ask Geert Follens, president of Atlas Copco Portable Air division, if he 'likes' the increasing buying power of the biggest rental companies and he treats the question as if it were slightly old-fashioned. It's a challenge for all suppliers, he says, "...but that's how we have built the strategy – we saw it coming. Our strategy is to extend the offering to these dominant players."
Competing not on price but on the 'total solution' means, in addition to the products themselves, a range of aftermarket services. These include: simple maintenance packs to comprehensive service support contracts – as well as finance, buy-back agreements and technology such as the Cosmos asset tracking and monitoring system that could find favour with rental companies.
In addition, the company is designing products that it thinks will be attractive to rental companies, lighter, with more compact footprints, and easier to maintain.
Atlas Copco won't claim its compressors and generators are cheaper than anyone else, but they will claim a lower overall cost of ownership. "To declare it is easy" says Mr Follens, "to actually do it, you need a worldwide presence, you need so many things in place. It took us many years to do it."
The company has been spending something like €12 million a year on research and development and the fruits of that were unveiled in October at a special week-long event in Antwerp for customers, dealers, employees and the media.
HardHats
On the generator side, the highlight was the first Copco generator to use the non-metal HardHat canopy that was introduced on its 7 Series compressors just over a year ago.
The polyethalene canopy – made from recyclable LMDPE (linear medium density polyethalene) – will now be available on two ranges of QAX gensets, the QAX 12-20-30 (50 Hz) and the QAX 24-35 (60 Hz). The canopies have gone down well on construction sites and in rental fleets because they are corrosion free and retain their original appearance even after several years usage. The canopies are also crack resistant, will not be damaged even by high impacts.
The new HardHat enclosure features include standard Qc1002 remote start control panel, analogue meters, adjustable earth leakage protection with earth pin, emergency stop, and socket panel protection by dedicated circuit breakers on 50 Hz versions and a terminal board on 60 Hz versions.
The company is also extending upwards the QAX range with new 40 kVA and 60 kVA models (the previous largest was a 35 kVA model), although these will not feature the HardHat canopy as a standard.
Atlas Copco has been engaged on a major effort to reduce the size of its compressors, and these efforts are now benefiting the generators as well, with both the QAX 40 and 60 models using the same compact build enclosures as the new XAS 137 compressor (see below).
Designed for rental fleets, construction applications and the public utility sector, the QAX 40-60 gensets are powered by a Deutz BF4M2011 turbocharged, oil cooled, 4–cylinder diesel engine.
In addition to the new HardHat versions of its QAX generators, Atlas Copco is also adding several small models to its QAS range of gensets.
The new gensets are the QAS 14, 20, 30 and 40 models - rated at 13, 20, 30 and 41 kVA at 50 Hz and 15, 23, 35 and 48 kVA at 60 Hz – and all use a "more reliable and environmentally friendly, electronic, Kubota diesel engine" that Copco says will be popular with rental companies. The QAS line offer more flexibility and a wider range of applications than the QAX gensets.
The QAS 14Kd and QAS 20Kd use the Kubota 3-cylinder D1703M-BG and the 4 cylinder V2403M-BG, while the QAS 30Kd and QAS 40Kd models have direct injection 4-cylinder Kubota V3800DI-BG and V3800DI-T-BG engines.
Compact models
Again, compact design has been given a priority by Atlas Copco, which claims the new models are up to 40% smaller than previous QAS models.
If that sounds like a lot of generators, then that is in line with the strategy. Lee Yudihira, Atlas Copco's product manager for gensets, says the company has seen a clear strategy for rental companies to widen their product ranges; "We need to keep pace – we need to grow with you. That's the clear message for rental companies." He says the wider range also allows rental companies to invest in a mix of products, benefiting from the lower costs of the QAX machines alongside the more versatile QAS models.
It is for compressors that Atlas Copco Portable Air is best known, and here the company has been developing more compact designs, making them easier to move around on site and to transport – using a single-axle trailer.
For example, the two new Series 1 models are the XAHS 107 and XAS 137, rated to provide an actual free air delivery of 93 l/s (197 cfm) at 12 bar (175 psi) and 127 l/s (269 cfm) at 7 bar (102 psi), respectively.
Both have 33% smaller footprints – using a single-axle trailer – and 15% lower weights than their predecessors. They are ideal for running pneumatic breakers, general construction work, sandblasting and rental fleets. The XAHS 107 and 137 follow on from the launch at Bauma of the mid-range XAHS 307, 347, 377 and 407 models.