Rental Rally continues rise
By Lindsey Anderson09 February 2018
The California Rental Association's annual Rental Rally, held Jan. 23 and 24 in Las Vegas, continued its growth path this year. The event brought in 346 exhibitors and more than 400 attendees from 120 companies and 15 states, said CRA Executive Director Dale Blackwell.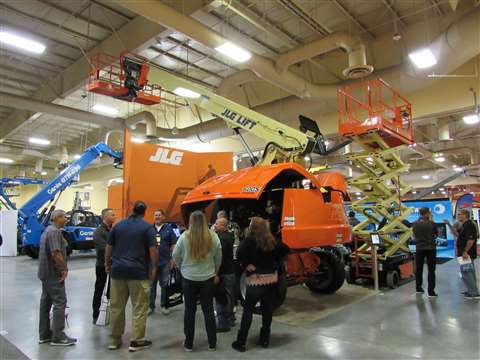 The event, held at the South Point Hotel and Casino, was a success.
"The show was well received by both attendees and vendors, so we are very happy," Blackwell said.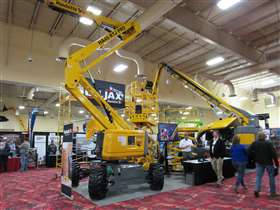 Long-time exhibitor Snorkel used the event to debut its brand-new telehandler, the SR5719. Capable of lifting up to 5,732 pounds, with a maximum lift height of 19 feet and a maximum forward reach of 10 feet, 4 inches, the telehandler is an ideal fit for the independent rental operator. This compact unit features a Tier 4 Final Yanmar engine and weighs 10,360 pounds.
Alongside the Snorkel telehandler, the new Snorkel S3215L lightweight electric scissor lift made its debut at the show. The S3215L has been designed to deliver a much lower overall weight and floor loading than a conventional scissor lift. This has been achieved by using lighter weight materials, such as aluminum, where possible without compromising the stability and durability of the lift. With a maximum working height of 15 feet, the lift weighs 2,100 pounds and has a floor loading of 195 psf at maximum capacity of 670 pounds.
Visitors also saw the new Snorkel TM16E, which is the larger version of the Snorkel TM12E launched at The Rental Show in 2017. The Snorkel TM12E is an electric drive version of the original TM12 self-propelled telescopic mast lift, that now incorporates a zero inside turning radius and a roll-out deck extension as standard.
"The Snorkel TM16E takes the TM12 concept to new heights, capable of reaching a maximum working height of up to 22 feet (6.7m), with a platform capacity of 500 pounds (227kg), whilst retaining the same compact dimensions of the TM12 and weighing in at just 2,360 pounds (1,070kg)," the company said.
A Snorkel E-Z Loader E-Z 18 was also shown, with a bed capacity of 18,000 pounds, a 10,000-pound dove tail capacity and a 5,000-pound tow capacity.