Rental rises in Europe
By Joe Malone26 October 2017
The European equipment rental market experienced growth in 2016, according to the European Rental Association's (ERA) latest market report.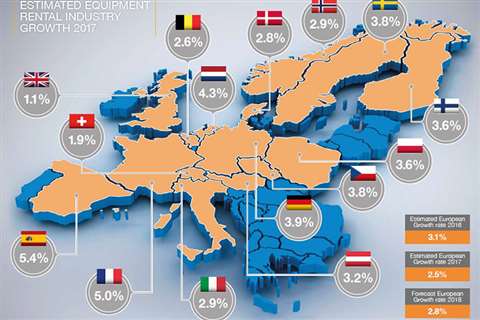 The report, named ERA Market Report 2017, compiled research on 15 countries within Europe, while also outlining the growth and potential of the EU-28 and EFTA (European Free Trade Association) countries.
The ERA found that all 15 countries included in its research experienced growth individually in 2016, while in the EU-28 and EFTA countries, the equipment rental industry experienced a 3.1% year-on-year growth in 2016.
The association also estimated a growth for 2017 of 2.5%, while an increase of 2.8% is forecast for 2018 at a constant exchange rate.
The report also includes figures for GDP (gross domestic product) penetration, calculating turnover as a proportion of GDP. Average GDP penetration for the 15 countries for 2016 was 1.7‰ – significantly above the remaining EU-28 and EFTA countries' average penetration of 0.6‰.
Michel Petitjean, secretary-general of the ERA, said, "It is certainly encouraging to see growth across the industry, despite 2017 proving an eventful year.
"We note that the industry is embracing, developing and maturing in its capabilities, with positive effect."
Petitjean added that businesses across Europe increasingly acknowledged the advantages that rental can provide.
The report, commissioned by the ERA, is available to ERA members for €300 and to non-members for €900. For copies, please contact the ERA at Avenue Jules Bordet 142, 1140 Brussels, Belgium, or email era@erarental.org