Rental software: Managing fleets successfully
By Joe Malone02 February 2018
Fleet sizes are growing, whether in units or information per unit, and it has become almost impossible to manage a vast rental fleet without a mature software product. Real-time operation is a word mooted around the market of late, and many software developers have created such frenzy.
There is "hot news", according to Belgian software company Dagico. Its Vary Rental Software product has new features, including the ability to link with Power BI from Office 365. With this link, rental companies are able to access all their data, on the go.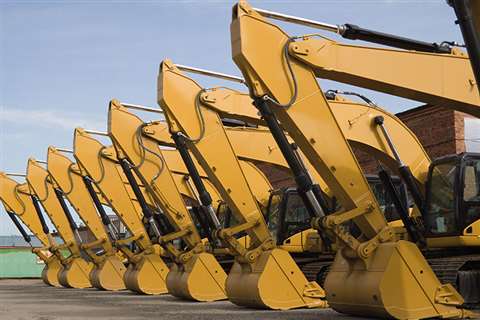 It also offers document integration, meaning rental companies can integrate daily new automation systems to save time and money. In Vary, the documentation and certificate are sent automatically.
There is also now an Android App for drives, for use of Vary. Real-time information is now essential to how rental companies operate, so this new feature will be of big interest to its customers and potential customers.
Speaking of working on the move, US' Point of Rental now offers Syrinx Workshop, which can be downloaded on iTunes and Google Play. Syrinx is the company's flagship rental software product, and its Workshop version is its latest invention.
The company believes that its Workshop version will reduce costs and time spent filing, searching
and printing, along with providing more control of fleets. Importantly, Workshop will still operate in no-signal areas.
Mark Goodrum, managing director of Point of Rental Software, said, "We're excited to be able to bring the benefits of Syrinx Workshop to a new audience. Our programming team has worked hard to ensure maintenance teams are able to use Workshop's revolutionary features to streamline work and increase efficiency across the entire company, regardless of their mobile device platform."
Management on the go
Launching live at this year's Executive Hire Show from 7-8 February (see show guide on page 23), will be MCS' latest RM Mobile App. The company says it will become the depot managers' perfect pocket companion.
RM Mobile is a handheld version of the MCS-rm Hire Manager Solution that can be used on any mobile device and operating system. This will
enable depot managers to work on the move without needing to open a laptop of be tied down to an office.
Users can also access key customer information and perform essential tasks, whether they are in the yard, workshop, warehouse, or out visiting customers, while still retaining a high level of productivity.
Nick Thomson, sales director for MCS, said, "With the increasing need to work on the move, depot managers using RM Mobile have the perfect opportunity to visit customers on site, safe in the knowledge that they can retrieve the customers' history and open quotes, lookup past contracts as well as check current equipment specifications, availability and pricing."
Increased renter engagement, reduced frustration and operational efficiency improvements are said to be the benefits of Wynne Systems' RenterLink product – its latest eCommerce application.
It is described as using an out-of-the-box eCommerce solution, where customers can rent equipment, manage their products, track their shipments and make returns. In fact, all the processes that are engaged when picking up the phone to create a contract, can now be done with a few simple clicks on smartphones, tablets or computers. This mean real-time communication – a common theme – is possible with RenterLink.
Other benefits include browsing inventory and requested quotes, order histories, as well as accessing current orders and repeating orders.
Product enhancements
Meanwhile, Netherlands' HiGH Software now offers an improved version of its product DynaRent – a Dynamics 365 for Finance and Operations feature.
Its capabilities include managing a diverse service with graphical overviews and automation, while it adapts to new market trends for both short- and long-term rental scenarios. The feature also enables the user to generate standard and custom rental orders quickly and accurately.
The company has had success with its DynaRent product, too. Jean Du Randt, chief strategy officer for South Africa's Eazi Access, said, "DynaRent has enabled our company to grow our customer base. While still ensuring that we give diverse customers the exact equipment and services they need. It pleases us to take that value with us as we continue to expand."
Successful customer, fleet and financial management is all possible by using Baseplan's ERP Software Solutions product. The Australian software company leverages key technologies to ensure the highest level of competency and professionalism is met with its product.
In terms of fleet management, companies will be able to keep up-to-date with maintenance schedules, keep a track on where equipment is located, integrate operations management software to report on revenue, costs and profit for each item, and quickly and easily record electrical tagging and testing details. The company believes rental firms can become leaner in their operations with this product.
Customer management, such as scheduling meetings, organising contracts, pre-configuring rates and conditions are all possible through ERP Software Solutions, too.
Said to be satisfying customers in over 40 countries across the globe, Sycor's Sycor.Rental product is the company's latest fully-integrated ERP industry solution for the equipment rental market. Its technological foundation is Microsoft Dynamics AX, and it is certified for Microsoft Dynamics 2012 (CfMD).
The software maps the entire rental process chain and supports individual and bulk rentals. It features unique multi-site, multi-currency and multi-lingual capabilities for international deployment, and offers flexible automated billing methods with customer-specific, time and object-dependent prices.
Three-fold improvements
Finally, there have also been improvements to US-based A1A Software's product, iCraneTrax. The crane rental fleet-specific programme has improved its maintenance, reporting and despatching features. The technology draws data from equipment telematics systems, and generates automated notifications of upcoming maintenance tasks, based on prescribed service intervals and equipment usage.
The company says it now offers telematics GPS units for Link-Belt cranes, a feature it also offers
for Manitowoc's CraneStar asset management system. A1A is also in the process of finishing its electronic logging device (ELD) solution, which it will offer for trucking company drivers.
Software insight
UK-based Spartan Solutions has 14 years' experience in rental software offerings, including integration to ERP systems including SAP, Oracle, MS Dynamics, Infor M3 and Wynne RentalMan. One of its biggest global customers is Aggreko.
The company's CEO, Jim Green, puts forward his argument for choosing the correct software, that's right for your business.
He said that, when choosing a mobile software solution for rental, there are three prime options to help make the decision – asking your ERP Vendor, asking your IT department, or asking a mobile software company.
On asking your ERP vendor, Green said, "Software engineers building ERP systems are wired differently from those who build mobile systems. ERP companies aren't great at mobility and customers buy mobile solutions from them because they think it will somehow be easier – it won't.
"ERP vendors can't help trying to build mini-mobile versions of what already exists in their ERP systems. You'll likely end up with a nightmare, 'your ERP on a mobile'."
On asking your IT department, Green suggests that IT staff love to build mobile Apps because they are "sexy", but says they don't have the same skills as software designers. He says they would be capable of building the App, but the financial and time burden on the company could be avoided.
As for asking a mobile software company, Green said, "Sensible option, but don't be seduced by big company claims. You might find their 'A' team selling it but their 'Z' team delivering it.
"Take my advice, question everything, take nothing for granted and always get evidence."
Tanks Direct gets inspHire'd
Canada-based Tanks Direct, a fuel management specialist which offers a tank rental service, has recently implemented inspHire Corporate as its software management solution.
Rob Kiddell, IT manager at Tanks Direct, said, "We needed a system that could not only solve our existing issues, but give us the capability to further expand our business. We knew inspHire Corporate would be the ideal long-term solution we needed".
inspHire Corporate provides rental companies with all the features expected of an up-to-date fleet-management software solution – rental order processing, ERP system functionality, calendar planning and the rest.
As for Tanks Direct, inspHire has a satisfied customer on its hands. Kiddle continued, "Thanks to the Workshop module within inspHire, we're able to easily manage all our shop construction projects and tank maintenance; we can even generate all certification and documentation. This contributes greatly to helping us meet our clients' expectations".