Report aligns rising EU construction prices with falling productivity
By Mike Hayes12 December 2022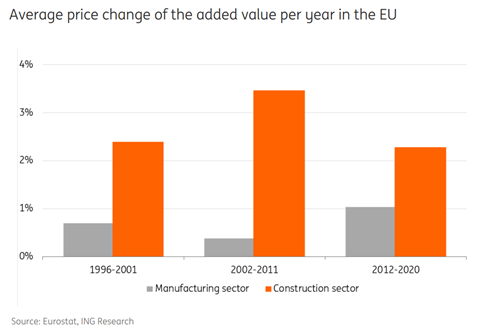 A new report from industry analyst ING Research claims that rising costs in construction within the EU are largely due to a continuing fall in labour productivity.
ING said, according to a recent European Commission (EC) survey, almost 40% of EU construction firms said they would be raising their prices in November 2022, primarily because of rises in materials prices.
However, according to ING, average prices for construction in the EU increased by 2.3% per year, between 2012 and 2020, compared with just 1.0% for manufacturing.
The disparity, according to the research group, was even greater between 2002 and 2011.
Between 2005 and 2020, construction prices, on average, have almost doubled, while manufacturing prices have risen by 20%.
ING maintains the disparity is due largely to the greater efficiency gains made by the manufacturing sector.
The report suggests that a 20% increase in labour productivity would result in the need for approximately 2.5 million fewer construction workers in the EU, significantly reducing construction costs.
Issues with labour productivity have also resulted in worker shortages, with more than 30% of EU building contractors responding to the EC survey, saying this had prevented them from completing work by November 2022.
Regional breakdown
Looking at individual EU member states, the survey showed that, in France and Austria, labour productivity has fallen by more than 15% since 1995. In Spain, the fall is more than 25%.
This is mainly due to a decline in construction output, which is understood to have an adverse effect on productivity, with, for example, a subsequent lower investment in new and more efficient equipment.
Conversely, Belgium and the Netherlands have seen increases of around 20% in labour productivity. Both countries have seen increasing output and are leaders in terms of digitalising construction operations.
(Lead image credit: Adobe.)