Return to health for South American crane market
Specialist market research and forecasting company Off-Highway Research believes 575 new all-terrain, rough terrain and truck cranes will be sold in South America this year. That may not be very many – perhaps 6 percent of the market in the world excluding China – but it would be an enormous improvement on the continent's fortunes throughout the 2010s.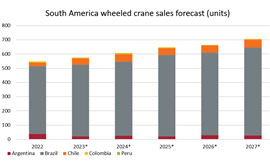 The Petrobras corruption scandal paralysed the construction industry for most of the 2010s, causing a collapse in the Brazilian construction equipment market. As arrests started to be made in 2014 as a result of investigations, sales of machines fell in the space of a year to less than a third of what they previously were. This broad collapse in demand included mobile cranes.
Demand for equipment in Brazil only started to rebound in 2021, as the country bounced back from the pandemic and was able to reap the rewards of high commodity prices. This saw the broad equipment market reach a record high in 2022. But whereas most of the earthmoving equipment sold in Brazil is manufactured domestically, mobile cranes are imported. The well-documented and widely reported difficulties in component supply and shipping meant that the crane market took longer to come back to health.
The positive of this, according to Off-Highway Research is that pent-up demand for cranes will see sales continue to grow for the next 2-3 years. Off-Highway Research managing director Chirs Sleight said, "Crane sales in Brazil fell to perhaps less than 10 percent of their natural level during the 2010s. Demand recovered two years ago, but it took until 2023 for supply to get back to normal. In the meantime, the fleet in Brazil has become very old. That should mean a long period of replacement and sustained good sales, but that of course depends on Brazil's continued economic health and political stability."
He continued, "Brazil has traditionally been a big rough terrain crane market, but now we are also seeing a lot of truck cranes being sold. For many years the centre of gravity for truck crane manufacture has been China, and the country's manufacturers are particularly focussed on exports at the moment due to the collapse of their home market."
Elsewhere in South America, the major markets for new cranes have historically been Argentina and Chile. However, the size of the Brazilian market is such that at the moment it accounts for 80-90 per cent of new crane sales on the continent.
Sleight said, "Despite Brazil's dominance, we see some reasonable prospects elsewhere in South America. Argentina will have a bad year in 2023 due to its soaring inflation, but we expect it to recover thereafter. Meanwhile Chile is seeing some growth this year and the medium-term outlook is quite good. We expect about 5 per cent growth for the next few years with total sales of all terrain, rough terrain and truck cranes rising to a peak of around 650 units per year by the middle of the decade."
Off-Highway Research offers a range of data and reports on the construction equipment industry in South America, including its new 220+ page report on Brazil. For more information visit www.offhighwayresearch.com or e-mail mail@offhighwayresearch.com