REVIEW: European Rental awards: Celebrating Success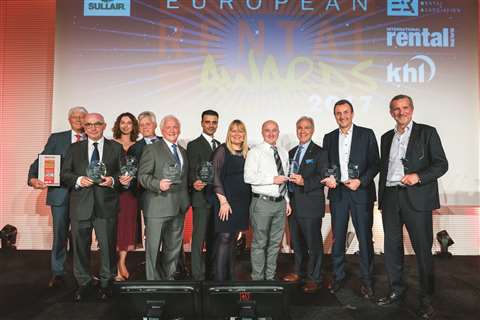 The prestigious European Rental Awards took place on 3 May at the RAI Centre in the business district of Amsterdam, the Netherlands.
The awards – which are jointly organised by IRN and the European Rental Association (ERA) – comprised of nine awards. IRN would like to thank all the companies and individuals that submitted entries to the awards.
Large Rental Company of the Year (revenues over €15 million)
Winner: Zeppelin
What the judges said:
"2016 was a stellar year for Zeppelin, with record revenues and profits and new initiatives everywhere you looked, from eCommerce and training to marketing, new products and rental IT systems such as telematics. Zeppelin Rentals fully deserves the Rental Company of the Year accolade."
Shortlist: Kiloutou, Zeppelin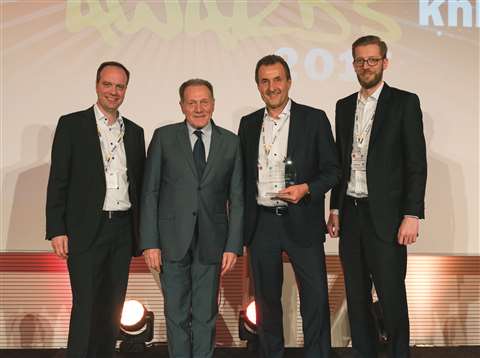 Small Rental Company of the Year (revenues under €15 million)
Winner: Gomez Oviedo
What the judges said:
"Gomez Oviedo responded bravely to the Spanish recession and has proven to be energetic and innovative business: a small company that acts like a big one."
Shortlist: Gomez Oviedo, Huurland, Maltech, Mol Lifting
Rental Product of the Year
Winner: Genie's Z-60/37FE boom
What the judges said:
"This is a true four-by-four hybrid machine designed for indoor and outdoor use and with low fuel consumption."
Shortlist: Atlas Copco (8 Series compressor), Genie (Z-60/37FE boom), Kaeser (M50E compressor), Mtools-Makinex (Hose 2 Go), Ramirent (Ramiflex module), Trime (X-ECO lighting tower)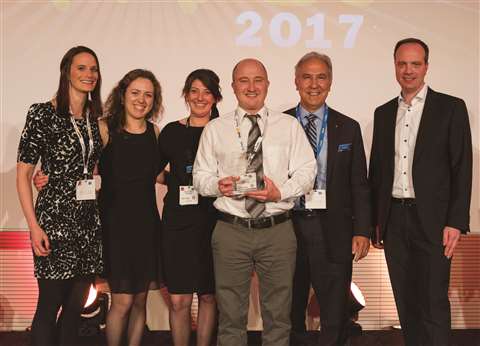 Employer innovation award
Winner: Kiloutou
What the judges said:
"From its share ownership scheme to its staff induction programme, Kiloutou has shown that it has put its workforce at the very centre of its business. A textbook example of putting words
into action."
Shortlist: A-Plant, HSS, Kiloutou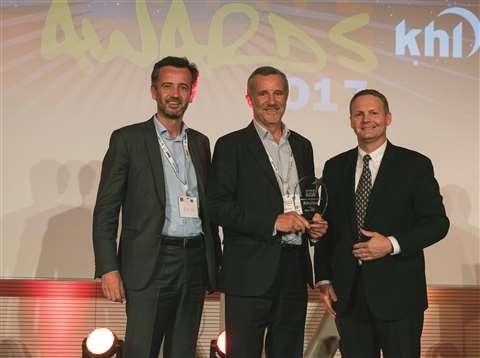 Xavier du Boÿs, CEO, Kiloutou, picks up the company's Employer Innovation Award.
Rental safety award
Winner: A-Plant
What the judges said:
"A-Plant is one of the rental companies in Europe that has a long-term track record of taking safety seriously, and its activities last year reinforced this commitment."
Shortlist: A-Plant, Groundforce, Mtools-Makinex (hand truck)
Asif Latief, Marketing Director, A-Plant (left) with Gerhard Gasser (Global Rental Business Manager, Hilti, and one of this year's judges).
Rental person of the year
Winner: Gerard Déprez, CEO, Loxam
What the judges said:
"The last 12 months has seen his company's annual revenues exceed 1 billion Euros – a moment that seals its status as Europe's biggest general rental player. Under his leadership Loxam has made some bold and successful moves, including the recent acquisition of Lavendon Group. Mr Deprez has enjoyed an illustrious career in the rental business – not least as the first president of the ERA – but even in that career 2016/17 will stand out."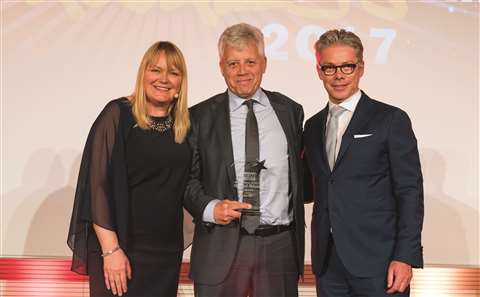 Lifetime Achievement Award
Winner: Ray Caulfield, CEO, Trime
What the judges said: "Ray Caulfield is a true veteran of the equipment rental industry, with a career spanning 52 years. In that time he has played a significant part in many aspects of rental – product development, rental sales training, the creation of environmentally friendly products. Just as important, our winner has always conducted himself with good humour and humility."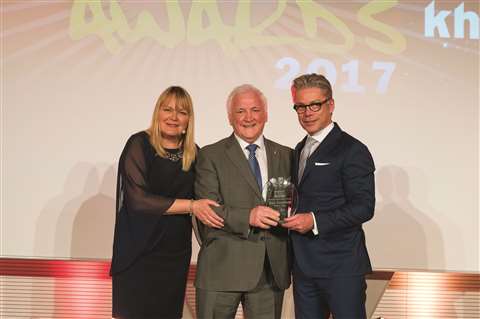 Special Recognition Award for a Manufacturer
Winner: JCB
What the judges said: "This was awarded by the ERA's Technical Committee to a manufacturer that has made special efforts to accommodate the needs of rental companies in its product design."
Yvette Henshall-Bell (Group Managing Director – Global Accounts, JCB), George Bamford (JCB), and Martin Sebestyen (Head of Rental and Fleet Management, Zeppelin Rental, and chair, ERA Technical Committee).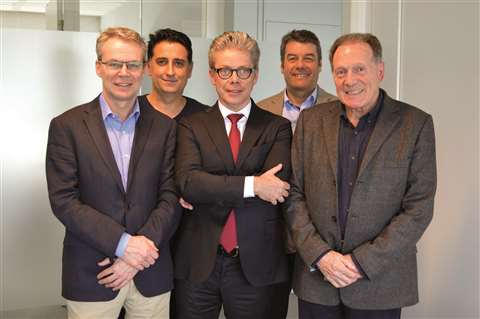 The judging panel
From left: Murray Pollok (managing editor, IRN), Juan José Torres (president, ASEAMAC & managing director, TST Torres Servicios Tecnicos SL), Pierre Boels (ERA president and CEO of Boels Rental), Gerhard Gasser (global rental business manager, Hilti) and Michel Petitjean (secretary general, ERA).