Riga Mainz in aircraft challenge
By Laura Hatton01 October 2015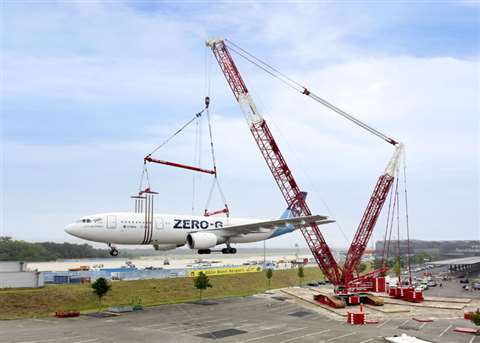 German crane service provider Riga Mainz helped lift an Airbus A-300 aircraft at Cologne-Bonn Airport in Germany.
The aircraft, named Zero-G, had been put out of service, ready to become a museum exhibit for the general public. The aircraft weighed 82 tonnes and measured 54 metres long. It was lifted using a 600 tonne capacity Liebherr LR 1600/2 lattice boom crawler crane.
It took six months to plan the lift. Challenges included a limited set-up height and working with only three attachment points to handle the load. The attachment points included both sets of landing gear and an area at the front of the fuselage.
The attachment equipment weighed a total of 19 tonnes and included two cross beams and three load spreaders developed by Riga Mainz. Once loaded, a remote-controlled chain hoist was used to adjust the crane hook over the overall centre of gravity. This made it possible to adjust the required angle of the aircraft to the horizontal to generate no upthrust in the event of wind and inflows from the front, a company spokesperson explained.
It took around an hour to lift the Airbus into its final position. The aircraft was slowly turned 180 degrees before the LR 1600/2 crawled a distance of around 20 m on a specially laid gravel bed, before the load could be set down onto three foundation points.