Rising demands on crawler cranes
By Laura Hatton23 October 2015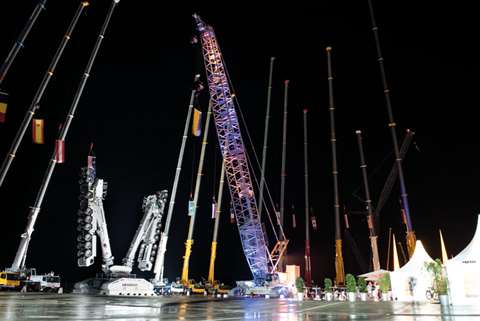 Crawler cranes need to be versatile, transportable, and above all, safe. Laura Hatton looks at what new models and technologies are available.
With relatively strong markets in North America and the Far East, as well as certain areas in Europe, the crawler crane market is showing some stability. Japan continues to look possitive, thanks to stadium construction and urban redevelopment around Tokyo ready for the 2020 Olympic Games. Maintenance work on aging infrastructure, including highways, bridges, and high speed railways, is also boosting business.
To be able to meet demands in these applications, crawler cranes need to offer high lifting capacity, long working radius and a small working footprint. Depending on the application, pick and carry capabilities are also favourable. Crawler cranes also have to be easy to transport. In addition to efficiency and reducing cost, this requirement is down to road regulations, which are becoming increasingly stringent. A result is that manufacturers are focusing on component size and weight of transport modules.
For end users, including USA-based crane service provider Lampson International, the focus on weight reduction is important. Kate Lampson, Lampson International, explains, "For us this translates into fewer components on a single truck causing more truck loads, longer transport times, more money spent on fuel and permits and increased wear and tear on our trucks." Lampson continues "To meet these requirements, we are very selective in how we load our trucks and pay close attention to weight distribution, miles travelled, the servicing of our vehicles and the routes we take."
To help meet customer demands, crane manufacturer Kobelco, for example, offers base machine widths of 2.99 metres (except the SL6000G/SL6000S) in transport configuration. The central crawler section of the LR 1500 from Liebherr-Werk Ehingen has a turntable that weighs 55 tonnes. In addition, it has a removable A-frame which allows this weight to be reduced to 45 tonnes.
Manitowoc also puts a lot of focus into reducing transport weight and dimensions. John Kennedy, Manitowoc senior vice president of crawler cranes, says, "The latest crawler cranes that feature variable position counterweight (VPC) greatly improve transport. They require less counterweight, due to their floating counterweight design. The reduced counterweight means fewer trucks to travel to the site and a quicker set up once on site. Because road regulations can vary greatly from country to country and state to state, close attention has been paid to component dimensions and component weight. All loads transport at 3 m or less in width."
To reduce truck loads for transportation, components of the Superlift 3800 from manufacturer Terex weigh less than 40 tonnes and are less than 3 m wide and high. Guntram Jakobs, Terex product marketing manager, adds, "The same principle is true for the Boom Booster kits. While increasing the crane's lifting capacity, the Boom Booster kit for the Terex CC 8800-1 can be disassembled and shipped in standard open-top containers. Moreover, the corporate counterweight helps to reduce transport costs: all crawler models, from the 400 tonne CC 2400-1 to the 3,200 tonne CC 8800-1 Twin use the same counterweight slabs. This allows better inventory management and, for companies with several depots, saves transportation costs."
Product development
Safety is another area promoting change in the design of crawler cranes. The focus has led to a whole host of smart features and new technologies. Wolfgang Pfister, Liebherr-Werk Nenzing head of strategic marketing and communications, explains, "With regard to crawler cranes, innovation in the industry is driven by the intelligent use of electronic control systems for enhanced customer benefit."
Recent examples of this are the newly developed vertical line finder and the horizontal load path for crawler cranes from Liebherr. Both devices are available for Liebherr's 300 tonne capacity LR 1300. In the future, Liebherr says, both devices shall be available for the entire LR series up to 300 tonnes.
"The new devices help to increase both safety and efficiency on the jobsite," Pfister says. "The vertical line finder has a control assistance feature that ensures the load on the rope is hoisted with perfect verticality. It assists the operator in avoiding side pull of the load caused by the long distance between operator and load or asymmetric centre of gravity. As a result, possible collisions with obstacles and persons can be prevented.
"The horizontal load path system facilitates the co-ordination of loads during lifting operations with more than one crane involved," Pfister adds. "The system is activated by pressing a button on the joystick. The load is then moved horizontally at a constant height. Boom and hoist winches are co-ordinated with the push of a single button, which significantly improves the user-friendliness of the crane."
For Lampson International, the focus on safety led the company to carefully consider the features of the new Lampson Millennium 4100 Crawler Crane. "Knowing that safety is paramount in the construction industry, we added no free fall capabilities to our crane. Not only does this feature allow the operator to lock the load, it also allows what was once viewed as an unsafe friction rig to work on almost any of today's jobsites."
Terex also introduced a fall protection system for its models, which was awarded the ESTA Safety Award 2012. Kobelco has also developed safety support devices, including an over-swing prevention system, machine inclination sensor and counterweight detection sensor. Access and egress features have also been incorporated into new products from Manitowoc to enhance safe assembly, operation, and maintenance, John Kennedy adds.
New models
The latest crawler cranes from Kobelco are the G-series and S-series. The energy saving system G-mode is adapted to all the latest models and helps reduce fuel consumption by up to 25 % relative to conventional models, the manufacturer says. In the near future, the manufacturer is planning to install engines that comply with Tier-4 and Stage IV on the G-series crawler cranes. Models from the G-series (European model) include the 60 tonne CKE600G up to the 550 tonne SL6000G. Models from the G-series (North America model) include the 85 tonne CK850G, while models from the S-series (Standard model) include the 120 tonne 7120S.
The latest development from Liebherr-Werk Ehingen is the 500 tonne LR 1500, which was launched at the customer days in Germany earlier this year (see IC July 2015 page 7). The overall concept of the new crane is designed for simplicity in all areas and great economy, the manufacturer says. To meet demands for safely working at height, the crawler cranes have handles, railings, non-slip coverings and fall protection systems. On the new LR 1500 the central ballast consists of concrete sections that can be set up quickly and easily. In addition, the top section forms a safe catwalk for the undercarriage, the manufacturer adds. New crane control systems (Liebherr LICCON2 control) make a contribution to improved safety, e.g. redundant systems.
From Liebherr-Werk Nenzing is the HS 8130 HD cycle crawler crane. The new duty cycle crawler crane is the successor of the HS 885 HD and is designed for deep foundation and material handling tasks. It was launched earlier this year at a customer event at its factory in Nenzing. The heavy duty crawler has an operating weight of 115 tonnes and can be transported with the railings, walkways and pedestals fully assembled on the upper carriage. It has a low transport weight of 50 tonnes and the transport width of the basic machine is 3.5 m. The model is fitted with two hydraulic free-fall winches offering 35 tonnes of line pull each. It is powered by a Liebherr V8 diesel engine complying with the European emission standards and the US Tier 4 Final. It also has optional automatic engine stop.
From Terex is the new Boom Booster kit for the 650 tonne capacity Superlift 3800. It follows on from the original Boom Booster for the much larger CC 8800-1 model, announced in IC January 2014 news, page 7 and featured in IC April 2014. It is a kit to make a wider boom that increases lift capacity and height, making the crane more cost-effective, the manufacturer said. The system increases the main boom's stiffness, raising the crane's lifting capacity by as much as 30 %, Terex Cranes told IC. Maximum hook height is 174 m and capacity is 80 tonnes. The increase puts the 3800 in the 750 tonne class, Terex said. It allows erection of wind turbines to 140 m tall or more.
Kits for the Superlift 3800 are available with new cranes or for retrofit to existing units. They are either 24 or 84 metres long, assembled from up to seven new larger lattice boom sections in 12 m lengths. The new boom sections are 3.5 m wide for easy transport. This is helped by the fact that two boom sections can be transported inside the Boom Booster kit to save one truck load. (For more information see http://bit.ly/1LkbJUE).
The latest model offered by Lampson International is the Lampson Millennium 4100. "Due to increased line pull, hydraulic hoist, Tier 3/4i Cummins engines and no free fall capabilities, our cranes are able to work on job sites where others cannot," Lampson says.
"We have also found that once we started working on the design and remanufacture efforts, we realized that we could rent these cranes to our customers for a fraction of the price that they could buy a new one. They have been a great machine for us and our customers love them. In addition to the Lampson Millennium, we have added the Lampson Transi-Lift LTL-3000 to our fleet. It is designed to lift in environments where there is very little space. It has a computerised operating system, hydraulic hoists, a 3,000 ton capacity front crawler and 400 feet of Lampson pin together main boom. In addition, this crane is also tested to JIS (Japanese Industrial Standards), EN 13000 and US safety standards, making it available for work anywhere in the world. It has a small footprint and pick and swing manoeuvre under load abilities."
From Sennebogen is the new 640 HD. The 40 tonne capacity model has been added to the E-Series. It has a 186 kW CAT diesel engine and a safe working load up to 40 tonnes. The 640 HD has a multi-circuit hydraulic system and a strong slewing drive making it suitable for civil engineering work, the manufacturer says. When fitted with rope grapple or drag-line bucket, the 640 HD is also suitable for hydraulic engineering and mining applications. The crawler has two 12 tonne free fall winches, a maximum boom length of 41.1 m and auxiliary jib and fly boom as options.
For ease of transport between sites, the 640 HD has compact dimensions and easy ballast system. With the crawler undercarriage telescoped in, the machine has a width of just 3.0 m. "With an uppercarriage length of 6.62 m, the 640 HD can be transported easily and cost-effectively via flat-bed trailer," the manufacturer says. "The total weight with lower boom section is just 38.7 tonnes, which can be further reduced to 30.5 tonnes."
In addition, the 640 HD has a Maxcab comfort cab, numerous headlights and cameras, and the SENCON diagnostic and control system. As an option, the cab can be designed for 15 degree inclination or 2.70 m elevation.
The latest crawler model from Chinese manufacturer Zoomlion is the 100 tonne capacity ZCC1100H. It has free-fall facility with load braking process control. Yiping Gao, Zoomlion Crawler Cranes Branch general manager and chief designer, says, "The ZCC1100H has been developed for the American Market complying with North American standards. It is multi-functional to satisfy applications, either of hoisting requirements or the piling and foundation constructions."
The ZCC1100H has ANSI certification by TUV. Focus has also been made on transport requirements, as Yiping Gao explains, "The main machine of ZCC1100H can be dismantled to comply with the toughest restrictions regarding transportation dimension and weight. Meanwhile, it can also be delivered as whole in order to cut transportation cost. In addition, the ZCC1100H has a self-assembly function. Its travelling tracks can be quickly dismantled from the main machine for transportation separately."
For crane management, GPS and GPRS systems will be applied to Zoomlion crawlers, Gao adds. The devices will connect the crane control system with CAN bus to transfer working data for crane managers and users. Zoomlion has also developed a new generation of small-tonnage ZCC-H series. They can be used for traditional lifting, municipal construction and infrastructure projects, the manufacturer says.
Heavy lifting
At the top end of the capacity scale, the demand for crawler cranes is increasing. John Kennedy, at Manitowoc explains why, "Global demand continues to increase for cranes above 1,000 tonnes. Driving this demand is power plant construction and upgrades, petrochemical, off shore fabrication yards, and stadium construction. Optimised jobsite space utilisation, efficient transport, footprint and intelligent counterweight systems are typical job site demand on this class of crane. The parts are larger and heavier and the reason is, to avoid assembly at height for safety and less time. Also repowering of existing power plants and offshore projects need compact cranes with capacity over 1,000 tonnes.
Scott Knight, Link-Belt product manager, lattice and telescopic crawler cranes, adds, "Heavy-lift crawler cranes are generally used for very specific applications such as bridge or refinery work where very heavy lifting is required and extended radiuses are required due to congestion."
Yiping Gao adds, "The 1,000 tonne class crawler crane mainly applies to hoisting vessel of petrochemical engineering sector, wind power installation under 5 MW, 100 million KW thermal constructions, heavy component hoisting of nuclear power construction, large-scale sports stadium construction and so on."
Although most manufacturers are keeping quiet about what new developments they have on the horizon, many are hinting at new models and upgrades. Only time will tell if these new models are at the higher or lower end of the capacity scale. Many will be revealed as the Bauma exhibition in Germany in April 2016.