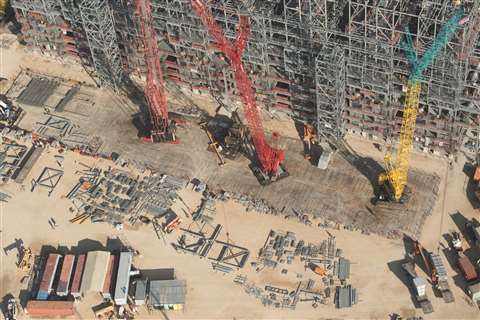 At last month's SC&RA Crane & Rigging Workshop in Kansas City, Missouri, USA, Joe Penland, president of Beaumont, Texas-based Quality Mat Company (QMC), presented Beneath the Big Lifts – The Time for Engineering, Safety, Strength, and Stability.
Penland has consistently endeavoured to promote workplace safety throughout his career by recognising the unique matting needs of each industry as they evolve. In 1974 he identified a gap in his industry's market – a need for a safe and stable surface for cranes and other equipment to move upon without the worry of tipping over because of poor soil conditions or getting stuck in the mud.
As a result, he began building mats in his grandmother's back yard. He also progressed from an iron worker to an entrepreneur, becoming the founder of QMC. Today Penland is recognised as a global leader in the mat industry for his invention and patent of 3-ply laminated, interlocking oilfield mats. He is also recognised for his admirable dedication to establishing industry standards and continually raising the bar.
Penland's presentation focused on the fact that, while crane and load sizes have increased exponentially throughout the industry in the last 50 years, crane matting has not evolved accordingly and, in Penland's opinion, it is a recipe for disaster.
The presentation took attendees on a tour of crane matting, past and present, and asked several pivotal questions: What are your risks, and how can these risks be mitigated? More importantly, what is the path forward in engineering and standards for safety, strength and stability in the crane matting industry?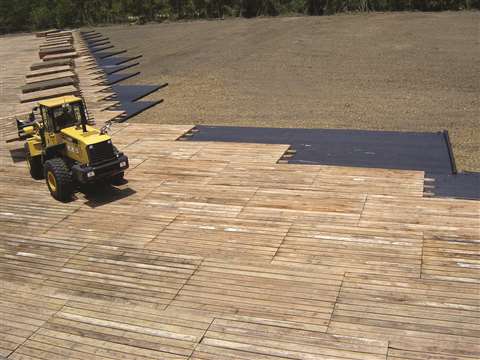 Quality risk
SC&RA had a chance to sit down with Penland before the Workshop, and he eagerly discussed the true reality of an emergent industry risk seemingly hidden in plain sight. "This is my forty-fourth year in the mat business," he explained. "When I started, the quality of timber was outstanding. You could get solid oak timbers as long as you wanted, up to forty feet [12 metres] but, after about twenty years in the mat business, I saw the quality start to go down."
Penland believes that with the millions of mats sold yearly worldwide, the hardwood just can't keep up, from a quality standpoint. "The trees are just not what they used to be … it's hard to get a twelve-by-twelve timber out of a tree. And you can't get one hundred percent oak anymore. It's mixed hardwood … soft hardwoods. Essentially, the quality of timber has gone down, and thus the quality of mats has gone down."
A notion that might not strike fear in the hearts of crane companies at first glance is deeply concerning to Penland. "To compound the problem, cranes have gotten bigger. Huge. And the lifts are huge. So many things are now made modularly. Forty years ago, we put two layers of oak mats under a crane with a big lift … a three hundred ton crane. But today, two layers of mats go under a three thousand ton crane, and the mats aren't thirty percent of what they were before. It doesn't take a genius to figure it out."
This realisation is what fuelled Penland's desire to present at the Crane & Rigging Workshop. "So, we've got mats that are inferior when they're brand new, going under cranes that are ten times bigger, making lifts that are thirty times larger," he emphasised. "You see more and more cranes turning over each year, and they always want to say it's operator error. Well, I know it's not always operator error. I've viewed a lot of pictures of crane turnovers; you can tell the difference between when a mat crushes under its own weight, or when something fell on it and crushed it. I can tell you – a lot of the mats I see have been crushed under the weight."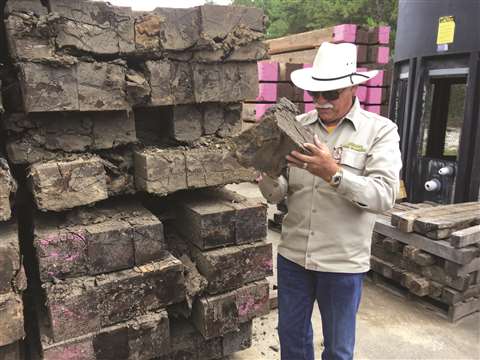 The biggest problem within the mat industry at present, according to Penland? "There aren't any regulations; you can't find a set of regulations that governs mats," he stressed. "If you look under OSHA's handbook about mats, it says: check the ground conditions. Well, what does that mean? It's troublesome – in that this has been my life for over forty years, and we have no one safeguarding our industry in this regard."
Penland feels the industry needs to be held accountable, or people will take the cheapest, easiest way out, at the expense of a fatality. "That's the story I want to tell. I want some regulatory agency to say that when you bring mats into a job, and those cranes are going to be there twelve months, as an example, making lifts at a certain size, that the mats have to be new, one hundred percent oak, have the right crush properties to that material, and withstand the duration of the job."
Getting the word out
Penland has already addressed this issue with the Houston Round Table (USA), and recently gave his presentation at a summit in Dallas, Texas (USA). He's discovered that whenever he's in front of the right people, they're blown away by the information.
"The issue is absolutely under the radar," he said. "They're looking at a ten-million-dollar crane picking up an eight-million-dollar vessel, and they're not looking at what goes under it. They're picking up vessels that are so much bigger than they did thirty or forty years ago, but if you look under the crane, it's the same two-layer wood mats. That's frightening, and to make it worse, those mats aren't the quality they used to be.
"Companies are out hunting the cheapest mat they can find. It's like Greyhound hunting for the cheapest tyres they can find for their buses. But these short cuts can be catastrophic."
Education and awareness is the best mitigation, assures Penland.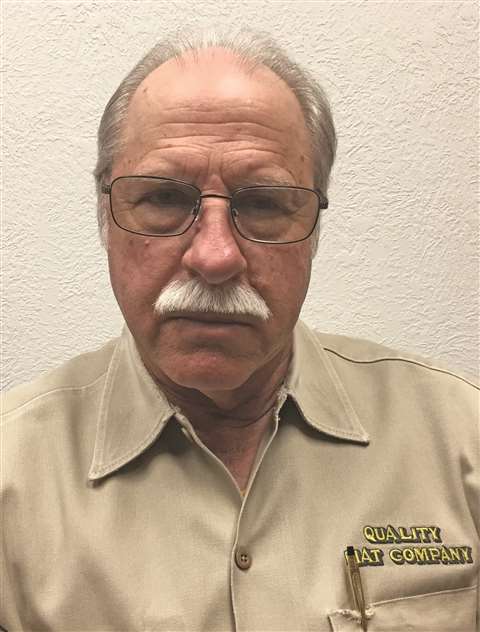 "Look, the mat manufacturers across the country are happy that the quality of timber has gone down. Why? Because when that mat deteriorates in less than a year, they get to sell another one. And if we blame it on the quality of the timber in the woods, then we can also say it's not the mat manufacturer's fault. Well, yes, it is. You can't 'make do.' I go through a million and a half feet of lumber a week. I see a lot of bad lumber; we send it back to the saw mills and make them give us credit for it."
Penland's point with his presentation wasn't to encourage attendees to buy mats from him. "Not at all … I want a governing body to say we have to start watching what's coming into a plant and develop some standards.
"And this includes international members. Everyone's at equal risk. A purchasing agent must learn how to buy the best value for the company, not the cheapest price. I want my audience to leave with the knowledge that this industry needs to be regulated. They need to recognise there's a problem, and it's looming, and something catastrophic could happen as a result. There's no reason why, when so much of the industry is regulated, that mats aren't. It makes no sense.
"The more people that know, the more this message spreads, and the safer the industry becomes. Every person that shows up at a job is entitled to go home to their family. We owe that to them before we settle for less."
Start planning now for the next SC&RA Crane & Rigging Workshop, at the Louisville Marriott Downtown hotel in Louisville, Kentucky, USA, 26 to 28 September 2018.