Riwal aids care home visit
By Thomas Allen06 April 2020
Riwal provided its expertise and equipment to help a man safely visit his elderly mother in isolation in a nursing home in the Netherlands.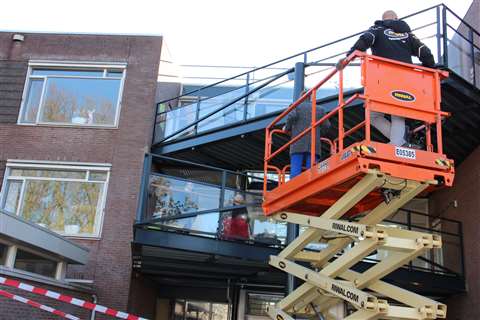 The Dutch government took the decision on 18 March to close all nursing homes to visitors to prevent them from becoming contaminated with the coronavirus.
The following week, Riwal was approached by Cor de Graag, who asked if the company could help him see and speak to his mother in the Crabbehoven nursing home in Dordrecht.
Riwal first sent a member of its staff to the location to conduct a risk analysis, so that all safety and coronavirus measures could be met during the visit.
A JLG 2646ES scissor lift with a 2.5m long work platform was then used to ensured that a Riwal employee operating the aerial work platform from the working basket could maintain a safe distance of 1.5m from Cor de Graag, who was also in the basket.
Glenn Verburg, Country Manager Riwal Benelux, said, "At Riwal, we were already thinking about how we could help people efficiently and safely in these times. Cor de Graag's request came at exactly the right time.
"We are pleased that we can provide some relief during this time and have already been approached by various care homes. We are open to these requests, but only if it meets criteria whereby we can guarantee the safety of all involved. That is our highest priority."