Riwal purchases first JLG 1500AJP
By Lindsey Anderson14 April 2016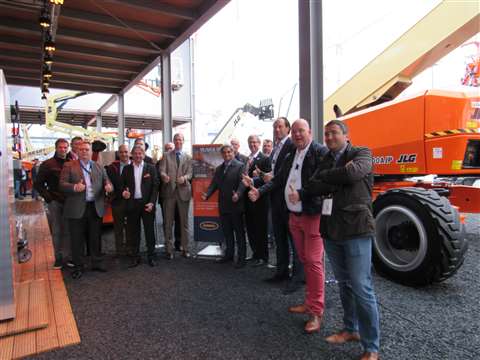 Announced at Bauma, Netherlands-based Riwal has bought the first 1500AJP from JLG.
"This is a proud moment and happy moment," said Frank Nerenhausen, president at JLG. "I am proud of the JLG team for producing the 1500AJP. We will continue to innovate as we move forward. But, I am also happy. I am happy today to hand over the keys to the very first of this innovative machine to our good friends and partners, Riwal."
The 1500AJP features an up-and-over height of 18.3m, a working outreach of 23.5m, platform capacity of 270kg unrestricted and 450kg available through a the vast majority of the working envelope.
"JLG is such a value partner for Riwal," said Norty Turner, CEO of Riwal. " They are not a supplier, they are a partner. We work very closely together and they showed yet again that they are the industry leader. We're honored that we're the launching customer of the world's first 1500AJP and we're very excited about it."
The 1500AJP, which will be available for shipment to customers in early 2017, also offers a standard 2.4m jib that raises and lowers 135 degrees to provide additional reach, up-and-over capability, and the ability to position the platform independent of the main boom. In addition, the jib pivots horizontally 125 degrees to provide extra maneuverability at elevated work sites.