Riwal working smarter says CEO Norty Turner
By Joe Malone22 November 2016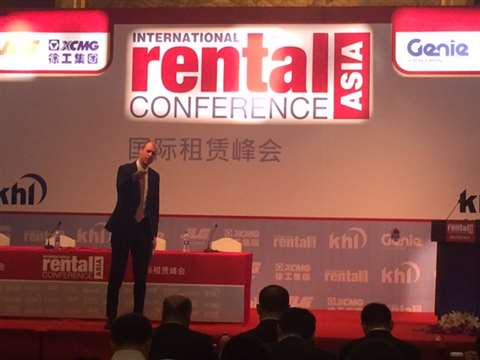 The overall cost of renting construction equipment is more important than the rental price paid, the 2016 International Rental Conference Asia heard in Shanghai, China.
Norty Turner, CEO of AWP specialist Riwal, said the company had improved its operating profit margin some 169% in three years, after adopting 'The Riwal Way', which centres around improving customer value by "working smarter".
Mr Turner said the company used the programme to improve five core elements: safety, machine availability, on time delivery, uptime and invoice accuracy.
"When a company calls to rent a machine, they expect us to say, yes, we have exactly what you need and if they say they need it at 8am, they expect it to be there at 8am and not a minute later."
He added, "Customers also expect that machines are functioning well 100% of the time from the moment they expect to receive the machine until they are finished with it. That means delivering quality machines and if service issues arise that we resolve it quickly. Finally, we want to make the invoicing system as easy and as accurate as possible, to avoid time delays."
Turner believes that dwell rate - the time between a company calling a machine off rent until it is back on the ready line for rent again - is of "major importance" to rental companies, as opportunity costs continue to rise.
He pointed to one example the company had faced with being a victim of "price pressure", but revealed how Riwal overcame such a problem to build a long-standing relationship with the construction company.
"One company in India, which rented 35 machines from us on one construction site, came to us and said they'd been offered a cheaper rate, and asked us to lower our price by 5%. We said no", said Mr Turner, "They then asked us to lower it by 1%, but we said no, again. The company then returned all 35 machines and went elsewhere. We lost our contract.
"However, the company then suffered technical issues with the rental companies it had decided to go with, and it came back to us and re-rented several of the machines it had returned."
He added, "This is where The Riwal Way comes in. If we can offer better customer value, then the overall cost is less for the customer, in terms of time and money. That's what it's all about - it's about cost, not price."
Mr Turner concluded by suggesting that rental companies needed to be prepared to change, in order to keep up with what companies wanted.
Meanwhile, Xavier du Boys, CEO of Kiloutou, spoke about the importance for rental companies of creating value and return on investment.
He argued that extending the life of machines – through high quality maintenance – was an essential component in ensuring a return on investment.
He added that it was crucial that everybody in the rental organisation understand the importance of return on investment and how it can be achieved, and their own role helping to create value. Mr du Boys said this gave meaning and context to their work.