Riyadh Metro project uses Dorman Long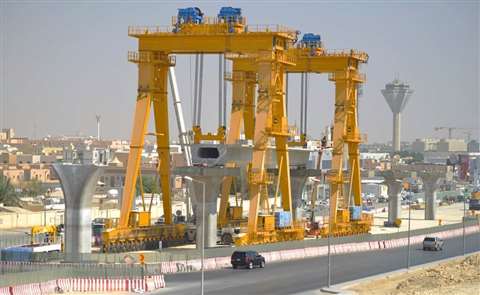 The 16.7 kilometre elevated viaduct on one of the lines of the Riyadh Metro – a rapid transit system under construction in Riyadh, Saudi Arabia – is being constructed, with the help of UK-based Dorman Long Technology, using the full span launch method.
This involves the bridge deck of each full span being manufactured as a single precast concrete box girder which is then transported and erected into final position by purpose-made heavy lifting equipment.
The precast box girders on this project have a span of up to 35.85 metres and weigh up to 500 tonnes. They are manufactured in several casting yards constructed specially for this project and are located adjacent to the viaduct.
Two methods are being used to move the precast concrete box girders from the casting yards to their final position.
The first uses a transfer gantry to lift the girder up onto the completed deck, a multi-axle over-deck transporter to deliver the girder along the deck and a launching gantry to place the girder into its final position. This method is used over most of the length of the viaduct.
The second method is to use a pair of straddle carriers to pick up the girders from the casting yard, transport them along the viaduct line and place them into final position. The second method is particularly economical as a single pair of straddle carriers is used to perform all of the functions of the transfer gantry, transporter and launching gantry in the first method.
The straddle carriers, however, are supported on multi-axle transporters at ground level and therefore need an unobstructed ground level track for the full travel distance between the casting yard and the final erection point.
Dorman Long Technology supplied two launching gantries, two multi-axle over-deck transporters and a pair of straddle carriers for the contract.
The typical erection rate for both systems is one span per day, but it is dictated by the speed with which the casting yard can produce the precast girders.
Dorman Long also supplied a lateral skidding system that allows the bridge girders to be moved sideways after erection by the launching gantry, which is being used in a section of the viaduct that has multiple girders in each span.