Roadbuilding: At a crossroads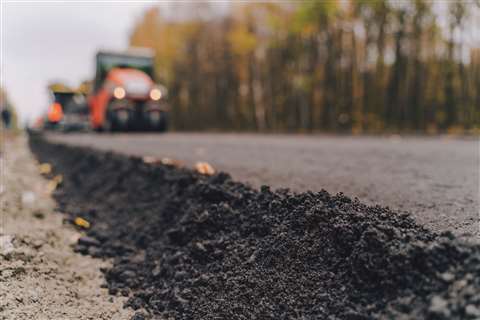 The future for the road construction sector in Europe is less than clear
The construction industry in Europe has been dealt a hammer blow by the coronavirus pandemic.
Following weeks of heavily restricted construction activity, a group of 15 industry organisations felt the need to come together to call for urgent measures from the European Union (EU), to "protect workers' health, support economic activity and accelerate the recovery".
Perhaps two weeks ago, that would have seemed a herculean task, even for the EU. Yet, as this article is written, there does appear to be some light at the end of this painful tunnel, with the worst-hit countries in Europe – Italy, Spain and the UK – now examining the easing of lockdown measures.
Nevertheless, the absolutely correct decisions made by governments throughout Europe to prohibit the spread of the virus by putting in place measures of social distancing, have had an extremely detrimental effect on Europe's economy – from which it will almost certainly take years to recover.
Domenico Campogrande, director general of the European Construction Industry Federation (FIEC), said, "Activity is down by about 60 to 70 per cent in southern Europe — it is an unprecedented shutdown."
For the road construction sector specifically, there should be no sugar-coating of what is to come; apart from the obvious austerity measures that seem certain to follow the crisis, there is a very real possibility that the 'new normal' will mean less travel by road and more people working from home.
The obvious outcome of this will be the redirection of government budgets – away from roads and towards broadband networks.
In the UK, for example – prior to the Covid-19 outbreak – the government initiated a €32 billion road construction programme, based on the assumption that traffic will rise by approximately 1% per year. In the 'new normal', this may not be the case. Road contractors will wait with baited breath to see whether the €32 billion remains on the table.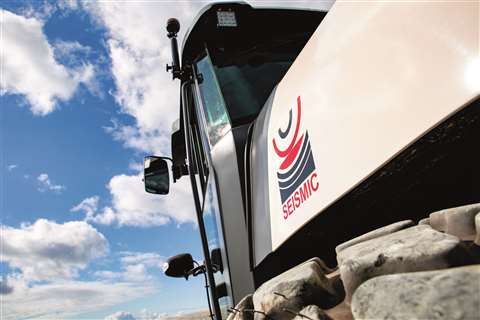 Dynapac and Trimble worked together to develop Seismic rollers with autonomous functionality
High-level budget discussions will doubtless take place throughout Europe, with a balance to be found between the already advanced goals of carbon neutrality and the need to revamp flagging economies.
Unquestionably, infrastructure will be seen as an excellent economic quick-fix, and the importance of highways to Europe's stretched supply chains cannot be overestimated.
For this reason, major projects will almost certainly move ahead – as a number have throughout the crisis.
That is not to say it will be business as usual…
Clearly, the road construction sector of today is very different to that of a few years ago; technology has made surveying considerably easier, quicker and requiring of less manpower. The equipment available today offers increases in productivity and, importantly, reduced emissions.
Continuing development of technology that makes road construction less costly and more environmentally friendly will be of increasing importance.
As an example, road construction equipment manufacturer Dynapac and technology firm Trimble recently partnered to develop compaction equipment with autonomous functionality.
Dyanpac – part of the French Fayat group – launched its Road to Autonomy programme last year, with the introduction of its Seismic soil roller. The roller automatically adjusts the frequency of vibration as it progresses, optimising compaction and energy efficiency.
The latest development introduces automatic steering and speed functions, giving operators the opportunity to 'map' the area to be compacted before the roller undertakes the compaction autonomously.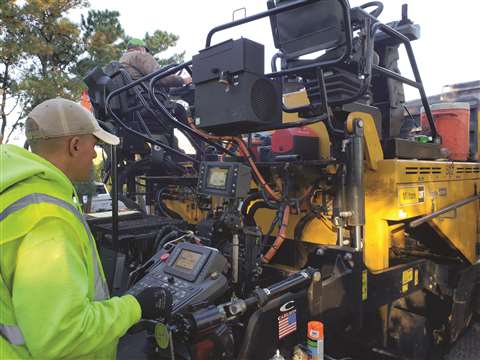 Trimble says its Roadworks 2 system is straightforward to use for operators of all skill levels
The roller utilises Trimble's positioning technology, as well as its documentation software, allowing details of quality improvements to be accurately reported.
Even more recently, Trimble announced its new Roadworks 2D Paving Control Platform, an automatic screed control system that the company says makes asphalt paving more accurate and increased productivity, thereby reducing waste.
The software is built on the Android operating system and Trimble says the programming makes the system intuitive and accessible to all operator skill levels.
Kevin Garcia, general manager for Trimble Civil Specialty Solutions, said the new platform "leverages the intuitive Trimble machine control interface and applies it to asphalt pavers, making it easy to use and learn, and more accessible for many different types of contractors."
Moving from 2D control on a roller to 3D mapping on milling machines, a demonstration of how roads can be milled both accurately and quickly was recently given in the UK.
The preeminent circuit in the country is Silverstone and, ahead of the 2019 British Grand Prix, the track needed resurfacing. A team was formed, comprising lead contractor Tarmac, road planner NRP, racetrack specialist Dromo and Topcon Positioning Group, to undertake the task.
NRP was charged with the milling work on the circuit and used Topcon's SmoothRide machine control technology. Precision was of the utmost importance, as the camber of the entire circuit was to be adjusted to optimise water run-off.
The SmoothRide technology, with its 3D analysis of the surface had been used previously on airports and highways, but never on a racetrack and never before in the UK.
Whatever the weather – the Silverstone track was milled in just two days and three nights
Sjoerd Stoové, 3D paving specialist at Topcon Positioning Group, said: "Racetracks are completely different from other roads – it's very specialist work. This is mainly because on a normal road there are separate lanes, but on a racetrack the ideal racking line changes constantly from left to right. With Silverstone, there also needed to be two 'crowns' in the road, which were not always in the same spot, and there were very tight corners requiring quick camber changes over short distances."
Stoové added, "If you only take off the top layer and replace it, you are essentially just replicating the existing situation. We needed to create an entirely new surface not only to eradicate any risk of bumps, but also so we could shape a new camber that would make sure all water runs off to avoid aquaplaning."
Some parts of the track needed to be milled to a depth of 70mm and others not at all. The SmoothRide system used GNSS (global navigation satellite system) to calculate the difference between the existing track surface and the new design, before sensors, attached to two Wirtgen W210Fi milling machines, instructed them on when and by how much to raise or lower the drums.
The 87,000m2 track was milled in three days and two nights.
The coronavirus lockdowns around the world have highlighted possibilities for reducing emissions that both endanger health and lead to climate change.
Wacker Neuson has a range of modular compaction equipment that can be powered from one battery
In urban environments especially, it has become clear that emissions must be reduced. That said, construction work in busy city centres needs to be undertaken quickly and the equipment used needs to be as flexible as possible.
Wacker Neuson recently introduced a range of emission-free compaction equipment, all powered by the same modular lithium ion rechargeable battery
The company currently offers vibratory rammers and plates and an internal vibrator, powered by the battery, which comes in two models – BP1000 and BP1400.
For applications inside buildings and in noise sensitive zones, Wacker Neuson says the performance of its electric rammers is equal to gasoline rammers of the same size class, yet have the capacity to save more than 50% of the energy costs.
The battery-powered rammers, according to the company, are also completely maintenance free.
On a larger scale, Liebherr recently released news of its first fully electric truck mixers, with 10m3 and 12m3 drums and a five-axle chassis.
The company developed the machines with the Swiss electromobility specialist Designwerk Engineering and it says the design is perfect for materials producers Holcim and Kibag, operating in Switzerland, where 40 tonne gross weight vehicles can drive on five axles.
Environmentally friendly concrete transport with the Liebherr ETM 1205 on a Futuricum chassis
Lieberr says that, while the production of concrete is undertaken using electric mixing plants, the delivery has been less environmentally friendly – until now.
Its new ETM 1005 and 1205 truck mixers boast the equivalent of 680HP, but their large accumulator capacities and energy recovery systems, which charge the battery during braking or downhill driving, means charging at the plant is generally only required overnight.
Liebherr developed the drum drive with ZF, and both the truck and the truck mixer body are powered by the same battery, reducing the cost of electronic components.
The new trucks also have no hydraulic equipment – such as hose connections and pump – which eliminates the risk of leakage.
Caterpillar is currently developing remote-control technology that could have a significant impact on the road construction sector.
Cat Command for Compaction is an operator-assisted technology, available for use on select pieces of Cat equipment, that automates the vibratory soil compaction process.
Operators are able to map the boundaries of areas to be compacted and enter the compaction parameters. The machine is then placed in automatic mode, giving it the autonomy to control propulsion, steering and vibration levels.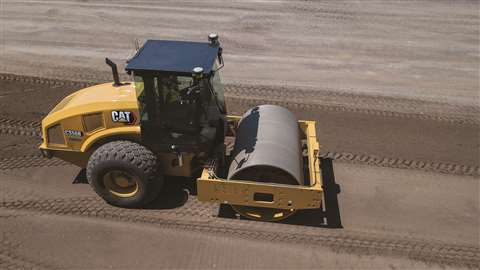 A Cat CS56B compactor operates with the new Cat Command for Compaction system on board
The system includes an object detection system and the option to turn the system on and off, whenever a section to be compacted needs operator input.
Cat says the new system could lead to more consistent and precise overlap on passes, therefore reducing fuel usage and delays.
In the 'new normal' of building roads, it will not only be the construction itself that needs to become more efficient, but the entire scope of the project.
In Switzerland, Ammann is another company with an eye on the future of compaction. Its Ammann Compaction Expert (ACE) system is aimed at helping operators confirm that the desired compaction has been achieved.
Available on soil and asphalt compactors, the system was primarily designed for large projects, such as airports and highways, but has been modified for use with small vibratory plate compactors and trench rollers.
For heavier machines, ACE Force is used, while ACE Econ is available for reversible plates.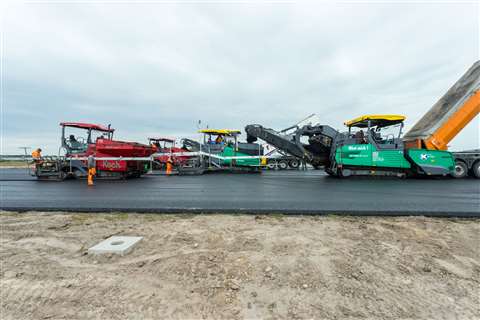 Vögele's WITOS Paving Plus system being used by Georg Koch on the Jade-Weser airport project
Vögele, part of the Wirtgen group, has developed the WITOS Paving Plus system – a tool that networks everyone involved in the project in real time.
Supervisors at the asphalt mixing plant and truck drivers delivering materials, as well as planning engineers and site managers are all kept up to date with the project's progress.
The WITOS system reports to the mixing plant when a mix truck has set off for the job site. A digital delivery note is sent to the site manager, who also receives an estimated time of arrival. Waiting times are also logged and the paver itself automatically detects incoming trucks.
Vögele maintains the easy-to-install app-based system reduces downtime, aids continuous paving and gives accurate measurements of paving completed.
Volvo produces 4800 VPM compactor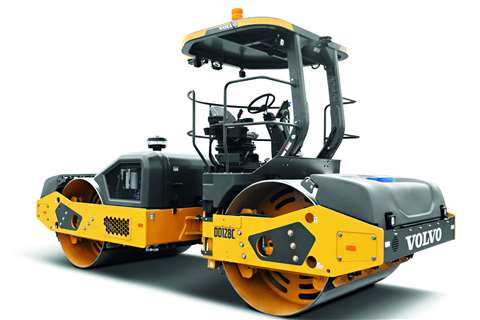 The new DD128C compactor from Volvo promises the highest frequency in the industry, as well as fast rolling speeds.
The machine has one 2,000mm-diameter drum with chamfer and radii drum edges, plus one 1,400mm-diameter drum.
The company says the DD128C's auto-reversing eccentrics function ensures eccentric rotation, whether the machine is moving forwards or in reverse and it features a range of amplitudes from 0.08mm to 0.8mm.
The compactor is also fitted with an automatic speed-dependent drum-wetting system that Volvo says both reduces water usage and ensures even drum coverage.
Volvo has also developed the Compact Assist system, which provides operators with real-time feedback on the status of compaction, as well as a pass mapping feature, giving an overview of compacted and yet-to-be-compacted areas.
Temperature mapping also helps to ensure compaction takes place before asphalt cools.
Bobcat expands roads portfolio
Bobcat says it is seeing demand in road construction equipment in Europe, and has expanded its portfolio to include a soil and asphalt spreader attachment for its skid-steer loaders.
The attachment can be used to lay asphalt and other materials, either to create pavements or to widen or repair existing roads.
Bobcat says it can also backfill, pave over and cover trenches, as well as laying sub-base materials.
The spreader has an offset feature, allowing it to lay asphalt without the loader needing to pass over the spread material.
The attachment has an operating weight of 675kg and a standard operating width of either 190cm or 196cm. Mounted on a Bobcat compact loader, the spreader has an average working speed of 50-120m/min.
Off-Highway Research on the pavers market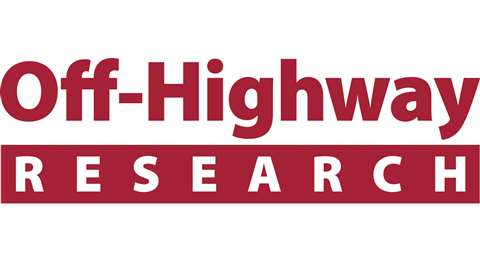 The European market for asphalt pavers has been stable at just over 1,000 units per year for the last three years. The peak year was 2018 when 1,076 machines were sold.
This reflects a hitherto strong and stable roadbuilding market in Europe. There had been a steady improvement in demand form the low point of 770 unit sales in 2012 and, prior to the Covid-19 outbreak reaching Europe, the forecast had been for the market to remain strong around the 1,000 machines per year mark.
It remains to be seen how Covid-19 and the associated lockdowns affect demand. Construction has been halted in some European countries and roadbuilding will certainly take a dip while these measures remain in place.
Activity should pick up again as life returns to normal. However, it remains to be seen whether equipment buyers – mainly specialist roadbuilding contractors in the case of pavers – still have the appetite for the purchases they previously planned. In uncertain times there is always the temptation to work with the equipment in hand, rather than make a new purchase.