Roadbuilding: The road ahead
The Vögele 3000-3i is capable of paving at a width of up to 18m
The Wirtgen Group will have approximately 120 exhibits and 13,000m² of exhibition space at Bauma, and this year, the group's slogan for the show will be Smart Synergies & Innovations.
It said its booth would showcase its compatible product solutions and application processes that enabled customers to meet the challenges of road construction in a cost-effective manner while producing high-quality results.
And Bauma will be the first time that the Wirtgen Group will be exhibiting at a joint booth together with John Deere, which acquired the company in 2017.
It said that innovative technologies and intelligent solutions were the hallmarks of its specialised product brands Wirtgen, Vögele, Hamm, Kleemann and Benninghoven.
Wirtgen said it would will be presenting world premieres and innovations in all of its product segments – showcasing cost-effective premium solutions for cold milling, cold recycling, soil stabilisation, concrete paving and surface mining.
The Wirtgen brand itself has developed the high-performance W 380 CRi cold recycler, which will be unveiled to the world at Bauma.
With available working widths of 3,200, 3,500 and 3,800mm, the recycler mills the road between 100 and 300mm deep in most applications. At the same time, it granulates the material and transforms it into a new, homogeneous material mixture by adding binding agents such as cement, bitumen emulsion, or foamed bitumen.
The W 380 CRi cold recycler will be unveiled at Bauma
With a mixing capacity of up to 800 tonnes/h, the cold recycler can feed enormous quantities of recycled material to a Vögele paver via its swivel-mounted and height-adjustable discharge conveyor at the rear. It said this made it possible to complete extremely long stretches of road in a single day of work.
Vögele will be unveiling its new flagship – the Super 3000-3i – which, thanks to its SB 350 fixed-width screed, is capable of paving at a width of up to 18m. It will also show pavers from the new Classic Line and innovations for the WITOS Paving process management solution.
Hamm is presenting what it terms the "future of compaction" with new tyred rollers in the HP series, its "revolutionary" split oscillation drum, and many new products for asphalt and earthworks.
Hamm said that it had improved the ballast flexibility with prefabricated ballast body
kits which are available in various weights, and the facility for straightforward self-ballasting.
There are also new solutions for water and additive sprinkling, with large tanks, a pressurised filling system as standard, a large additional water tank that can also be used as ballast, and a novel additive preparation process which is as simple as it is efficient.
The HP series pneumatic tyre rollers will be available in various basic versions – HP 180/HP 180i and HP 280/HP 280i – with operating weights ranging from 8 to 28 tonnes.
Bennighoven will be exhibiting its Eco asphalt mixing plants which it said could be found in use across the globe today, as well as models from its TBA family of transportable asphalt mixing plants, which can now be configured with a hot gas generator for RC additives.
Hamm says the HP 280 is part of the 'future of compaction'
The group said that thanks to the Wirtgen and John Deere complementary product ranges, the line-up covered an enormous range of customer solutions.
It added that visitors would not only be able to experience this for themselves up close at the exhibits, but also from a height of 5m via a tour across the Skywalk, which connects each of the Wirtgen Group product brands' technology centres and John Deere to each other.
In addition, the Skywalk will offer visitors the chance to learn more about the Wirtgen Group's synergies at individual stations.
More than 100 Ammann products will be on display at the show, including many new offerings. Ammann will also mark its 150th anniversary at Bauma 2019.
Among the products and services that will be showcased will be light equipment, specifically a new line of APH Hydrostatic Vibratory Plate Compactors, which will replace the current line of machines. Key features include ACE technology for advanced compaction and the triple-shaft exciter system, which keeps plate movement consistent and enables smooth travel.
The new line of APR Reversible Vibratory Plate Compactors will also be presented. The plates also incorporate a low-vibration handle to help keep operators fresh, comfortable and productive.
With its compaction machines, the ARX 91 Articulated Tandem Roller, which is said to use high compaction output to make quick work of thick or thin asphalt layers in fewer passes, will be at the show.
The output is provided through a combination of drum dimensions, frequencies and amplitudes.
Bennighoven will be exhibiting models from its TBA family of transportable asphalt mixing plants
The ART 280 Hydrostatic Tyred Roller is available with engines that meet varied emissions levels. Ammann's modular, easy-load ballasting system enables the machine weight to be adjusted from 9 tonnes to 28 tonnes in a single hour with the help of only a forklift.
The new series of ARX Light Tandem Rollers are said to make it even easier for operators to work next to obstructions such as curbs. A new, maintenance-free articulation joint enables quick drum adjustment from in-line to offset configurations.
The ARS 122 T3 Soil Compactor incorporates a Cummins BS-III engine, equivalent to a Tier 3. The ARS line features Ammann's no-rear-axle concept.
The ARP 95 ST5 Pivot-Steer Roller has a redesigned main frame that enables the machine to work as wide as 3,070mm when in an offset configuration. It is the widest working width of a roller of its size on the market. The company's ARS Series ST5 Soil Compactors are said to offer exceptional compaction output, helping the machines reach goals in fewer passes.
Concrete and asphalt products will also be on display from Ammann. These include the ABC ValueTec asphalt mixing plants,
the transport-optimised CBT 130 TB Elba concrete mixing plant and the RSS 120-M shredder, iron separator and screen, a mobile machine that prepares recycled asphalt for use in an asphalt-mixing plant.
Ammann Compaction Expert (ACE), the company's proprietary intelligent compaction system, will be explained at the booth.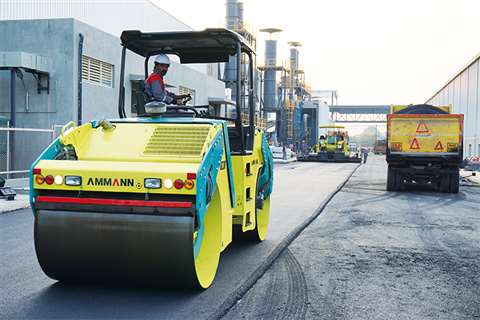 The Ammann ARX 91 Articulated Tandem Roller is said to use high compaction output to make quick work of thick or thin asphalt layers in fewer passes
GOMACO will bring its zero-turn capable pavers for manoeuvrability to Bauma, saying that contractors around the world face the same job-site challenges, from short runs, tight radii and corners in parking lots, to a multitude of obstacles to pave around.
GOMACO's Xtreme curb and gutter machines are said to be able to handle these challenges, and can also slipform a 610mm radius or less.
The new Xtreme three-track Commander IIIx and two GOMACO 3300s with the exclusive GOMACO G+ control system will be on display.
These machines feature rotary-sensored slew drives on the tracks, sensored leg positioning, and independent travel circuits to each track to allow tight radius slipforming. Intelligent All-Track Positioning is accomplished with smart hydraulic cylinders on the three legs which allow G+ to know the position of the tracks at all times.
The Commander IIIx and 3300 feature Tier 4 engines and optimised cooling packages with G+ controlling the hydraulic fan. G+ quiet technology is said to make these some of the quietest pavers on the market today
GOMACO's zero-turn capabilities are incorporated into its large pavers as well. GOMACO's new GP4 slipform paver, capable of paving widths up to 12.2m, will make its international exhibition debut at Bauma.
The GP4 has a dual-telescoping roller frame with smart cylinders and smart telescoping for accurate frame widening and automatic width reference for easy and accurate steering setup. The modular roller frame telescopes up to 2.1m on each side for a total of 4.3m of telescoping ability. The GP4 paver is equipped with Smart Pivot Arms for leg positioning, as well as Smart Track Steering technology. It has Extreme Steering capabilities that work together with the paver's G+ control system, so G+ knows each track's location and position.
The GOMACO GP-2400 is the company's smaller, economical slipform paver capable of slipforming widths up to 7.4m, with 2m of telescoping ability on the left side.
Completing GOMACO's Bauma 2019 display will be the Curb Cadet, the highly mobile and compact curb machine. The Curb Cadet slipforms concrete curb or extrudes asphalt curb from either side of the machine. It is self-propelled and manually steered with the handle containing the controls. The Curb Cadet is a two-track curb machine, with the option for three tracks.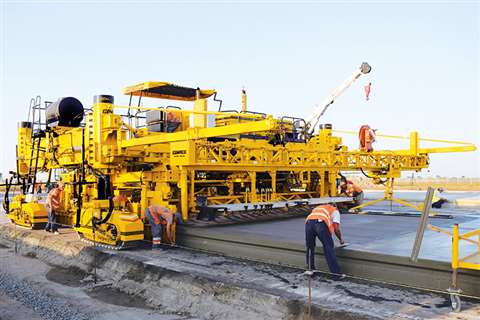 GOMACO's new GP4 slipform paver is capable of paving widths up to 12.2m
Bomag will be presenting a number of new innovations for the roadbuilding sector, and one machine on display will be the new BW 174 AP tandem roller with a hydraulic hybrid drive system, which will be available from April 2019. It combines a diesel engine with a hydraulic accumulator and Bomag's Asphalt Manager.
Delivering 100Nm and 20kW of power to the crankshaft, the hydraulic hybrid accumulator makes it possible to use a more compact motor. Overall, the hybrid solution was said to reduce CO2 emissions by up to 20%.
The storage unit is charged in overrun mode, and since this only takes a few seconds, the hybrid power is immediately available again when the next vibration cycle begins. This means that, in practice, there is no noticeable change to performance for the operator.
The Asphalt Manager compaction system plays a pivotal role in the performance of the hybrid solution, since such a system requires precise control. The close connection between the hybrid and compaction systems ensures the required vibration frequency is maintained, even under high loads.
Bomag's Asphalt Manager was said to be the only system on the market with infinitely variable compaction force control.
The maximum compaction force exceeds that of conventional vibratory systems by 20%. In practice, this means fewer passes to achieve the required density.
Also, the Ecomode control unit processes data from various sensors and co-ordinates individual components to give greater overall efficiency.
Bomag will also be demonstrating three different drive solutions for the future, in view of increasingly stringent emissions regulations. The BW 120 light tandem roller will be used as an example to show the different systems.
One solution will be the 30kW Deutz gas engine, which provides an output that is comparable to that of the corresponding diesel engine with a DPF (diesel particulate filter). Travel speed and compaction performance were also said to be similar.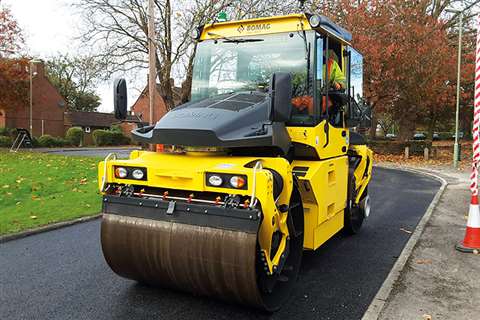 The new BW 174 AP tandem roller with a hydraulic hybrid drive system from Bomag
The liquid natural gas or liquid petroleum gas (LPG) on which the engine runs is commercially available in liquid gas bottles that can be bought in DIY shops and petrol stations. A single gas bottle provides enough fuel for up to five hours of work, and changing the bottles is said to take no more than ten minutes.
The main benefit of this system is that it eliminates the need for a complex exhaust gas aftertreatment system.
Another solution on show in the BW 120 will be the diesel particular filter (DPF) fitted on a 24.3kW Kubota engine. This makes the machine compliant with Stage V, which came into force for this machine type on 1 January, 2019. The roller has a working width of 1,200mm.
The third solution is a reduced power version that has an output of 18.5kW, which requires less investment and comes with fewer maintenance costs.
Bomag will be showcasing a new operating concept for its second-generation chain drive pavers, designed to help operators remain comfortable during long shifts.
It features a new multi-function seat that brings all the important machine functions within reach of the operator while sitting. This means the driver no longer needs to stand up to make adjustments on the main control station and they can modify all the settings without interruption.
The operating functions can be accessed via the two ergonomic arm consoles and a joystick. With the joystick, the operator can control the hopper wings, the hydraulic front flap and the direction of travel. Steering is integrated into the left arm console, while the driver has access to all material handling functions through the right armrest.
A new operating concept for Bomag's second-generation chain drive pavers is designed to help operators remain comfortable during long shifts
Bomag's Sideview system provides the driver with good visibility of the machine edge, hopper, auger and screed. Also, the operator's platform can be shifted to right and left of the machine's edge by up to 60cm, while the seat can be rotated by up to 270°.
The new operating concept will be available worldwide from June 2019.
The new Bomag BM 500/15 and BM 600/15 cold planers will be launched at Bauma, boasting new functions and design improvements intended to increase ease of use and enhance productivity.
Both models are equipped with a 105kW diesel drive that meets EU Stage V emissions standards, and offer a milling depth of up to 210mm.
One particular highlight of these second-generation models is the redesigned workspace. The entire platform is isolated from oscillation and is therefore free from stressful vibrations. All machine functions are accessible from the seat, which can be swivelled by 45°.
Also, a 7in colour display has been installed in cockpit, enabling operators to keep an eye on all the relevant parameters, such as milling depth and cutting or milling speed.
With a view to making maintenance easier, the water sprinkler system cools the cutting tools, extending their service life. With the new high-performance 3-in-1 water pump, filling, sprinkling and washing has been made faster, and the pump's modular design makes it easy to maintain.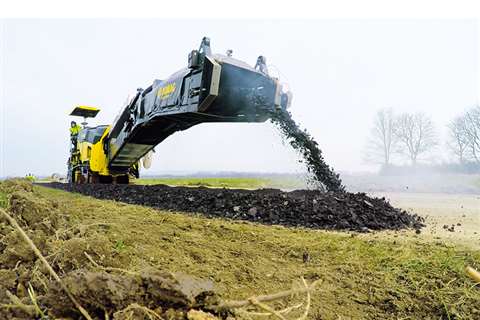 Bomag will be presenting its Ion Dust Shield technology for cold milling machines
The milling process produces large quantities of potentially hazardous fine dust, so to combat this, Bomag will be presenting its Ion Dust Shield technology for cold milling machines at Bauma.
Systems currently available on the market vacuum the dust from the immediate working environment to protect the operating personnel and send it to the conveyor belt. Although this protects the driver of the machine, the particulate matter is not eliminated.
With Bomag's solution, the system is installed in a small box directly on the conveyor belt and the dust is passed through an electric field to charge it positively. The positively charged dust is then attracted to the negatively charged housing and the particles clump together to produce a more coarse dust that is less dangerous. The coarse dust can then be transported away, together with the extracted road surface.
Offered on Bomag's digital service communication platform, the new Remote Service Assistant gives service technicians the ability to request direct support from experts in the back office through a video chat function.
With the service technician wearing a pair of Google Smartglasses, the consultant can not only provide spoken support but also look through the glasses and display visual information within the technician's field of vision.
At the same time as providing rapid solutions to problems, the service also provides Bomag's developers with valuable feedback from the field, which informs future machine designs.
Caterpillar will show its AP555F model, a mid-sized, rubber track paver that is said to excel on highways, streets and other urban work sites.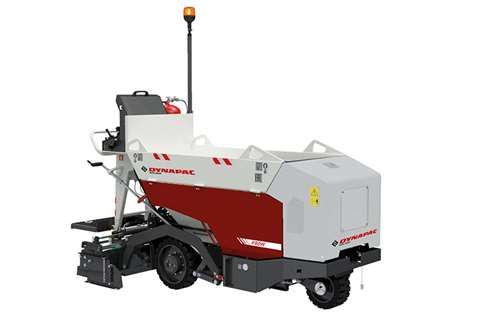 The Dynapac F80W mini paver is for jobs with a working width of between 0.25m and 1.65m
The AP555F features advanced control technology and quick-heating SE50 VT electric screeds that boost productivity of the machine and crew. It features the exclusive Cat Mobil-Trac rubber track undercarriage, which is said to deliver high travel speed, excellent flotation, superior traction and mobility.
The machine is powered by a Cat C4.4 ACERT engine that provides 106kW. A standard Eco-Mode setting, when used with automatic engine-speed control, manages engine speed for optimum fuel economy and reduced sound levels.
A machine that is used on a wide range of projects, the vibratory soil compactor, is represented by Cat models CS12 GC, CS44B, and CS66B. All three models can be equipped with Cat Compaction Control, which provides compaction measurement technology and can also provide satellite mapping.
Along with the paver and compactors, a PM310 cold planer will be on display. PM 300-Series models are designed for small-to-medium job sites and feature three drum sizes, wheel or track undercarriages, and articulating right-rear leg for right-side flush cutting. Features include advanced controls and system integration, as well as a full range of options.
There will be a focus on digitalisation on Dynapac's stand, with the company's new Dyn@Link equipment tracking system to the fore. The tracking system has been set up to be fitted to non-Dynapac-branded machines as well, and will interface with a company's existing fleet management portal or a rental company's ERP system.
On the equipment side the company will launch its smallest ever paver, the 80cm wide F80W mini paver. Equipped with a gas heated vibrating screed, the F80W is designed for jobsites with a working width range between 0.25 and 1.65m.
The company will also further expand the light compaction range – Dynapac Light – that it introduced early in 2018, with numerous additional models, such as seven forward and reversible plates – including 500 and 700kg reversible models - rammers and the D.ONE articulated trench roller.
The TV1200 is the first of a revamped range of tandem rollers from Mecalac
The tandem roller range acquired by Mecalac from Terex Corp a few years back is now getting a significant re-design, with the TV1200.
Built in Coventry, UK, the TV1200 will look more like a Mecalac machine aesthetically, but there will be many more substantial changes as well.
The French manufacturer has removed the steering column and replaced it with a joystick on the front panel. That frees up space for getting in to the driving seat, and also gives the operator much more scope to move into a comfortable position during operation.
The front of the roller has been designed with angles, making it easier for the operator to see the drums. The new joystick, as well as freeing up space taken by the steering column, provides an easier controls interface. The TV1200, with an operating weight of 2925kg and width of 1270mm, will be the template for the rest of the roller line in the sizes 80cm to 1,400cm.
Supporting documents
Click links below to download and view individual files.