Roadbuilding: The road ahead
Due to the huge economic impact of the Covid-19 pandemic, governments around the world will likely be looking to stimulate their economies by investing in infrastructure, including roads.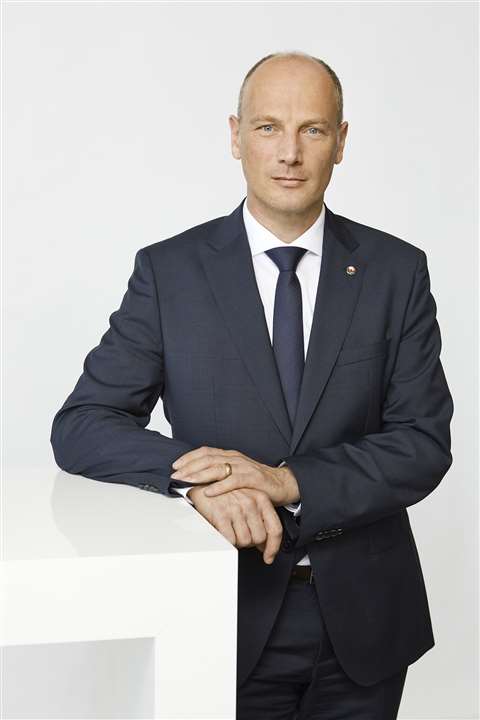 This gives Alexander Greschner, Chief Sales Officer of compact equipment manufacturer Wacker Neuson, some reason to be optimistic about the future; "Roads themselves are something you cannot stop investing in; you have to rebuild, you have to maintain, you have to keep them in shape."
Looking ahead, Greschner says, "In the central and northern European countries, I think there is maybe a bit of a delay, but we know from many customer discussions in the past weeks that the pipeline for roadbuilding is not looking too bad." This is because road projects are often planned far in advance.
However, there is regional variation; "We still see that the southern European countries – being Spain and Italy – are a little bit slower with their initiatives," says Greschner, adding that Spain has done a lot of roadbuilding over the last decade, meaning its road networks are of a high standard.
Italy, he says, remains dependent upon European support because the local government is lacking financial leverage; "And this partly reflects the situation in central eastern Europe where a lot of the countries there are still somehow dependent on supportive funding from Europe," says Greschner.
China going strong
Meanwhile, outside of Europe, China is going strong, he says; "It was like turning a switch off and then on again; with immediate effect, China was back on stage and projects were resumed. There we think the government will do everything to catch up because they have their five-year plan, with or without Corona."
Speaking about South America, though, Greschner says, "That's probably one of the most difficult situations around the globe right now because there we already had the political issues at the end of last year, followed now by Covid. Obviously, the economic situation there is rather dramatic. So markets like Brazil, Peru and Chile have big question marks right now."
Meanwhile, Greschner is not expecting there to be a strong focus on roads in North America where, he says, "there is a lot of stimulation from the government, but it goes more into the consumer side still".
A lot of Wacker Neuson's equipment is used in roadwork projects, but the company's portfolio was recently made even more relevant to roadworks by the addition of the Dual View Dumper. It was introduced last year and won the Rental Product of the Year category in this year's European Rental Awards.
Power to pivot
Thanks to its rotating operator platform, Greschner says, "On a single-lane jobsite, it allows the operator to drive in forwards, load or unload the bucket, spin the seat around and drive out the same way, removing the need to manoeuvre."
He adds, "We experienced in the last 12 months in Germany a big impact with this product – and Germany has been a non-dumper market for the last 50 years."
Greschner also notes the growing trend, globally, for roadworks to be carried out during the night; "The roads get locked down in the evening and reopen in the morning, to avoid the main traffic and have an easier environment with fewer people around."
This requires quiet operation, which feeds into the growing demand for electric equipment.
Wacker Neuson is a strong proponent of electrification and, as such, is steadily broadening its range of electric equipment. Although the shift in the market towards these types of machines is largely driven by legislation, Greschner emphasises that "to have a sustainable success, it has to be economically reasonable and has to have a benefit".
Electric machines
For instance, electrical machines require less maintenance, according to Greschner, because they do not need filter changes, oil changes, and so on.
"This is much easier for rental companies to deal with because they can leave the machines out on much longer cycles," says Greschner. Not only are lifetime costs reduced but safety is also enhanced by the fact that engineers do not have to visit the equipment on site so frequently.
"I think we have now, across all our products, economically reasonable models where the payback for our customers is achieved in 2-3 years," adds Greschner.
The upfront cost of such equipment is higher, though, and this is where rental plays an important role for Wacker Neuson.
"In the main rental markets, such as the UK, France and Scandinavia, we see that the rental parks are extremely important for us to introduce such new products because, in the beginning, there is a reluctance on the contractor side," says Greschner. "And, obviously, the more utilisation you have on such a machine, the sooner you have your payback. So the sharing economy idea helps to launch such a new technology."
In the UK, Lynch Plant Hire saw activity levels drop during the lockdown. However, roadwork projects continued to be busy. This is because roadbuilding activity was identified as key for the future of the UK's Critical National Infrastructure (CNI), and the emptier roads during lockdown provided an opportunity to fast track existing roadbuilding projects.
Over the last few years, Lynch has worked with Highways England to supply machines for some of its latest smart motorway projects, including work on the M23, M4 and M26.
For the recent smart motorway building projects, it was estimated that 90% of the machines rented were from Kubota's 5 tonne range.
Chris Gill, Director at Lynch, said, "Kubota's machines are very reliable and their compact design allows for excellent manoeuvrability in tight spaces, which is a priority for our customers.
"The sustainability of the machines is also particularly important for these types of projects. All of Kubota's machines come fitted with Stage V compliant engines."
Promenade project
On the Isle of Man, a £25 million promenade project is being carried out in the island's capital city Douglas. The promenade is being overhauled, with the highway being reconstructed for the first time since 1935.
Groundworks company Stephen Christian & Sons is working on the initial stages of the project, which involve the installation of new utilities including electric, water, gas telecoms and street lighting.
For this, the company is using a Case TR270 compact tracked loader with a Case T450 Rock Wheel attachment, recommended by Case dealer Dennis Barnfield Ltd.
The dealer's Managing Director Graham Barnfield said of the TR270, "It may be compact, but it packs a punch when it comes to power and torque, and it delivers consistent performance in the most demanding conditions.
"We supplied a high-flow hydraulics package with this machine to deliver as much power as possible to the rock wheel. This package supplies 55% more flow than the standard hydraulics package and comes with a 14-pin electric plug socket to operate the attachment."
Speaking about the T450 Rock Wheel, Richard Christian, Director of Stephen Christian & Sons, said, "It's a great tool for our utility contracts and cuts through the road with ease. On the Douglas promenade job, we're cutting through 200mm of reinforced concrete and 50mm of asphalt with no problems."
The Case T450 Rock Wheel is also available for the new Case B-series range of skid steer loaders, launched in March 2020.
Meanwhile, in Northern Ireland £160 million is being spent upgrading the A6. The A6 Dualling Scheme is improving a 14.7km stretch of road that is used by 18,000 vehicles each day.
The Graham Farrans Joint Venture responsible for the project has subcontracted the utilities work to RB McGeary Contracts.
Safety management
Robin Kirkpatrick, Project Health and Safety Manager, said, "We use RB McGeary Contracts for their specialist skills and good safety management."
He added, "It's also good to see their fleet of new and well-maintained Hitachi machines on site. We obviously have a big emphasis on safety when it comes to plant working near pedestrians, so 360˚ vision around the equipment is vital to safeguard them."
Making reference specifically to the ZX33U-5 and ZX38U-5 models, Ronnie McGeary, owner of RB McGeary Contracts, highlighted the residual value of the Hitachi equipment it uses, saying, "We usually change our machines every three years and benefit from the strong second-hand values of Zaxis excavators."
According to Mark Black, General Manager of Dynapac, "The biggest issue in compaction for operators has always been knowing you have achieved the right compaction levels required onsite, as quickly and effectively as possible."
For this reason, the manufacturer has introduced its new Seismic Roller to improve compaction performance.
Black continued, "What people unfamiliar with compaction also don't know is that over compaction can be as serious an issue as under compaction. This is because it damages the integrity of the material in the built-up layers."
The Seismic-enabled rollers come with a sensor and algorithm that monitor the soil to sense what the ideal frequency for the drum is.
The machines also come with an Active Bouncing Control (ABC) system to avoid over compaction.
Black said, "The ABC system monitors the drum of the machine. If the machine has achieved the maximum possible compaction (given its size) and starts to double bounce, the ABC will activate and shut the drum vibration off."
Also with the aim of enhancing compaction results, Caterpillar recently launched Cat Command for Compaction. It is an operator-assisted technology that automates the soil compaction process and thereby helps to minimise operator skill gaps, according to Caterpillar.
To set it up, a touchscreen interface is installed in the cab and the system connects to the common base stations. The operator then uses the machine to map the boundaries of the area to be compacted and enters the compaction parameters.
Once the operator places the machine in 'auto', the system controls the propulsion, steering and vibration of the machine.
Recent jobs are saved in the system and can be accessed via the touchscreen.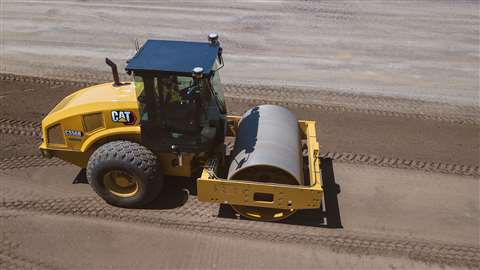 Cat Command for Compaction is available for use on select Cat vibratory soil compactors.
Volvo Construction Equipment (CE) has introduced a new compactor, the DD128C, which delivers a frequency of 4,800vpm, allowing the machine to move at faster rolling speeds.
The DD128C has a 1,400mm diameter, 2,000mm wide drum with chamfer and radii drum edges, and it is equipped with an automatic drum wetting system that provides speed-dependent water flow to minimise water usage and ensure uniform drum coverage to prevent material pick-up.
The machine also features auto-reversing eccentrics, which is an automatic function that ensures eccentric rotation in the direction the machine is travelling, to achieve a smooth finish.
The roller can be used on surfaces of various thicknesses due to the fact that it has a range of amplitudes from 0.08 to 0.8mm.
Providing pressure
Meanwhile, Kaeser Kompressoren's latest addition to its 5m3 range of portable air compressors, the Mobile M59, offers a range of pressures from 6 to 14 bar.
The unit's range is enabled by its flexible pV control system, which allows it to operate a breaker at a maximum pressure of 7 bar or perform sandblasting work at 10 bar, for example.
The infinitely adjustable maximum pressure (p) directly influences the maximum flow rate (V).
The pV control system also serves to counteract potential pressure losses when working with long hose lines.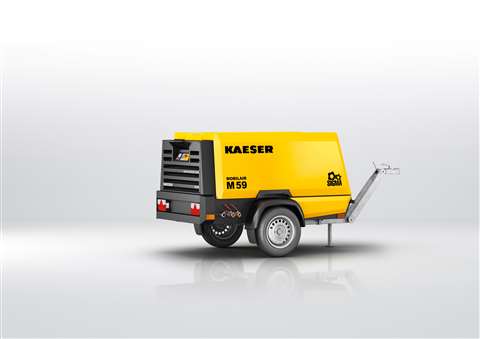 Kaeser said the unit's Sigma Control Smart controller makes it easy to set the pressure. At its lowest pressure setting, the M59 can provide a flow rate of up to 5.5m³/min.
The new model is powered by a Stage V compliant Hatz engine.
Since the engine requires a diesel particulate filter (DPF), Kaeser has replaced polyethylene structural elements with aluminium to keep the model lightweight while maintaining robustness and long-term value retention, according to the company.
A new piece of equipment from German manufacturer Weber MT is the MC 85 trench roller.
Weber said the new model incorporates a 'self-explanatory' radio remote control with an automatic stop feature for safety. The remote control can also be used to carry out machine diagnostics.
Described by Weber as 'effective and energy-efficient', the new model was developed with customer requests in mind and designed to meet equipment regulations around the world.
Minimising emissions
Adhering to Stage V and Tier 4 Final, the MC 85 features a three-cylinder Kubota diesel engine and an eco-mode that allows the engine to idle when the remote control is not being used.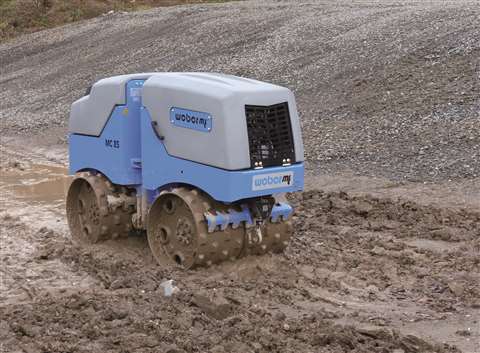 Weber said the trench roller, which has two driving speeds and offers optional vibration, uses high centrifugal force and sheepsfoot drums to compact clay-like soils that are saturated with water.
New from Vermeer is the RTX1250i2 ride-on tractor with intelligent controls and interchangeable attachments for utility installation work.
Based on the design of its predecessor, the RTX1250, the new model was said to have the latest technology to make it more convenient and efficient to operate.
The intelligent controls include Productivity Zone, Auto Plunge, TrenchSense and EcoIdle.
Productivity Zone identifies the optimal operating range and ground speed for the rear attachment being used.
Auto Plunge can be used to monitor engine speed and reduce the rate of plunge automatically for a trencher or rockwheel attachment so that the rpm does not drop too far.
The onboard TrenchSense electronic control system helps prevent the engine from stalling when working in challenging ground conditions, and the EcoIdle engine control system can help reduce fuel consumption by automatically lowering the engine's speed to an idle if the tractor has not been active for 30 seconds.
The RTX1250i2 can be reconfigured with various intelligent i2 attachments, from trenchers to plows and backfill blades to reel carriers, that can be switched over in 60 minutes.
Overcoming adversity
Speaking to IRN, Doug Hundt, President of Industrial Solutions at Vermeer, sheds some light on the roadbuilding sector and the effects of the Covid-19 pandemic.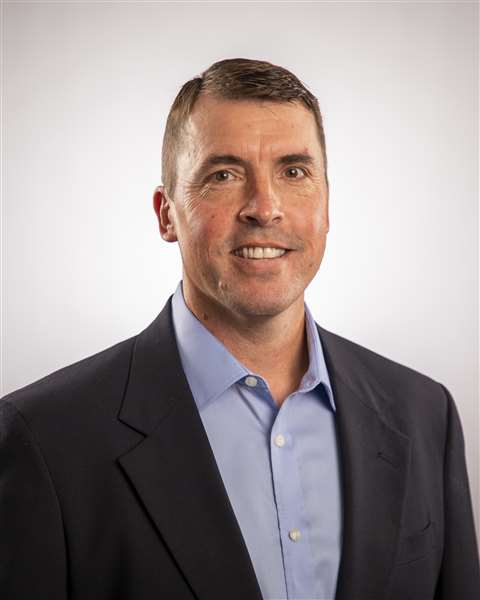 On the topic of governments using infrastructure investment to stimulate economies following the Covid-19 crisis, Hundt says, "Many countries have aging and neglected roadways that need repair. Investing in roadbuilding and related infrastructure construction has historically been a productive way to stimulate the economy in recessed times."
He adds that there is also a general need to repair ageing water and sewer infrastructure, which can often be done at the same time as roadworks, maximising return on investment.
"We are seeing many communities starting projects to repair, replace and expand this type of infrastructure to support their growing populations," says Hundt. "People want to live where they have access to good roads, clean water and high-speed internet connections. We anticipate that there will continue to be a high demand in the construction industry for this type of work for many years to come."
When asked about the pandemic's impact on Vermeer, Hundt says, "At the outset of the pandemic, we at Vermeer immediately developed a plan and put specific safety measures in place. Anyone who could do their job from home was encouraged to.
"Since then, there has been a gradual return to the office approach implemented while still ensuring social distancing guidelines can be followed. Vermeer continues to monitor guidance from the CDC [Centers for Disease Control and Prevention] and WHO [World Health Organisation], while tracking local numbers and trends, and will align protocols as needed."
Special precautions taken at Vermeer's manufacturing facilities include additional cleaning and disinfecting, the checking of people's temperatures and the implementation of health screenings.
Hundt says, "Vermeer sits right in the middle of the overall supply chain, and therefore we have been impacted on the receiving, sending and operational sides of our business."
However, he adds that Vermeer has had experience dealing with crisis situations, such as two years ago when its Pella, Iowa, facility was struck by a tornado, wiping out a significant proportion of the company's manufacturing footprint.
"The experience reaffirmed that we can overcome adversity," says Hundt.
He adds, "We've all supported each other to ensure we're responding to our customers' needs and keeping everyone safe during these unusual times."
Spreading out
Spain-based contractor Construcciones Bagudanch Serra recently purchased Bobcat's new soil and asphalt spreader attachment.
Mounted on the company's Bobcat T650 compact tracked loader, the new soil and asphalt spreader provides an alternative to laying asphalt by hand.
David Bagudanch, Managing Director of Construcciones Bagudanch Serra, said, "The new Bobcat soil and asphalt spreader has already saved us a lot of time, increased profitability and above all has improved the quality of the finish. It is also simple to operate and allows the work to be done with fewer operators."
The spreader has an operating weight of 675kg and a standard operating width of 190cm or an optional width of 196cm.
Due to the fact that it is offset, the new attachment can lay asphalt without the loader needing to pass over the spread material, ensuring a smoother finish.
Bagudanch said, "Since we took delivery of the new attachment, we have carried out work to replace deteriorated asphalt surfaces on streets and housing estates with very good results. The compact size of the equipment allows it to be used in areas such as gated communities, without having to close off access and use of local roads."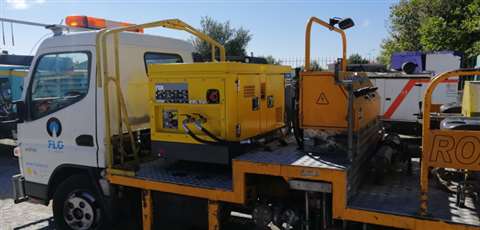 Compressors for road signalling
Atlas Copco's U110 Utility air compressors are to be installed by Portuguese road signalling equipment company FL Gaspar into its road signalling vehicles.
The compressor's compact design, measuring 1580x740x850mm, and low weight, according to Atlas Copco, makes it good for vehicle-mounted applications.
Situated directly behind the driver's cabin on FL Gaspar's trucks, the units will not impinge on the vehicles' capacity to carry other equipment.
Each compressor provides a free air delivery rate of 2.8m3/min, and they can deliver pressures from 5 to 10.5 bar.