Robbins delivers a first in Nepal
By Mike Hayes09 August 2017
Robbins is set to deliver the first tunnel boring machine (TBM) to Nepal, where it will be used on the Bheri Babai Diversion Multipurpose Project (BBDMP), on of 11 National Pride Projects planned in the country.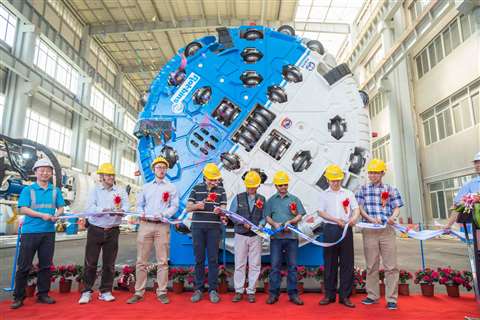 Following pre-construction work, including the upgrading of mountain roads, the TBM is currently being shipped to the site in the Himalayan Mountains.
The project's contractor, China Overseas Engineering Group, will use the 5.06 m diameter Double Shield machine to dig in the Siwalik Range.
Due to the challenges in the young geology of the Himalayas, difficult ground solutions (DGS) have been incorporated into the machine's design, including a stepped shield, which has been designed to move through squeezing ground.
Describing additional features of the new TBM, Robbins' project engineer Missy Isaman said, "There is a probe drill in the rear that probes through the gripper shield in 14 places. We added ports in the forward shield for drilling too. There are eight ports around the circumference for hand drilling. There are also six ports in the top 100 degrees of the shield for forepoling."
On completion of the project, the BBDMP will divert 40 m3 of water per second from the Bheri River to the Babai River, via a dam, allowing for the irrigation of some 60,000 hectares of land.