Robbins launches Double Shield in Nepal
By Catrin Jones22 November 2022
China Overseas Engineering Group Co. Ltd and China Railway No. 2 Engineering Group Co Ltd have launched a 6.4m diameter Robbins Double Shield TBM for a 13.1km headrace tunnel located in southern Nepal.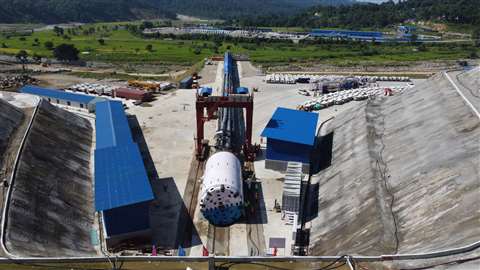 Robbins says that the tunnel is connected to a new 28.6MW surface powerhouse on the Marin River to alleviate the shortage of power supply in the area. It will also be used for farmland irrigation in the districts of Dhanusha, Mahottari, Sarlahi, Rauthat, and Bara in the Terai Plain, diverting water from the Sunkoshi River to the Marin River. 
The headrace tunnel, for Sunkoshi Marin Diversion Multipurpose Project (SMDMP), is being bored through granitic rock with maximum overburden of 1,320m. 
The machine was customised for the conditions of a major fault zone 4km into the tunnel, says Liu Fengfan, Project Manager for contractor B-2/COVEC. He adds, "The TBM shield is a tapered design to reduce the risk of becoming stuck in squeezing ground; there is an enclosed cutterhead design to reduce the collapse of surrounding rock as well.
"The TBM has overcut capabilities and a high thrust. It has also been designed to be equipped with an extra high torque cutter head drive, as well as strong auxiliary thrust to be used in squeezing ground or weak fault zones to keep the machine from becoming stuck."