Robots to protect integrity of Genoa bridge
By Mike Hayes19 November 2020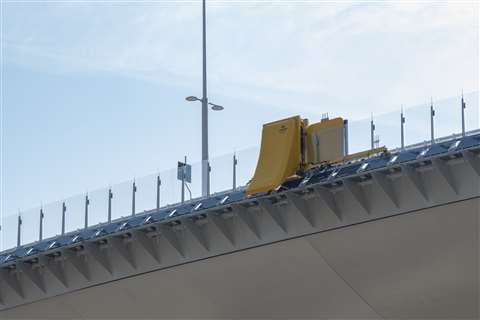 A pair of connected robots is being put to use on the new Genoa bridge, in an effort to keep it clean and safe, with as little need for human involvement as possible.
The robots travel along the span every eight hours, the first inspecting the integrity of the underside of the bridge by taking 25,000 photos, then comparing them with previous images and highlighting any structural abnormalities.
The second robot is fitted with brushes and a high-pressure air attachment, which it uses to clean the bridge's side and solar panels.
Webuild, one of the main contractors on the bridge project, says the robots are part of a unique and comprehensive system, which includes 250 sensors that constantly monitor and gather data on the structure's integrity.
Marco Bazzarello, the technologies and plants supervisor, who oversees the robots and systems on the bridge on behalf of Webuild, said, "The cleaning system developed by the Istituto Italiano di Tecnologia in Genoa reduced to a minimum the amount of work that needs to be done by humans on the bridge. This has reduced risks to a maximum. It is a feature that we have not seen on any other viaduct."