Rockster Duplex fills variety of roles
By Steve Ducker28 February 2018
By using the patented Rockster Duplex system with jaw and impact crusher on one machine, the Casaccia gravel quarry at the base of the Maloja Pass in Switzerland is meeting the diverse requirements of its customers.
Part of the Hartmann Group, the quarry offers a range of gravel and sand types, with numerous construction companies relying on its products.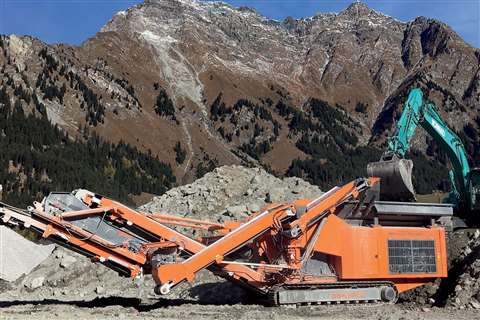 Increasing demand for recycling products such as concrete or mixed demolition granules has also been taken into account so it additionally recycles construction and demolition waste and offers it as a valuable resource for base layers or road construction.
Through constant controls and refinement of the reprocessing methods, the recycling range is at the highest level and meets all necessary standards. Including this segment, more than 100,000 t of material are processed in the gravel quarry each year.
The Rockster Duplex plant R1200D/R1100DS jaw/impact crusher plays an important role in the flexibility of the gravel quarry as it can be quickly modified from jaw to impact crusher and vice versa.
Lorenz Biedermann, Swiss distribution partner of Rockster, said: "The customer primarily chose the Rockster plant because of the Duplex system. It allows them to define the final grain faster and better, thus improving the quality and providing a noticeable competitive advantage.
"Another advantage of the crusher is the low weight and compact transport dimensions. As a result, the crushing plant can be easily transported to a range of construction sites and put into operation quickly."