Roll up, roll up: SPMT product development
By Christian Shelton23 January 2018
New on the self propelled modular transporter (SPMT) market is a fully electric version of the Light series of SPMT from German manufacturer Scheuerle, part of heavy load transport conglomerate Tii. It is designed to move payloads of up to 86 tonnes in near silence with zero emissions. According to Scheuerle, this payload capability is an increase of almost a third compared to competing systems.
Scheuerle said loading is carried out by either driving under the load and lifting the hydraulically-supported vehicle or with the help of industrial and site cranes. The SPMT Light's platform dimensions are a compact 6,000 x 2,438 mm and it has four pendulum axles. Scheuerle said this provides optimum flexibility for smaller transport tasks in space-restricted areas, such as production halls, although it can also be used outdoors.
Scheuerle is keen to point out that the SPMT Light retains key features of its established Scheuerle SPMT product line, such as robust bogie units, electronic multi-directional steering, and steering programmes. According to Scheuerle, this means that the vehicle can be steered and positioned extremely accurately. It also has a lift of 700 mm, which Scheuerle said also ensures sufficient space for lifting and positioning loads in a vertical direction.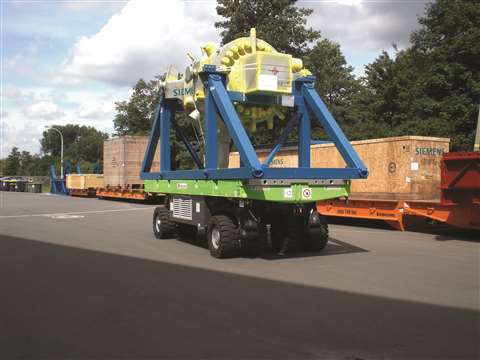 The electric SPMT Light has been trialled by global engineering and technology services company Siemens at its Mülheim plant in Germany. Scheuerle said Siemens drew a positive conclusion from the testing.
Increasing capacities
Scheuerle's products are popular with heavy lift and transport specialist ALE. Over the last year UK-headquartered ALE has taken delivery of 240 axle lines from Scheuerle's ES range. "With 60 tonnes capacity per line, these are the world's highest capacity SPMT," says David Purslow, general manager, group operations at ALE. "30 years ago, many people believed no one would need to go above 30 tonnes carrying capacity per axle line for SPMT. We are far beyond that now. 60 tonnes per axle line seems likely to be about the limit for SPMT, as going much higher will mean needing to reinforce the ground, as surfaces are unlikely to be able to handle the greater ground bearing pressure."
In addition to the high capacity SPMT, ALE also bolstered its fleet by ordering another 80 axle lines of regular Scheuerle SPMT models. "ALE will be using these in a variety of regions around the world," says Purslow. In addition, ALE says it has also been purchasing a lot of smaller power packs, including the new Z180 Tier 4 final. "These power packs are ideal for small trailer combinations and operation in confined spaces," Purslow explains.
Going bigger
Fagoli's latest SPMT models are the 50 and 60 tonne axle lines. Like ALE, Fagioli reports increasing demand for lifting bigger and heavier loads. It says by using its high capacity SPMT lines, users can in turn reduce the size of their heavy lift fleets. However, it too says that 60 tonnes appears to be at the top end of the capacity scale for SMPT as, above this weight, the ground cannot cope.
Fagioli says there are a number of advantages in using the 50-60 tonne SPMT compared to using its 36 tonne ones. These include the use of a tubeless tyre, which means the tyres can't puncture as a result of the rim rubbing against the tube. The tyres also offer a high degree of stiffness due to their bias construction. This means they are strong when it comes to overcoming obstacles such as bumps or holes and they provide high levels of stability at all speeds.
Combining technologies
US hydraulics specialist Enerpac believes demand for higher capacity axles will come from bespoke projects. It cites its recent bespoke cask transporter as an example of this. The cask transporter combines SPMT and gantry technologies to provide what Enerpac describes as "a streamlined lift and transport system".
The 170 tonne bespoke vertical cask transporter was commissioned by diversified energy technology company Holtec International. The wheeled cask transporter's modular assembly design has a number of key functional and safety features, including normal steer, 90-degree turn, crab and auto-rotation turn and drive capability, and a cab design that allows the VCT operator to face the direction of travel. Safe handling of the casks is assured by the VCT's drop prevention system and integrated cask restraint, a hydraulically operated clamp that secures the cask for transport, explains Enerpac. The cask handling system has low ground bearing pressure and is fully CE certified. According to Enerpac, the new system shows that "loading out super heavy structures may be better handled by lifting and transport systems that combine existing technologies in a new way".
Along similar lines is the MGSL modular axle range from Italian manufacturer of self-propelled, modular and special industrial vehicles, Cometto. The MGSL is designed for transporting loads between 50 and 5000 tonnes and can be used both on- and off-road and inside plants. It's available as a self propelled version with its own power pack units or it can be attached to a range of different vehicles. Due to a strengthened loading area, the MGSL can accommodate point loads up to 50,000 kg above the wheel arches and 80,000 kg above crossmembers for heavy and concentrated loads. Cometto says each axle line has a technical axle load of 45,000 kg at 0.5 km/h and it claims that the MGSL has the highest bending moment on the market.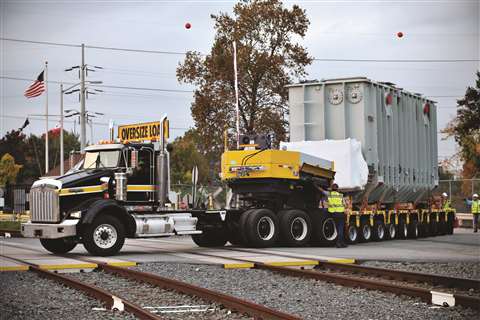 The MGSL's maneuverability is provided by pendulum axles with a 600 mm stroke and a pivot-mounted bogie with a 60° steering angle. The pendulum axles also ensure optimum ground contact and equal tyre pressures, keeping the platform almost in a horizontal level, says Cometto. The series is available in a width of 3,000 mm and the modules come in 2 – 6 axle lines.
A firm base
The issue of ground fortification, mentioned by both ALE and Fagioli, has been addressed by heavy lifting and transport specialist Mammoet, which has launched the Enviro-Mat. It says it is a fast and sustainable way of increasing the load bearing capacity of any type of soil up to 50 tons/m2. And, if required, even higher load bearing capacities can be achieved, said Mammoet.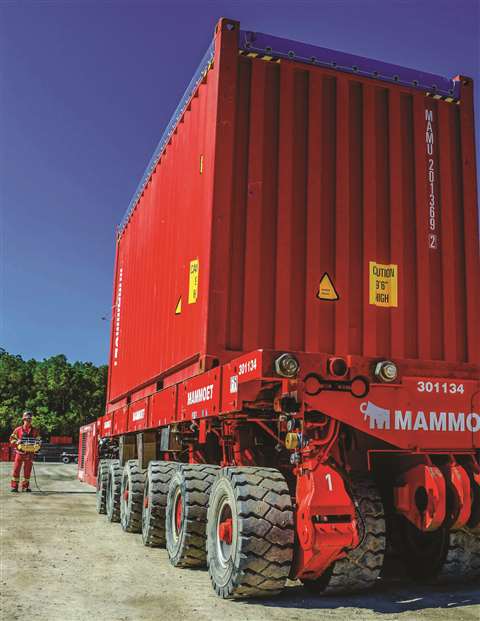 Mammoet's Enviro-Mat can increase the load bearing capacity of any type of soil up to 50 tonnes per square metre
Enviro-Mat is installed by mixing native soil with Portland cement (or an equivalent) and the Enviro-Mat additive which comprises natural components, salts, minerals and zeolites which work to lengthen the crystals in the cement to create a stronger binding, making it more durable than alternatives, said Mammoet. The mixture is then compacted with a roller and sprayed with water to harden it. The result is a strong mat with a high flexural strength.
SPMT for Bangladesh
Finally, Dhaka, Bangladesh-based heavy haulage company Shamolima has bought a brand-new Goldhofer THP/SL 12 with an Addrive four-axle module and Power Pack.
According to German company Goldhofer Aktiengesellschaft, the new vehicle will enable Shamolima to move freight with a total load of up to 600 tons.
The Addrive system means the rig can travel in economy mode on normal roads and then, with assistance from the Power Pack, switch to an additional traction mode for use on demanding terrain.
Heavy items and concentrated loads can also be carried on the dropdeck due to the high flexural strength of the frame and closed loading platform, said Goldhofer. In this way users can benefit from low running heights and fast loading and unloading, Goldhofer claimed. It added that the THP/SL offers flexible wheelbase settings and the deck comes with a hydraulic width adjustment system and spacer for flexible adjustment to different loads and regulations.