Rolls-Royce buys new engine tech
By Thomas Allen04 October 2017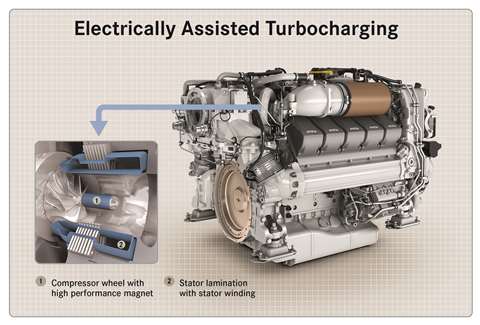 UK-based company Rolls-Royce has acquired new technology for the electrically-assisted charging of engines in the power range above 450kW.
The exclusive rights to the technology were bought from German-based development and engineering services provider G+L innotec.
Rolls-Royce brand MTU will complete the next stages of development in partnership with G+L innotec, working together to make the technology ready for series production.
The intention is to start offering MTU engines equipped with the new technology for ships, emergency gensets and land vehicles by 2021.
Dr Johannes Kech, director of development turbocharging and fluid systems at MTU, said, "Electrically-assisted charging is a milestone on the way to the hybridisation of the engine. Using this technology, it will be possible for us to develop agile, low-consumption engines."
The system comprises an electric drive combined with a traditional turbocharger developed and manufacture by MTU. This allows the turbocharger to be accelerated electrically and the charge pressure to be built up more quickly.
Using the technology developed by G+L innotec, MTU said it would be able to increase the acceleration capability of marine engines, for example, and the load response capabilities of generator drives significantly. Fuel consumption and emissions would also be reduced.