Rolls Royce claims successful strategy
By Sandy Guthrie06 March 2019
Rolls-Royce Power Systems (RRPS), the engine manufacturer which includes the German-based MTU brand, has reported record revenues in 2018, up 15% to £3.5 billion (€3.9 billion), adding that it also had an "excellent order pipeline" worth £3.1 billion (€3.6 billion).
It said its new strategy was paying off as the company moved towards being a "solution provider".
Andreas Schell, CEO of Rolls-Royce Power Systems and head of the Power Systems Division, said, "Not only did we benefit from strong demand for our products due to the favourable state of the global economy, we are now also reaping the rewards of our hard work on the transformational change programme which has made us significantly more profitable.
"Our streamlined, updated product and service portfolio is being very well received by customers."
Each of the division's business segments reported good sales figures, the company said, adding that some were "extremely good". Marine sales were 12% ahead, with sales of industrial drive systems up a full 40%. Powergen revenue grew by 5%, making it the only segment with a lower rate of growth than in 2017, a year that saw unusually high increases.
Marcus A Wassenberg, chief financial officer and chief human resources officer, said, "With our RRPS 2018 transformational change programme, we have fundamentally revamped the division's cost structure, for example by eliminating a good quarter of product variants at a stroke.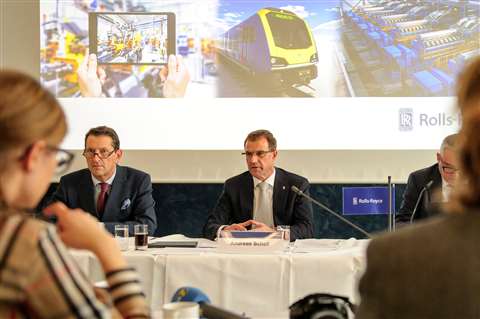 "This has not only produced favourable results in 2018, but has also created a robust, forward-looking corporate structure for the longer term, which we will be using to implement the PS 2030 strategy."
The company said it was looking to lever its 2018 successes as it presses ahead with the new PS 2030 strategy, transforming itself from an engine manufacturer to a supplier of integrated solutions.
It said that as a solution provider, Rolls-Royce Power Systems also intended to step up its activities in the operation of sophisticated power delivery and power generation systems.
Schell said, "Service will continue to gain importance. Over a third of revenue currently comes from maintenance, spare parts and services – and that figure is rising."
Rolls-Royce Power Systems is working on a new range of digital service products, using state-of-the-art technology to capture, transmit and analyse key operating data.
Founded in the spring of 2017, the company's Digital Solutions unit has launched a number of digital products such as the MTU Go!Act smartphone app and the MTU Go!Manage web application.
Another element of the PS 2030 strategy is said to be expansion together with partners in a way that would not be possible acting alone.
"We are increasingly entering into partnerships – in different geographies and on different issues. Our intention is to grow with our partners," said Schell.
This includes joint ventures with partners in China and India to build engines and generator sets, and also with an eye to tapping into new markets.