Rope and winches: Setting standards
FEM guidelines are an early important step in advancing the widespread application of synthetic fibre ropes in the crane and construction markets. Christian Shelton reports
Technical developments in high-performance fibre ropes (HPFR) made from synthetic fibre mean they now have comparable strength to wire ropes. As such, they are increasingly being used on mobile cranes. The advantages of using HPFRs on mobile cranes include: a reduction in weight (making them safer and easier to handle); they don't require as much maintenance in terms of greasing or lubricating; and they can offer an increased tolerance for spooling failures.
As they are relatively new in the market, however, there are currently no international standards regarding design and discard criteria for the use of HPFR on mobile cranes. In response, the European Materials Handling Federation (FEM) has published the first guidelines on the safe use of high performance ropes in mobile cranes, which could form the basis for future European and international safety standards.
The guidelines were developed as a joint project between FEM and members of the fibre rope industry including: Lankhorst Ropes; Casar; Teufelberger; Samson Rope; and DSM Dyneema. The Institute of Mechanical Handling and Logistics (IFT) at the University of Stuttgart, Germany, as well as experts from FEM product groups for tower and harbour cranes and lifting and hoisting equipment, also participated in the discussions. The guidelines focus on running rope on multi-layer drums for hoisting purposes, covering design measures and best practice guidelines on procedures and maintenance to safely operate HPFR on mobile cranes including provisions for assembly. The 42-page document costs €60 ($74) and is available for download via the link at: www.fem-eur.com/new-guidance-on-mobile-cranes
Commenting on FEM developments, Rui Pedro Faria, R&D project manager at WireCo WorldGroup, which acquired Dutch rope maker Lankhorst in July 2012, says, "The work developed within FEM sets the basis for any rope manufacturer to be able to provide a safe and reliable product for this mission critical application." In accordance with the FEM guidelines, Lankhorst's LankoLift S fibre rope is in the process of being qualified to fulfil the requirements of its intended hoisting applications. LankoLift S comprises 12 braided outer strands made from Dyneema – the brand name for for Ultra-High Molecular Weight Polyethylene (UHMwPE). The properties of these special fibres result in a breaking strength equal to a steel rope of the same thickness, says Lankhorst. The construction of the rope core is specially designed to achieve the required resistance to transverse pressures. Lankhorst says it applies a special coating treatment to the fibres to reduce interior friction and increase UV resistance. Further, it is corrosion proof and requires no lubrication, says Lankhorst.
Lankhorst reports that, following a recent International Organization for Standardization (ISO) international standards meeting, FEM has recommended that the guidelines be incorporated into future European and international safety standards. As a result, the scope of the guidelines has now been expanded to include all cranes, Lankhorst says. The criteria regarding design, inspection and discard for stationary ropes will be developed and addressed in a later FEM edition.
First with fibre
Also commenting on FEM developments, US rope manufacturer Samson Rope says, "as the first to introduce a synthetic rope specifically for mobile cranes (K-100), we were delighted to be part of this two-year development. Working in conjunction with other rope suppliers and crane manufacturers, we couldn't be more pleased with the resulting document."
Samson's K-100 product was launched in 2014 and the company says it is 80 per cent lighter than steel rope, making handling, reeving, and installation much easier. At the same time, Samson says, it provides the same line pull and load chart as steel wire, and can be used with a 5:1 safety factor. K-100 does not rust, requires no lubing, and its unique construction eliminates kinking, birdcaging, and damage caused by diving on the winch drum, Samson adds.
Samson cites the examples of two crane operators that have switched from using wire rope to synthetic. First is 37-year-old, North American crane and rigging firm Digging and Rigging. The company retrofitted a Grove TMS 9000 E crane with its K-100 high-performance synthetic hoist line. As the company was unfamiliar with high-performance synthetics it started by trialling one of Samson's HMPE rope to start with. This went well and so confidence in synthetics rose, says Samson, and so it ordered K-100 for a crane.
After having used the synthetic rope for eight months James Gregory, president of Digging & Rigging, said, "I hope and feel that synthetics are here to stay… We have plans in place for three new Grove cranes with factory-installed K-100. From what we've seen, the larger the crane, the greater the potential benefits in safety and ease of rigging."
In 2015 US crane company Viant retrofitted a National NBT55 'taxi' crane in its operated truck crane fleet with Samson's K-100 synthetic hoist line. According to Barry Buckman, Viant's fleet manager, "Our operators were somewhat reluctant at first, just because they didn't understand it they were a little sceptical. Over time they've accepted it well, come to trust it. They do appreciate how easy it is to work with. They wouldn't want to switch back [to wire]."
After two years of use, the rope was removed from the crane for the purpose of collecting field data. It was replaced with a new K-100 hoist line. The removed rope was inspected on site and showed minimal wear and abrasion that were consistent with its length of service, says Samson. The rope was returned to Samson's lab for further testing where it says lab inspection and residual strength tests confirmed the rope performed according to published specifications.
Viant's Buckman concludes, "We're looking forward to retrofitting our larger cranes when possible. There's a definite advantage on larger cranes where they swap out equipment more often, going from two lines to one, swapping drums… lower maintenance costs, lower weight (including over-the-road weights) are all a definite benefit. Any weight we can save is a benefit."
Offshore lifting
The increasing acceptance of fibre rope in the lifting industry can be seen in the latest offering from marine cargo and offshore load handling specialist MacGregor, whose fibre rope subsea crane, called FibreTrac, will be ready for testing in early 2018.
Ingvar Apeland, MacGregor's director of load handling and advanced offshore solutions. says, "I believe it will be one of the most advanced fibre rope knuckle boom cranes that the market has yet seen. By employing fibre rope technology, a crane is able to use its full lifting capacity at practically any depth, so a smaller crane and vessel can be used for more assignments, and owners are able to bid on a wider range of contracts. This is in complete contrast to the situation with wire rope, where the ever-increasing weight of wire paid out limits the load permissible in relation to depth."
The FibreTrac crane will have a 150 tonne safe working load and will incorporate a Parkburn deepwater capstan with a storage winch capable of accommodating 4,000 metres of 88 mm rope, says MacGregor.
According to MacGregor, for crane owners wishing to benefit from the technology for their existing cranes or stand-alone winch systems, the MacGregor fibre rope solution can be retrofitted due to its flexible, modular crane design.
The FibreTrac offshore knuckle boom crane will be supplied with a synthetic fibre hoist rope from Lankhorst called LankoDeep. It is made from Dyneema DM20 XBO synthetic filament. Its construction is optimised for cyclic bending, the manufacturer said. Certification is to DNV 303 for deepwater deployment. The rope will be used on a Parkburn Deep Water Capstan with a storage winch that can carry 4,000 metres of 88 mm diameter rope. According to Lankhorst, the rope's construction consists of 12 stranded braids where each strand is a three-strand rope. It says combining this with the DM20's XBO coating helps reduce the tension required to bed-in the rope and reduces internal heat build-up and abrasion. LankoDeep can be inspected and is also repairable, the company claims. A socketed termination from Applied Fiber will be used to attach the rope to the crane hook.
"LankoDeep has been designed from the outset for deepwater lowering and recovery projects," explains Sergio Leite, offshore sales director at Lankhorst. "Operationally the ropes are easier to handle, and allow engineers to lift and deploy the maximum load without the need to factor in the weight of steel wire."
Subsea deployment
Specialist crane and subsea equipment manufacturer Huisman has also developed a fibre rope system for subsea deployment crane applications. Spooling of the fibre rope is carried out by Huisman's traction winch and storage winch setup, while active heave compensation is done with a steel wire rope on a direct winch.
The system is available in various capacities. For traditional knuckle boom cranes, a 120 tonne and 200 tonne version is available, while Huisman's recently introduced Hybrid Boom Crane can be delivered with larger capacities of 400 tonnes and 600 tonnes. Huisman says this can provide a significant step change in subsea deployment capabilities, as the full load is available at all depths. This way deployment up to 600 tonnes is now possible at depths of 4,000 metres and beyond, it claims.
Huisman's product manager cranes, Cees van Veluw, says, "We strongly believe in the future of cranes with fibre rope included… to further shift the limit of what can be deployed in subsea applications."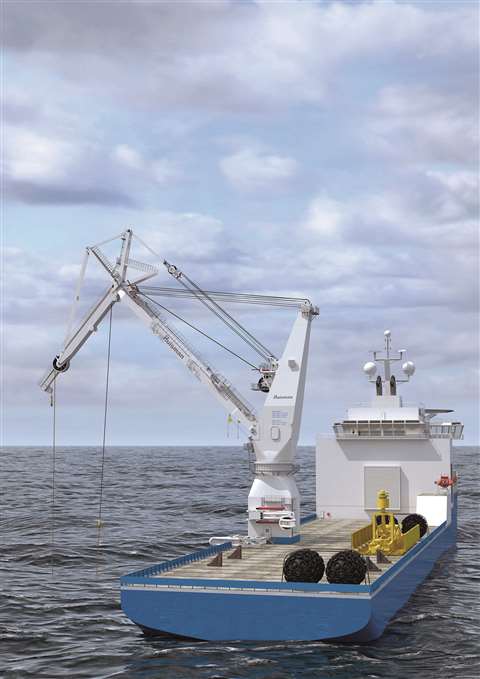 As Jim Plaia, research and development engineer at Samson Rope Technologies, outlined at the World Crane and Transport Summit 2017, the FEM guidelines have brought the issues surrounding the use of fibre ropes on mobile cranes into the spotlight and effectively laid the foundations for both future discussions and possible international standards. In addition, the American Society of Mechanical Engineers (ASME) is also looking at the use of fibre ropes for mobile cranes and expects to publish information about the subject towards the end of 2018.
So watch this space…