Ropes and winches: Linear development
By Christian Shelton15 April 2019
The use of synthetic rope as an alternative to wire rope for crane and rigging operations gathers greater pace as Austrian rope manufacturer Teufelberger and Swiss-headquartered equipment manufacturer Liebherr announce they have developed a new type of high-tensile fibre rope designed to increase lifting capacities. The new rope will debut on a new Liebherr tower crane series that will be launched at the Bauma show in March.
During the development of the new fibre rope Liebherr says it tested more than 100 different prototypes, measuring a total of around 70,000 metres in length. Initially they were tested using a traditional rope bending machine. This was followed by the construction of a special test bench with a hoisting height of 42 metres. It enabled ropes with a thickness of up to 31 millimetres to be tested with loads of up to 45 tonnes on a rope drum with multiple rope turns.
Liebherr also built a climate chamber in which the rope was subjected to a wide range of weather conditions and temperatures ranging between 80 and minus five degrees. Sand and dust were added to the air to simulate desert conditions and a monsoon climate was also created.
Field tests
These lab tests were followed by a series of field tests in which high-tensile fibre ropes in various diameters were used on 11 tower cranes across Germany, Austria, France, Belgium and Switzerland. The field tests started in 2016 and have now concluded.
Liebherr says the test results demonstrate that the new fibre rope weighs around one-fifth of a conventional steel rope, lasts four times as long, and is much easier to handle. Liebherr claims the benefits of the lighter rope were particularly noticeable during the assembly and dismantling of the cranes during the field tests, as it could often be fitted by hand and without requiring auxiliary reeving winches. Re-reeving the hook block was also quicker and easier, Liebherr adds.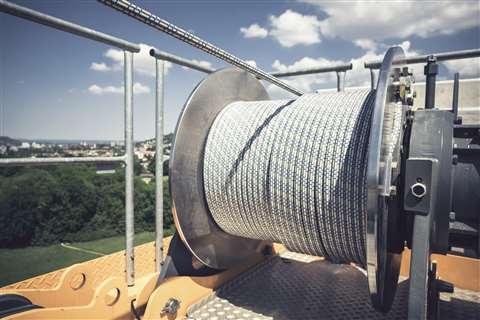 Liebherr will launch a new tower crane series at Bauma fitted with its new fibre rope
Liebherr adds that the rope's fibres do not require lubrication, so cleanliness is improved and the need for maintenance reduced.
Liebherr reports that the high-tensile fibre rope is extremely wear-resistant and can withstand a high number of bending cycles. Having a service life four times that of steel rope helps reduce the number of rope changes required over the rope's lifetime, Liebherr says.
When the rope reaches the end of its service life, this is indicated via a change in the colour of its jacket and Liebherr says the fibre rope can also withstand multiple notches without suffering immediate damage.
The winding pattern of the new fibre rope is similar to that of a steel rope, Liebherr explains. It says, however, that in the event of the lower layers having less tension than the upper ones, then the new fibre rope is more tolerant than steel. In the event of notching, it will free itself Liebherr claims.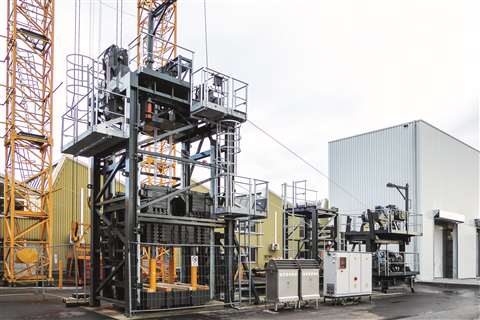 To achieve the controlled wear of the fibre rope, Liebherr used a Lebus winding system throughout development. According to Liebherr, the Lebus system provides a clean winding pattern on the cable drum, minimising wear and extending service life.
Test bed centre
Like Liebherr, another company to utilise a test bed to develop its portfolio is Maine, USA-based custom and specialty rope manufacturer Yale Cordage, which acquired the Sahm Splice test bed centre in mid-2018. Yale Cordage says the acquisition now gives it the capacity for destructive and non-destructive testing of synthetic rope, wire rope, shackles, chain, and slings up to 1,300,000 pounds (600 tonnes) in tensile strength. The test bed also has a low-range capacity up to 250,000 pounds (110 tonnes).
With a maximum test sample length of 116 feet (35 m), and a 15 foot (4.6 m) stroke, Yale Cordage claims it is one of the largest and most capable test beds in the eastern USA and that having it means a big reduction in delivery times for its synthetic Fortis heavy-lift slings and Loup sling loops.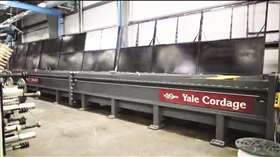 "We're pretty excited to have taken delivery of the largest test bed on the East Coast of the USA," comments Tom Yale, CEO of Yale Cordage. "Yale Cordage is principally about replacing wire rope in the marketplace. Our Fortis synthetic slings are very tough. Every heavy lift sling we produce needs to be proof loaded. We do that to twice the rated working load."  
Now that Yale Cordage has the test bed, it says it will continue to produce Loups and Fortis slings to order, but it also now stocks commonly used lengths and capacities.
Wire rope demand
Despite the rise of synthetic rope, however, demand for wire rope still remains strong, as demonstrated by the opening of a distribution centre in Portland, Oregon, USA, by wire rope manufacturer WireCo WorldGroup. According to WireCo, the new facility is strategically located to handle the wire rope needs of its customers across the northwestern United States. The Portland centre maintains inventory to improve availability and reduce delivery time throughout the service area, WireCo says.
The manager of the new distribution centre is Alisa Glazier. She previously worked for WireCo at its Beaverton, Oregon, facility, and was the assistant manager of WireCo's Houston distribution centre.
John Embray, vice president sales at WireCo, comments, "We are excited to return to servicing our customers from a WireCo-managed facility. This new distribution centre will allow us to service our West Coast customers in a more timely manner."
Market development
WireCo WorldGroup subsidiary, Dutch synthetic and steel wire rope manufacturer Lankhorst Ropes, has announced a co-operation agreement as of the end of November 2018 with Singapore-based rigging and mooring equipment specialist Franklin Offshore International. Franklin is currently one of world's largest steel wire rope fabricators; however, the co-operation agreement is aimed at developing the market for fibre rope slings for heavy lift offshore projects in South East Asia.
According to Lankhorst, as offshore contractors look for ways to maximise their vessel's crane lift capacity, fibre rope slings can provide a more practical and cost-effective alternative to steel wire ropes. Lankhorst says Franklin Offshore is currently one of world's largest steel wire rope fabricators and, under the agreement, Franklin Offshore becomes the sole and exclusive distributor and representative to sell and distribute Lankhorst Ropes' heavy lift synthetic rope slings in South East Asia.
"As a leading supplier of steel wire slings for many years, we recognise that recent developments in fibre rope slings by Lankhorst Ropes now make it a viable alternative to steel wire in those projects where the self-weight of the wire is too much for the vessel's crane," says Angie Tang, CEO, Franklin Offshore International. "Working with Lankhorst gives us access to not only market leading, high performance fibre slings but the technical know-how to assist our in-house team in developing fibre sling heavy lift systems here in South East Asia."
According to Lankhorst, the two companies are already evaluating a number of offshore projects involving Lankoforce slings. Its Lankoforce HL range of heavy lift slings have a minimum breaking load (MBL) of around 2,000 tonnes in single leg configuration and 3,200 tonnes in an endless configuration.
Lankhorst has also received DNVGL Approval of Manufacture (AoM) for its heavy lift slings. It says it is the first fibre rope manufacturer to achieve this and it believes that the DNVGL-CP-0173 Offshore Fibre Ropes certification is an important stepping stone in the wider market acceptance of heavy lift, fibre rope slings.
The AoM means that Lankhorst's sling production process complies with the strict requirements for E303 certification.
According to Rui Pedro Faria, senior research and development engineer, Lankhorst Euronete Portugal, "There is no specific standard for synthetic lifting slings, which is why we are taking a 'New Technology Qualification' approach. Even if the customer does not want full E303 certification, the  AoM guarantees that the product is made correctly and in accordance with the highest quality standards."
Heavy lifts
Synthetic ropes and slings are increasingly being used as part of very heavy lifts. For example, slings developed by the Cortland Company in the USA were recently used in Ohio to lift a 500 tonne tunnel boring machine from a heavy haul trailer.
Plasma 12 by 12 rope slings were used to safely elevate and transfer the machine underground. According to the Cortland Company, the strength and elastic properties of the Plasma 12 by 12 slings comes from a load-controlled process of precise braiding, which is subject to destructive testing prior to deployment.
The synthetic slings were spliced into custom lengths of 63 feet (19 m), with each section weighing 135 pounds (61 kg). In comparison, the same length of steel rope would be at least seven times that weight – around 1,045 pounds (474 kg) – says Cortland. The slings also had a minimum breaking strength of 780,000 pounds (354 tonnes), equal to that of steel.
According to Cortland, the Ohio tunnel boring lift also demonstrated the ease of handing of synthetic slings, which it says are about half the size of bulky round slings. They have a stretch load limit of one per cent – again equivalent to that of steel, the Cortland Company adds.  
"When used properly and in-line with specialist advice, a synthetic sling offers a viable alternative to wire rope, which has been the standard option across industries for many decades," said Brooks Nunley, technical sales manager at the Cortland Company. "As well as being easier to handle, intensive testing ensures they are tough enough to perform and withstand any challenging lift and transfer operation."
Attraction of tubular slings
Spanish hook manufacturer Elebia has developed a synthetic sling that you can thread wire rope through. The sling designed to aid automatic pickup via Elebia's automatic lifting hooks.
Elbia used two Evo5 automatic lifting hooks with tubular  slings and wire rope to lift galvanised steel boxes. The steel boxes were grouped into blocks of nine, with each block weighing approximately one tonne. The blocks of boxes were then setup with the tubular slings at both ends. Metal wire rope was fed through the nylon-coated Elbia slings and a magnet that comprises part of the hook attracted the wire rope inside the sling, resulting in automatic engagement. Each sling has a capacity of three tonnes, although they can be customised in terms of load limit and length. According to Elebia, the remote engage and release helps keep the operator safe.
A video of the system in action can be seen at: https://bit.ly/2sTSvQg
News from Samson Rope Technologies
USA-based rope manufacturer Samson Rope Technologies has appointed a new senior member of staff and launched a new website.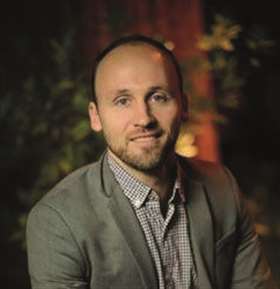 At the end of 2018 the company announced the appointment of Kris Volpenhein as vice president of research and development. Volpenhein has been a Samson employee for the last 12 years. His roles have included applications engineer, engineering manager, Asia-Pacific sales manager, and, most recently, as director of technical services.  
Second, Samson Rope says its newly redesigned website is simpler and faster to use. The company says the website has been built from the ground up and utilises the latest design features. It can be found here: www.samsonrope.com
Manitowoc Germany receives wire rope training
Employees at Manitowoc Crane Group Germany have received wire rope training from crane and mining rope manufacturer Casar. The training took place at Manitowoc's Crane Care training centre in Wilhelmshaven and covered: national and international standards; the principles of rope technology; the handling, maintenance and installation of wire ropes; wire rope inspection; and identifying causes of wire rope damage.  
The training session was aimed at employees from the purchasing and technical support departments, as well as Manitowoc trainers (who go on to train other Manitowoc employees across the world). Training was conducted by Casar service technician Harald Philipp and supported by Jens Weis, an engineer from Casar's research and development department. The session was led by Manitowoc's training centre manager Gerald Maderer.
According to Casar, the training was very well received and there are plans to repeat it every two years.