Rotair spotlights low emission air compressors at IRE 2023
By Leila Steed06 June 2023
Compressor manufacturer Rotair has presented its newly launched portable air compressors at this year's International Rental Exhibition (IRE), which is currently taking place in Maastricht, The Netherlands.
Its new MDVN 32B portable air compressor, which can deliver 3,200lt/min of air at a constant 7 bar (102 psi), and its lightweight MDVN52 ECO5 model have been designed to meet key rental equipment needs.   
Aiming to meet the demand for environmentally friendly units, the MDVN 32B is a Stage V-compliant air compressor. It is fitted with a 40HP petrol engine that Rotair says delivers equal if not superior performance to comparable diesel engines.
On display alongside the MDVN 32B is the manufacturer's MDVN52 ECO5 model with inbuilt aftercooler - a unit that weighs less than 750kg, making it fully compliant with the European road homologation criteria and "ideally suited to the rental sector".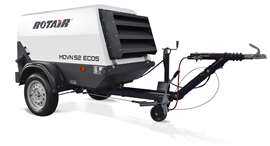 Giuseppe Donadio, managing director of Rotair, said, "We understand that the rental sector requires reliable, future-proof solutions that support their customers' needs to lower site emissions and meet diverse regulatory standards, whether they be for emissions, such as EU NRMM Stage V, or for ease of use, EU road homologation.
"That approach extends to our range of compressors for air-critical applications, such as fibre optic cable blowing portable air compressors on display at IRE, that address cable blowing needs for both 'medium-mile' with the new MDVN52 ECO5 and 'last-mile' with the VRK Fibra Plus."
Rotair's IRE exhibit (stand 2312) also features its VRK Fibra Plus compact air compressor model, which is designed for fibre optic cable laying and "other specialist air-critical applications", as well as models from its range of Rampicar mini-dumpers and hydraulic breakers.