Rototilt adds buckets
By Sandy Guthrie25 April 2018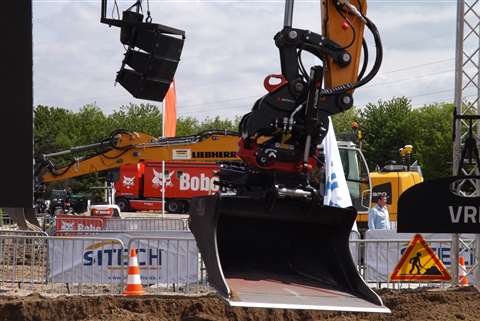 A new series of buckets has been released by Rototilt, which it said provided an optimal combination of weight, design and durability, and is on display at Intermat 2018.
The series includes trenching buckets, excavation buckets and grading buckets. The three bucket families are designed for all excavators between 1.5 and 32 tonnes, said Rototilt.
The company added that it was important to use the right bucket with its tiltotator, and the new range is now available.
They are made of high quality structural steel. Areas that are prone to wear are reinforced with HB 500 wear-resistant steel, with floor and side plates in HB 450. The buckets have curved floor plates, smooth and progressive digging movement, and optimal box construction, the company said, adding that the buckets performed best with Rototilt tiltrotators and quick couplers.
Also at Intermat, the new Rototilt R1 tiltrotator is said to be designed for compact machines between 1.5 and 3.5 tonnes. It is based on the same concept as the larger models of the Rototilt R platform, with integrated swivel and greater flexibility with different control systems.
Sven-Roger Ekström, product line manager, said, "With the R1 and R2 tiltrotators, the product line is now complete, with the ICS (Innovative Control System) smart control system.
"Customers now have a wider range to choose from, regardless of machine size."
Rototilt said that ICS provided a wide range of smart functions. The in-cab display allows operators to adjust settings and gives a complete overview of the tiltrotator system.
The R1 replaces the RT10, and will be ready for delivery in May.