Rototilt opens UK arm
By Sandy Guthrie13 October 2016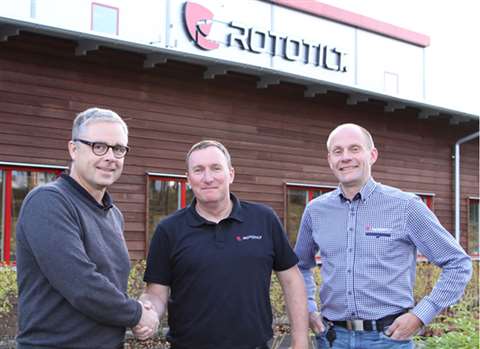 Swedish tiltrotator manufacturer Rototilt has created a new division in the UK as part of its international expansion.
Per Väppling, sales and marketing manager at Rototilt Group, said, "Rototilt has been very well received in the UK and we are now ready to set up our own organisation."
The new division will be led by sales manager Malcolm Long, and the company said that with customer service and supply firmly in the forefront of the strategy, this was a clear statement of the parent company's "regard and commitment to current customers and the UK market potential".
Väppling said, "We started our journey in the UK two years ago with our appointed distributor Tiltrotators-UK, and thanks to Tim Wood and his team we have a solid foundation to build from.
"Now is the time to continue that journey and take the next step for our organisation. The UK tiltrotator market is currently developing rapidly and Rototilt intends to be a major player."
Rototilt Ltd will be the focus for all sales, service, parts and support for the product range in the UK. It said that the use of strategic local partners ensured its current and future customers would experience the service expected from a direct, factory-backed organisation.
Cullion Plant Services based near Dungannon, Northern Ireland, is the appointed Rototilt dealer for Northern Ireland and the Republic of Ireland. Aiden O'Neill of Cullion will also have a service support role into the UK.
"A dedicated UK location to support and supply products and parts will also be in place shortly," said Väppling, "and we will continue to build our organisation as sales develop."
Malcolm Long said, "I see great potential for Rototilt tiltrotators and attachments in the UK. The establishment of the daughter company is a clear statement that Rototilt is here to stay.
"The advantages the tiltrotator has made to the time, safety and efficiency of those operators shrewd enough to have one is staggering – so much so they would never now consider returning to the traditional coupler and bucket setup."
He added that the new Rototilt R3 model for 7 to 12 tonne machines would prove a big hit and was complemented across the range by the Innovative Control System (ICS) and SecureLock coupler safety system.
"It's the 30 years of precision engineering at the heart of Rototilt in Sweden that sets us apart from others in the market, and I look forward to helping our customers profit from the tiltrotator revolution," he said.