Rough terrain cranes: Pick and mix
By Christian Shelton03 February 2020
Rough terrain cranes have traditionally been particularly popular in the oil and gas sector. Yet as these industries have experienced a general global decline the rough terrain crane market is not as buoyant as it has previously been. This was perhaps most starkly illustrated by lack of rough terrain crane launches at this year's Bauma trade show in Munich, Germany, with USA-based company Link-Belt being the only large manufacturer to launch a totally new model.
There are signs of positivity, however, as nearly all the main manufacturers had some type of rough terrain representation on their stands at Bauma and, as we approach the next large trade show, ConExpo, new models are starting to make their way onto the market.
Kato
The most recent rough terrain crane on the market is the SR-500LX from Japanese crane manufacturer Kato. It has a 51 tonne capacity at a 2.5 metre radius. Its five-section telescopic boom extends to 42 metres. It has a 9.4 metre to 13.7 metre telescopic luffing jib, called EJib, which can be used with the main boom at any length. Capacity is 4.2 tonnes with the main boom set at 72 degrees and it gives a maximum lifting height of 57.1 metres. The jib can be offset between 5 and 60 degrees. Outriggers can be set at four positions, from a fully retracted 2.48 metres up to 7 metres fully extended.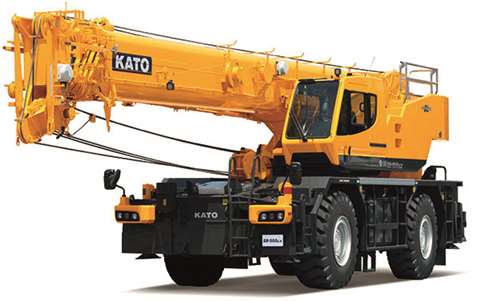 Kato SR-500LX
Power is from a 200 kW, 7.5 litre Mitsubishi 6M60-TL straight-six diesel with electronically-controlled common rail fuel injection. Maximum torque is 785 Nm at 1,400 min-1.
Accommodation and controls are all improved over the previous model, Kato said. A touchscreen allows monitoring and adjustment and there is an Eco switch function to optimise engine speed according to what is required for the crane's activity. Data logging is included and the new ACS moment limiter keeps capacity within a safety margin and allows working range limits to be set.
Dimensions for road travel are 2.9 metres wide, 12.76 metres long, including the boom overhang at the front, and it's 3.88 metres tall. Gross weight is given as 37.075 tonnes.
Prior to this most recent launch, at the Bauma show, Kato launched a 25 tonne capacity CR-250RV Cityrange model. It is a two-axle mini rough terrain or city class hydraulic telescopic crane with 29 metre full power boom. Fly jib extensions give from 5.3 to 8.2 metres of extra reach with hydraulic telescoping and offset to 60 degrees and all under load.
Power is from a 205 kW Cummins QSB 6.7 litre Stage V diesel. Axle loads are less than 12 tonnes, the manufacturer said, and suspension on both axles is hydro pneumatic.
A camera system is fitted as standard and in the cab there is a new 300 mm colour touchscreen control system. Its short tail swing radius of 2.42 metres is designed to allow use in confined spaces and urban areas.
Link-Belt
The new Link-Belt crane launched at Bauma is the 120|RT. It has a capacity of 110 tonnes (120 US tons) provided via a six-section 11.6 to 50 metre (38.3 to 164.1 foot) pin and latch formed boom.
It typifies a trend toward manufacturers producing larger capacity rough terrain cranes. "Right now it seems the larger you go in capacity the more active the market," confirms Kelly Fiechter, product manager rough terrain cranes, Link-Belt.
The 120|RT has a two-piece 10.7 to 17.7 metre (35 to 58 foot) on-board offsettable fly with manual offsets at 0, 15, 30 and 45 degrees. The fly boom has been designed to be erected by one person with the aim of minimising work at height. It has ground controls for fly assist and boom hoist cylinders. Two 4.9 metre (16 foot) lattice insert extensions provide a maximum tip height of 79.8 metres (261.7 feet).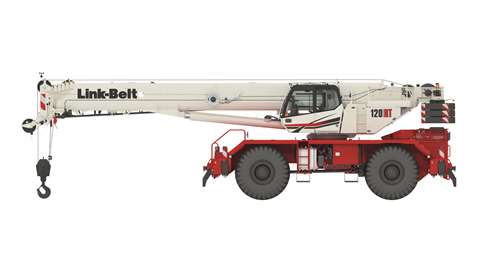 The six-speed transmission is powered by a Stage V/Tier IV compliant Cummins QSB 6.7L 232 hp (173 kW) diesel engine. A Tier III Cummins QSB 6.7L 240 hp (179 kW) diesel engine is also available.
The axles are mounted to the carrier via a greaseless four-link suspension system. Routine service is aided by centralised electrical locations, remote mounted filters, and easy-access fluid checks, said Link-Belt.
The 24 volt electrical system uses controller area network (CAN bus) wiring. This, Link-Belt said, enables multiplexing between the crane's five modules, which control key functions, including outrigger beams and winches. This means that in the event of a module being out of use other modules compensate and enable the crane to keep on working.
Access to the carrier deck is facilitated via new ladders. Link-Belt says that regardless of slew angle the operator has easy access to the flat deck from the cab. The 120|RT has textured paint and slip-resistant finish on the carrier deck.
The crane uses Link-Belt's V-CALC (Variable Confined Area Lifting Capacities) system. This has 81 outrigger configurations with real-time 360-degree charts. Once outriggers are set, Link-Belt explained, its Pulse 2.0 control system indicates the crane's available capacity. The system then previews the operator's real time capacities given the crane's current configuration at the next five radii for a set boom angle. When selected, the Pulse 2.0 can provide a live view of the working area with colour-coded quadrants. If the chart exceeds capacity at a given slew angle, swing arrest will initiate five degrees prior – allowing the crane to come to a smooth stop, Link-Belt explains.
Information is displayed via a 254 mm (10 inch) touch screen display. The Link-Belt Pulse 2.0 system is customisable and can be updated and serviced remotely.
The crane's upper frame is built from high strength steel and houses a new winch design. Link-Belt said the new winch has 'ultra-wide' drums for increased line pull at higher working layers. The maximum winch line pull is 105.1 kN (23,632 pounds). The system uses hydraulic outboard routings and the wiring harness is designed to be easier to service, explained Link-Belt.
The standard counterweight comprises three removable slabs weighing a total of 13.2 tonnes. The crane has the same cab that was launched in 2017 on Link-Belt's 75|RT, meaning it can tilt 20 degrees.
Lighting-wise, Link-Belt said it has fitted the crane with dual amber strobe lights, LED working lights and outrigger lights. A camera vision package is available to enhance on-board site monitoring. It includes a back-up camera, as well as cameras for viewing winches and the right side of the upper.
With a fully-equipped base unit, minus modular counterweights, the crane weighs 42 852 kg (94,472 pounds). It has a height of 3.91 metres (12 feet 10 inches).
Manitowoc
The trend towards larger rough terrains is also noted by John Bair, product manager for Grove cranes at USA-headquartered crane manufacturer Manitowoc. "The market has shifted over the last decade or so from the 60 to 70 tonne class being the most popular models in rental fleets to the 100 tonne class. Versatility is key for fleet owners. Having flexibility in reach and capacity is pivotal to ensure high utilisation."
Earlier this year Manitowoc displayed its 100 tonne capacity Grove GRT8100 and 51 tonne capacity GRT655L. The GRT8100 has a five-section full power boom, and a range of boom and insert options providing a reach of up to 77 metres. Both 10 metre and 17 metre manual and hydraulic offsettable extensions are available, as well as a heavy-duty three metre jib that is offsettable to 40 degrees.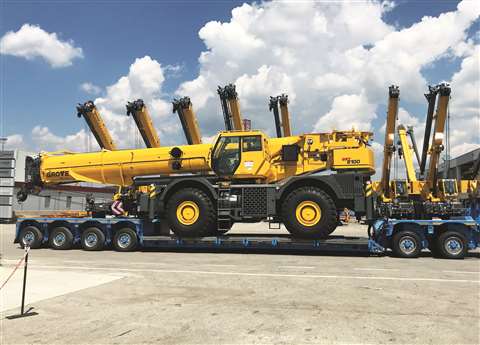 The GRT655L is a smaller, 51 tonne capacity crane yet with a 43 metre, five-section boom. Its maximum working radius is 36 metres. A regular boom version of the crane, the GRT655, is built on the same platform as the GRT655L, but with one less boom section, for a total main boom length of 34.8 metres.
Both cranes are built at the Manitowoc factory in Shady Grove, Pennsylvania, USA and, since the second half of this year, also at Manitowoc's factory in Niella Tanaro, Italy. The GRT8100 is the largest Grove rough-terrain crane built at Niella Tanaro. The company said that in 2018 it boosted production of Grove rough terrain cranes at the factory in order to better serve customers in Europe, Africa, the Middle East and Asia-Pacific.
Zoomlion
A similar story regarding the state of the rough terrain market is related by Olga Dubinok, crane sales manager at Zoomlion North America. "The rough terrain market is coming out of a challenging stage due to collapsing oil prices back in 2014 and taking a slower recovery path," she said. "Although the market is not where we would like it to be the fact that rough terrains are hardworking machines and still have a high demand in utilisation in non-residential infrastructure, the energy sector and government projects makes us feel confident that growth of the rough terrain market will continue with decent pace and will reach its consistent strength in in the period of 2019 to 2025."
At Bauma the company displayed the ZRT850 which is designed for oil field projects. The crane has a capacity of 85 tonnes and a five-section U-shaped boom that extends from 12 metres up to 47 metres. It comes with two trussed fly jibs. The main boom has 49.8 m maximum lifting height while the fly jibs give a 67.1 metre maximum lifting height. The crane has a new boom head and end structure with optimised boom connections designed to provide stronger load bearing capacities.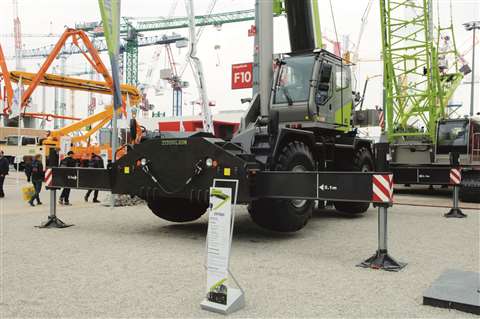 Zoomlion's RT850 at Bauma where it caught the attention of a buyer from the Middle East
Following this exposure Zoomlion says it has just taken an order for 47 ZRT850s worth nearly US$14 million from an undisclosed buyer from the Middle East. "The Middle East client showed keen interest in purchasing the crane at Bauma 2019," explains Lu Yangchen, director, Zoomlion construction crane research institute. "They then made the decision after making detailed comparisons with other cranes."
The ZRT850 has certification including ANSI (for North America), CE (for the EU), and EAC (for the Customs Union). It is the only rough terrain crane from China that has approval for Saudi Aramco Total Refining and Petrochemical (SATORP) job sites, says Zoomlion.
Terex
Crane manufacturer Terex displayed its RT90 at Bauma and again, more recently, alongside its new tower cranes at a customer preview event at its testing site in Polcenigo, close to its Fontanafredda tower crane production facility in northern Italy. In Italy, the RT90 was shown alongside the RT1045 – demonstrating the importance of these models to Terex's newly streamlined portfolio.
The 90 tonne capacity RT 90 has a five-section, fully hydraulic boom that stretches 47 metres (154.2 feet). It comes with three boom modes: synchronised boom mode; strength mode; and stability mode. Maximum tip height is 66 metres.
Terex's RT 90 and RT 1040L on display at a customer event in Italy
The RT 1045L has a capacity of 44 tonnes at a 2.5 metre (8.2 foot) working radius. Maximum boom length is 37.4 metres and it has a maximum tip height of 47.8 metres (157 feet). Maximum hook height is 37.5 metres (123 feet).
The exposure is working for Terex, as the company reports that at Bauma its Algerian distributor ETS SIAD Automobiles (Groupe SIAD) signed an order for nine Terex rough terrain cranes. Just prior to the show, the company also sold the US version of the RT 90 (the RT 100US) to New York state, USA-based crane sales and rental specialist Empire Crane. It is the first of this model in its fleet.
Tadano
Japanese crane manufacturer Tadano has also expanded its capacity to produce rough terrain cranes with the opening of a new plant in Kozai, Takamatsu, Japan. The opening ceremony took place on 29 August. The new factory has been built on a 200,000 square metre plot of industrial land in the western Kozai district of the port of Takamatsu. In addition to rough terrains, it will also produce truck cranes, as well as booms and cylinders for Tadano operations worldwide. According to Tadano, the costal location means large cranes can be easily exported.
At Bauma, Tadano had its GR 1200XL and GR 200EX models on display. The GR 1200XL has a capacity of 120 tonnes and a boom that extends from 12 to 56 metres. The GR 200EX is designed to comply with Australian road regulations. It has a maximum lifting capacity of 20 tonnes at 2.5 metres and a six-section long boom that extends from 6.5 metres to 27.5 metres.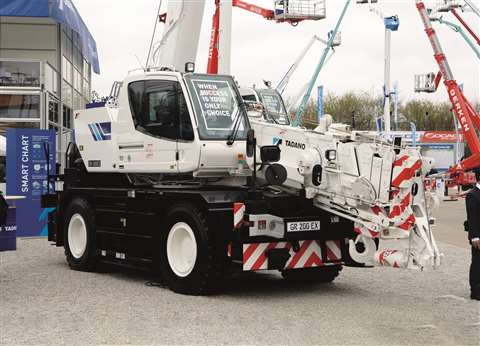 Tadano's GR 200EX on display at Bauma. It is designed to meet Australian road regulations
Just prior to Bauma, Tadano upgraded its 15 US ton (13.6 tonne) GR-150XL-2 with the release of the GR-150XL-3. It has a 78.7 foot (24 metre) boom and capacity is increased by 70 per cent in terms of single line pull, the manufacturer said. This allows for improved hoisting performance and lifting capacity at most working radii on four parts of line, Tadano said.
Maximum lifting height with boom and jib is 97.5 feet (29.7 metres) and the maximum working radius is 85.5 feet (26 metres).
Tail swing has been reduced to 4.11 feet (1.25 metres) from 5.3 feet (1.63 metres) to improve working in confined space. Also to help in small spaces is an underslung hydraulically offset jib. Asymmetric outrigger configurations are possible and the AML-E system calculates available capacity.
A new operator cabin is designed to be more comfortable and to offer better visibility. It includes a larger colour screen to replace the previous models black and white display. An Eco function means the crane controls the volume and pressure of hydraulic oil supplied according to demand so that it operates using what is necessary instead of an excessive amount. It reduces fuel consumption and environmental pollution.
Chinese success
Chinese crane manufacturer XCMG reports that, in contrast to the general trend, in the first half of 2019 exports of its rough terrain cranes rose by 167 per cent. The company attributes the increase to the effect of the Belt & Road Initiative - a global development strategy adopted by the Chinese government involving infrastructure development and investments in 152 countries and international organisations in Asia, Europe, Africa, the Middle East, and the Americas. In particular, XCMG identifies strong demand from Russia, Central Asia and the Middle East.
Chinese crane manufacturer Sany also reported benefits from the Belt & Road Initiative. On 29 August Sany Heavy Industry released its semi-annual report for 2019. According to the report, it achieved operating income of RMB 43.386 billion in the first half of 2019, a year-on-year increase of 54.27 per cent and its best performance since it was founded.
At Bauma Sany displayed the 90 tonne capacity SRC900C, which was also displayed at Bauma China in 2018. It has a five-section U-shaped boom with a maximum boom length of 47 metres. Maximum load moment is 2,820 kN.m and a maximum fixed jib combination of 47 metres plus 17.5 metres.
So with Chinese rough terrain manufacturers reporting success, it will be interesting to see what new models emerge from other manufacturer for the 2020 ConExpo trade show in Las Vegas, USA.