Rough terrains: A growing interest
By Laura Hatton08 December 2015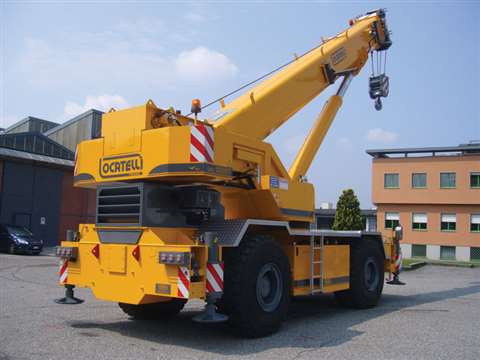 The rough terrain is an ideal tool for many jobsites and often is a support for larger equipment. The market, however, has been suffering, especially in Europe and North America, where sales dropped massively last year. Michael Herbert, Manitowoc Cranes global product director, rough terrain cranes, explains why, "The main applications for rough terrain cranes is typically oil and gas, however, energy prices have softened that market slightly. Mining is also a place where RTs work well, however this is also a slow market."
Despite the slowdown in Europe and the USA, there is a rising demand in central and northern Africa, the Middle East and the Far East. "The most interesting markets are the growing economies," a spokesperson from Italian manufacturer Locatelli points out. "This is because they are all in need of infrastructure."
There has also been a shift in popular capacities of rough terrain cranes, a spokesperson from Locatelli says, "In the last 12 months the interest towards compact and light RT cranes is getting stronger. The 2015 production of Locatelli Crane will end with a spread production of light, medium and heavy duty equipments."
This follows a trend in recent years towards higher capacity RTs.
On average, the 70 to 100 tonne capacity range tends to be a good size range for RT applications. Michael Herbert says, "As applications and construction practices develop there is always the possibility that the needs for new lifting solutions will follow. The RT range is an economical, reliable tool for many different applications today and this should continue in the future."
Despite the market shift, customers still require RTs to be versatile, robust and cost effective. For higher flexibility and stronger lifting capacities, Locatelli, for example, uses Weldox steel 700 or 900 high yield strength. The manufacturer has also made some overall changes, including having high comfort cabins, to all models in the range and 8 inch touch screen LMI systems.
For cost effectiveness, Tadano has been focusing on quality of crane components to reduce downtime, as a spokesperson explains, "The most fundamental demand of customers is operating the cranes anytime and anywhere they want without downtime from unexpected repair. For example, it is our standard that our crane was equipped with metal piping instead of using [rubber] hose assemblies for hydraulic oil, which is much more robust to avoid oil leakage. These qualities provide reliable operation at important jobsites like chemical plants, oil fields, mining, etc where downtime losses are critical."
Latest models
To keep in line with changes in the market, manufacturers have been updating and introducing new models of RT cranes. As part of its renewing process, Locatelli, for example, has introduced the 80 tonne capacity GRIL 8800T with 40.5 metre boom and a Tier 4 Final engine.
From Link-Belt is the new 100 US ton (90 tonne) capacity 100RT, introduced at CraneFest 2015. The 100RT is a four wheel rough terrain crane with a six section pin and latch boom that extends to 50 m. "With full attachment, reach is 79.8 m. No other crane in this class can match a chart that will lift 800 kg at 46 m radius like the 100RT," the manufacturer says. The new model has dual- and single-axis controllers and a 20 degree tilt cab with air conditioning, sun shade and a five-way adjustable seat. In addition, the carrier deck has six points of access.
New from Japanese manufacturer Tadano a new rough terrain crane for overseas markets. The new GR-500EXS/GR-550XLS has a 50 tonne capacity with a 33 metre, 4-section boom. Extra reach is provided by a two-staged under slung jib that stows alongside the base boom section, the manufacturer says. The model has an overall width of 3 m and is powered by a Euromot 2 Mitsubishi 6M60-TL. It has a travelling speed of 44 km/h and Eco-mode, which reduces fuel consumption when the crane is being operated, the manufacturer adds. The model is also fitted with the Hello-Net system, which monitors various crane data. The GR-500EXS type will be sold in Africa, Asia, the Middle East and Oceania, and the GR-550XLS type will be sold in Central and South America.
Tadano also launched two optional jibs for its largest RT model, the GR-1600XL/1450EX, including a 3.6 m heavy lifting jib with two offset angles of 20 and 40 degrees. The jib has a capacity of 24 US ton (22 tonnes). The second option is a 7 m lattice insert jib. The entire jib system gives a maximum lifting height of 92.2 m.
Upgrades
From Manitowoc are upgraded versions of the Grove RT530E-2 and RT540E. Michael Herbert says, "The RT530E-2 and RT540E with CCS were both introduced this spring. The 30 tonne RT530E-2 is equipped with an 8.8 to 29 m four-section full power boom. The 35 tonne RT540E is has a 9.8 to 31 m four-section full power boom. The boom incorporates a rectangular boom shape made from
690 Mpa steel which eliminates weight and maximises structural capacities. Both models have optional telescopic swingaway lattice extensions that easily stow on the side of the base boom for easy transport."
The latest model from Terex is the 65 tonne Quadstar 1065. The model has a 32.4 m boom and a newly designed operator cab with 18 degree tilt and anti-shock suspension seat. For safety it has a RCI visual indicator system and LMI display. It also has ECO mode.