Roughing around
By Lindsey Anderson10 July 2018
Demand remains steady for RT scissors, but will upcoming standards regulations change the landscape? Lindsey Anderson reports.
The time has come. In the next few months, the industry will see substantial changes to the ANSI A92 standard for mobile elevating work platforms (MEWPs) that will focus on machine design, safe use and training.
It's been more than 12 years since the last overhaul of the standard, so many are bracing for a significant impact. But, that said, most manufacturers have long been distributing and producing machines across the globe, so they're ready for the change.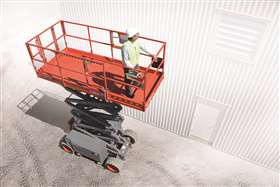 "Many OEMs have already begun making changes to their RT scissors in anticipation of the impending ANSI standards," says Kristopher Schmidt, product manager for Skyjack. "The compliance deadline isn't until Spring 2019 however, modified machines have already been making their way onto rental yards."
A92.20 changes will move MEWPs toward global standardization. The ANSI and CE standards will be more consistent, which is beneficial in the ever-evolving global marketplace. One example is the capacity limit load sensors that will be required on MEWP platforms, which are already required in many countries.
"From an equipment viewpoint, the most noticeable change on rough terrain scissors to the user will be the inclusion of platform load sensing," says Matthew Elvin, chief executive officer of Snorkel. "The new standard will also see many applications move away from pneumatic tires, due to the requirements for pressure monitoring systems or flat tire testing, and toward more foam filled or solid tires. This and some of the new stability requirements that include wind loads, manual forces, and more involved dynamic factors may affect machine weights."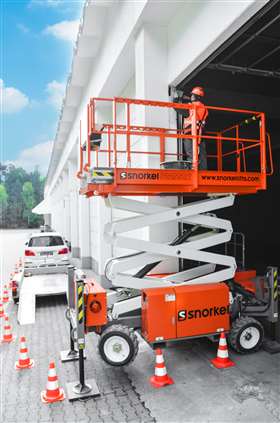 Indeed, many are preparing their customers for the impact load sensing will have on equipment.
"The presence of active load sensing technology will be the biggest change that the ANSI standards will bring to RT scissors," Schmidt says. "This feature has been on our products in international markets for over a decade, however it is new to the North American market and will open the eyes of some operators."
On Skyjack's RT scissor lifts, this means adding a combination of a scissor stack angle sensor and pressure transducer on the lift cylinder, Schmidt says. Once overloaded, the MEWP's normal elevating functions will be disabled and an alarm will sound and flash alerting the operator to the platform's overloaded state.
Rafael Nunez, product manager, scissor lifts, JLG Industries, Inc., says JLG has a number of technologies in production designed to meet the upcoming ANSI requirements on its rough terrain scissors.
"JLG was first to market with several product safety enhancements that we anticipate will be incorporated into the new standard, including: load sensing for actively monitoring loads, stopping a machine's normal functionality and sounding an alarm when overloaded; hand-operated controls on the platform must also be protected against sustained involuntary operation, preventing further movement of the machine in the direction of trapping or allowing the operator to reverse or stop the trapping movement; more stringent wind force requirements, resulting in outdoor machines with increased weight and reduced capacities; new stability testing requirements, with foam filled or solid tires becoming necessary on most booms and rough-terrain scissors; and an increase to scissor rail heights, necessitating fold-down rails on compact models to ensure they fit through standard height doorways," Nunez says. "Regardless of published standards, JLG will remain committed to designing and manufacturing machines with innovative technology to drive safety improvements on jobsites where customers operate our equipment, along with the training programs necessary to remain in compliance with ANSI standards."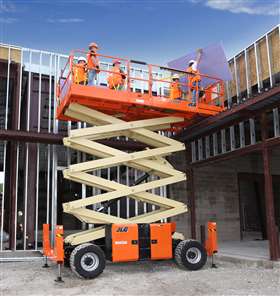 To help customers, most OEMs have launched white papers, ANSI websites or special events where people can "ask anything" – including questions about the standards changes.
"As with most regulation changes, there may be some cost implications that we will need to work through, but we don't anticipate them to be major in comparison to the costs associated with engine technology enhancements," Nunez says. "The biggest driver of cost for rough terrain scissors to become ANSI 92.20 compliant will be the addition of load-sensing technology and the tire impacts."
Market demand
Despite the upcoming challenges and changes, the rough terrain market is as strong as ever. All manufacturers reported strong demand from customers – and they expect it to continue for the coming year.
"Rough terrain scissor lifts continue to perform well, with consistent year-over-year performance in most categories and classes," says Mike Flanagan, Genie product manager, Terex AWP. "Mid-range heights are proving to be more favorable across the market in 2018, a slight change from 2017.
"Large rough terrain scissors are showing positive signs of market category growth. Similar to telehandlers, rough terrain scissors are commonly among the first pieces of equipment on the jobsite and the last to return to the rental yard. As a result, rough terrain scissor sales can give us some insight into the utilization performance of the industry as a whole."
Haulotte Group also says this year is fairing well, with the past 12 months performing better than last year and there has been an overall increase in all product categories.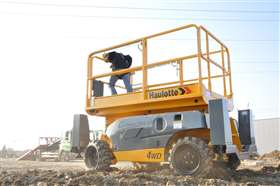 "The market is following the trend of the growing construction market," says Paul Jensen, Haulotte's communications and analytics manager – Americas. "We predict we will continue to see the hybrid trend grow and include more of the larger scissor lifts. As hybrid technology overcomes the challenges of the booms segment, those same advances will help meet the requirements for the rough terrain scissors. We expect to see continued growth over the next year."
Snorkel and MEC Aerial Work Platforms have also experienced an increase interest in dual fuel engines, as well as hybrid technology.
"This year we are seeing many customers choose rough terrain scissor lifts with dual fuel options rather than diesel engines," says Elvin. "Due to the expense and complexity of diesel engines and the desire of many jobsites to have cleaner and quieter machines, more four-wheel drive, rough terrain machines will be either hybrid or bi-energy in the future, enabling the use of smaller machines that have less complicated emissions after-treatments."
Elvin says Snorkel has seen sales increase year-over-year for rough terrain units and consumer demand remains steady. He expects the coming 12-18 months to be strong for the sector due to the buoyant North American construction market.
"Customers are always looking for new options as rough terrain scissor lifts are becoming on-site aerial workstations," Elvin notes. "Over the last two years we have seen requests for more room and higher capacities to support manpower, tools, and materials while keeping focus on safety, efficiency and productivity."
Gary Crook, vice president of engineering for MEC, says the company's 2018 order book for RTs is stronger than last year's.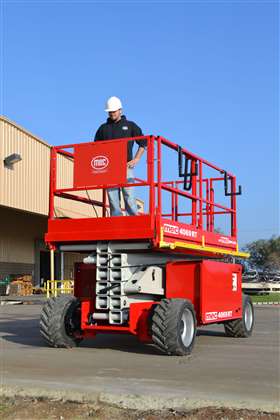 "All indicators are positive and we expect more of the same," Crook says. "We have seen an increased interest in dual fuel engines. This gives the machine the ability to have the engine powered RT performance yet also allow it to work either indoors or under roof using the LPG fuel when required."
However, Crook advices there could be a headwind coming up.
"Increased cost of materials coupled with the extended lead-times of components could [cause issues] for manufacturers," he warns.
In the same vein of costs, JLG says it continues to make updates and improvements to all of its products in order to increase return on investment for its customers. The company is experiencing high demand for its large-capacity RT scissors that are capable of carrying more employees, equipment and tools on the platform to the work site.
"Our LRT-series scissor lifts have been designed with service and uptime in mind," Nunez says. "Steel hoods protect components while providing full access for inspections and service. The complete line-up is powered by Tier 4 Final diesel engines which do not require the serviceable emissions technology found in larger engine systems. The entire engine system was designed with this in mind and fine-tuned to efficiently meet the high gradeability and power needed for jobsites requiring rough terrain scissors."
Genie, too, keeps its costs for customers in check. The company continues to work directly with customers to give them high rental return on invested capital.
"Over the last few years we've been making continual updates to the Genie line of rough terrain scissor lifts, beyond the major product introductions," Flanagan says. "Seemingly small changes have been made that have a real impact in the productivity of Genie rough terrain scissor, including increased telemetry communication capabilities and common componentry, to further enhance serviceability and reduced our customer's parts inventory costs."
The company continues to improve and work on its hybrid offerings, which are growing in popularity.
"The Genie line of DC rough terrain scissor lifts, including the Genie GS-2669 DC, GS-3369 DC and GS-4069 DC models, deliver proven performance in rough environments, along with emission-free productivity in indoor applications," Flanagan says. "Coupling this indoor capability with the true rough terrain performance, and future growth in application specific areas, will allow customers to leverage what were traditionally rough terrain only scissor lifts for a number of other applications."
Entering the scene
It goes without saying that a number of companies have introduced scissor lifts to the North American market over the past few years. One in particular, Global Machinery Group (GMG), debuted its equipment in late 2017 and has three rough terrain models in its lineup. Established manufacturers see increased competition in varying lights.
"It's a good sign to see new entrants into the MEWP marketplace," says Jensen with Haulotte. "New competition from around the world means the industry is viewed as a strong place to grow and conduct business, but new entrants have to do something to set themselves apart to gain market share. I think we will see a growing difference between the leaders of the industry creating new productivity and safety innovations, while the rest of the competition is forced to compete at a commodity level."
Skyjack's Schmidt says one in every three scissor lifts purchased worldwide is a Skyjack model and that "newer entrants and customer demands are two key factors that keep the industry striving to be better, and any opportunity to improve ourselves is welcomed."
Skyjack expects rental companies to upgrade or refurbish their existing fleets prior to the ANSI compliance deadline to continue offering existing machines and technology to their customers for a longer period of time. The company recently produced a whitepaper that outlines the changes being made in compliance with the impending ANSI standards and it will publish another one closer to launch date.
"We as an industry need to help each other in understanding what it means to comply with the new standards," Schmidt says. "I expect to see a lot of educational material being published over the next 12-18 months."
With many changes forth coming, it'll be an active market to keep an eye on.