RT crane training module from Vortex
By Ian Vallely25 January 2016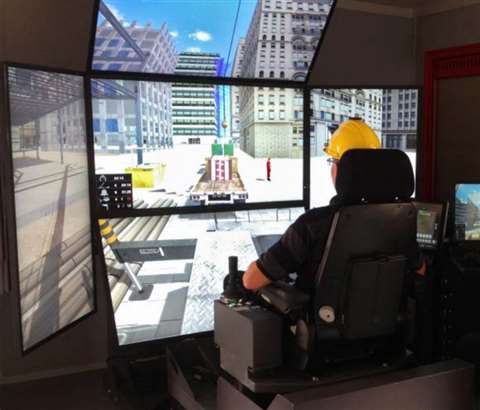 A rough terrain crane training simulator module has been launched by Montreal, Canada-based CM Labs Simulations.
The module can run from any Vortex Simulator ranging from the multi-screen Vortex Master with optional motion base, to the desktop-based Vortex Trainer.
The user interface is available in English, French, and Spanish.
CM Labs' Vortex training solutions are used at hundreds of installations internationally to provide apprentices with the skills and work habits they need to operate cranes and heavy equipment safely and efficiently, CM Labs said.
In addition to new training exercises and learning objectives, the RT mobile crane module has advanced simulations. Simulation of the crane includes the complete mechanical and hydraulic systems, and interactions with the worksite.
Integrated training tools include an optional student management system that allows instructors to generate reports from training sessions, and to review current and past performance.
Vortex training modules include a new integrated heads-up display (HUD) to guide trainees through exercises. The HUD includes work sequence information for the operator, contextual messages and a list of performance metrics updated in real time.
In addition to the release of the RT mobile crane training module, CM Labs has also updated its tower crane training module to include a new training exercise that focuses on concrete pouring and forming.
Trainee operators are evaluated on a number of performance criteria, including amount of time spent in pendulum, number and severity of collisions, shock load on the hook, and volume of spilled concrete.