Ruthmann acquires ReachMaster
By Lindsey Anderson12 March 2020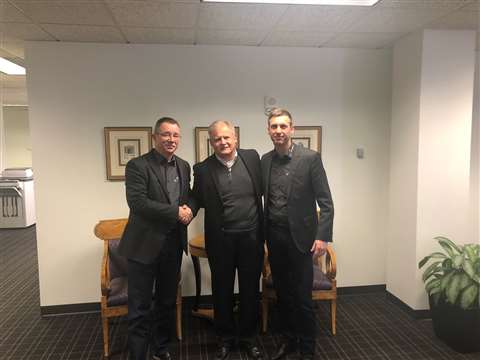 ReachMaster, Inc. has been a provider of compact aerial equipment and material handling equipment in North America for the past 20 years and has marketed Ruthmann Bluelift produts for more than 10 years across the U.S. and Canada.
Ebbe Christensen, who was previously president of ReachMaster, Inc. will head up the new company as its president and CEO. Rolf Kulawik, managing director of Ruthmann GmbH & Co. KG, will assume the position as chairman of the board with Uwe Strotmann, head of sales at Ruthmann GmbH & Co. KG and previously president of Ruthmann North America L.P., as executive board member, and will make up the executive management group of the company.
In addition to the executive management group, the daily management group will be made up by Tom Goyer who previously served as vice president of Ruthmann North America L.P., will continue as VP of sales for truck-mounted equipment along with Tom McKendree, previously national sales manager for ReachMaster, Inc., who will continue as VP ofsales for compact lift and material handling. Conrad Juliao, previously logistic manager for ReachMaster, Inc., has been promoted to VP of operations. The new company will operate from ReachMaster's new facility in Porter, Texas.
Kulawik said, "Ruthmann benefits from many years of experience and a large network. This enables us greater access to the North American market. We welcome the ReachMaster employees to the Ruthmann family and look forward to expand the company together."
"With this acquisition, we will adopt and expand ReachMaster's existing operational framework. Additional jobs in sales and service will be created. This is another majormilestone in Ruthmann's ongoing internationalization strategy," Strotmann added.
Tom Goyer said, "The Ruthmann products fit perfectly in the North American market place. Together with the extended team and the experience of the ReachMaster employees, we look forward to offering the best of everything in one, coordinated package: High performance, top quality, superb service and customer support."
Christensen, who is also the acting chair of IPAF's North American Regional Council, is excited about the new position as president and CEO of Ruthmann ReachMaster North America.
"After 8 years as an independent distributor, it was a natural evolution for our team to partner up with Ruthmann, following years of very successful and always familiar partnership with Ruthmann. I am very delighted to see ReachMaster become a fully integrated part of the Ruthmann Group. The new company will represent the strongest line up of high quality aerial lift products in North America, bringing added value to our customers on all levels. This new partnership will not only bring an unmatched product portfolio to the market, but expand business relationships across the industry from the rental market to end-users. We are excited to expand our foot print in the industry, while we continue to represent our current lines and provide sales and service to all our customers as usual."
Ruthmann builds ANSI A92.2 compliant truck-mounted aerials in working heights of 75' (23 m) to 295' (90 m) and ANSI A92.2 compliant tracked platforms known as Bluelift with working heights of 39' (11 m) to 102' (31 m).
ReachMaster, Inc. has been an independent exclusive North American distributor since 2012, and was owned by Ebbe Christensen. The company represent Falcon Lifts, Ruthmann Bluelift, Denka Lift, PB Lifttechnik, Almac and Winlet. The company has 20 years' experience as compact lift distributors in North America.