Ruthmann Interview: Expanding horizons
By Euan Youdale28 January 2017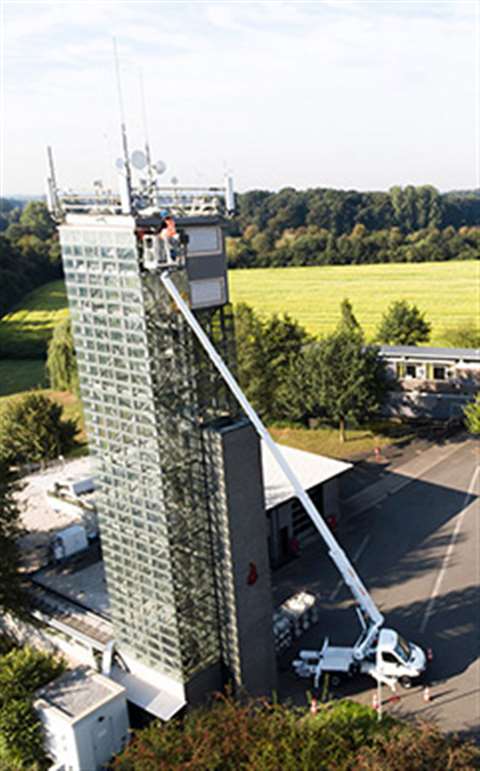 It has been a busy year for Ruthmann, with a range of new products in its premium range, and a new division that includes expansion in to lower budget truck mounts and tracked platforms.
At a customer event in Hamburg, during September last year, Ruthmann launched a 29m working height truck mount, the Steiger TB 290, designed for Euro 6 on a 3.5 tonne chassis, setting a record working height for this vehicle weight. It means workspaces can now be reached that were previously only accessible using 7.49 tonne trucks, according to Ruthmann.
The model is a development of the previous TB 270+, with 2m more working height with the same outreach and an additional 3° elevating angle, which allows set up closer to working areas. There is also a 230kg load capacity.
A further feature is the interchangeable basket system for aluminium and plastic baskets allowing work on live lines up 1000 volts. The TB 290 can also be placed on 5 tonne to 6.5 tonne GVW trucks for extra payload options. Staying with the 3.5 tonne class, the manufacturer also presented the Euro 6 sister TBR 250 product, which was launched previously.
Ruthmann also presented its two latest highflex Steiger truck mounts, the T 650 HF and T 750 HF, adding to the T 510 HF and T 570 HF models launched at Bauma this during April this year.
The T 510 HF is interesting as it offers 51 m working height on two axles, "In the past customers have been sending out 54m and 53m machines to their customers when they only needed 50 m, but on two axles the working height was limited to 45, 46, lastly 48 but not the magic barrier of 50m," says Uwe Strotmann, Ruthmann sales director.
"Now the rental company can send out a 51m to an application for a set amount of money, whereas, in the past, he may need a 54 m on three axle truck, which was a much bigger investment.
However, it wasn't an easy decision to produce the T 510 HF in the first place, "Eighty percent of our customers did not ask for it. So, should we do this for 20% of the market? At the end of the day, we said OK, the combination of 51m working height and its outreach capability, plus the new high flexibility system, then we have a good package for the market."
Branching out
The previously mentioned T 650 HF and T 750 HF bring the Height performance class up to 11 models with the new 75m working height T 750 HF being the tallest. It also offers a maximum 600kg in the basket, or 320kg at full height, as well as a 41m lateral outreach. The model can be mounted on a standard 4-axle MAN, Mercedes-Benz, Volvo or Scania chassis.
It is ideal for the maintenance of wind turbines where one operator and at least one technician with tools and materials can work at full height.
In the range, "We took our 54 m and developed it to a 57 m machine, with a longer upper boom, then we started with the next step, the 65 m machine - our designer said with a longer upper boom, we will have more outreach than ever at 43m, a world record."
The 65m working height T 650 HF, also offered on a 4-axle chassis, has a maximum basket load of 600kg too. Another advantage is that the total length of the unit does not exceed 12 m. With 43 m outreach at a basket load of 100kg, it is 4 m longer than the current 60m class Steiger T630.
Of course, Ruthman has been much busier than that over the last year, with the acquisition of the Marti Group, last year which manufactures truck mounts and tracked platforms – now renamed Ruthmann Italia. The 60% buyout of the group has already been well documented, but, I ask, what was the benefit of choosing the Marti Group, over developing its own product range, especially as the Ram truck mounts it produced were so small in numbers?
Rolf Kulawik, Ruthmann managing director, comments, "For us it was important to have a company that we are able to handle; we are not as big as some of our competitors [across the AWP industry]. We said we were interested to develop their truck mounted business, to build up a low budget product. We will come together to do the hard work of developing this product and produce new ones in the future."
Mr Kulawik added that is also difficult to produce lower budget products from scratch when its production in Germany is geared towards producing premium machines. As you would imagine, the manufacturer will have new Ecoline products this year; a 24 m articulated machine in May at APEX and a 20m telescopic model in the fourth quarter.
What is the advantage having an Ecoline over a premium product? Mr Strotmann comments, "In Germany, you have many existing premium machines in the market, and initially when Ruthmann looked at low budget trucks, we looked at Eastern European markets where labour is cheaper."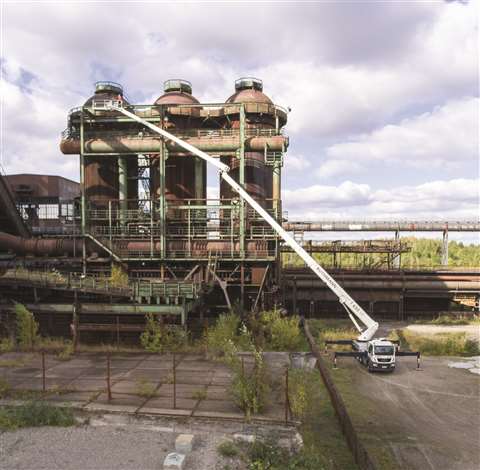 However, it became apparent that countries like Germany, used to operating premium machines, would also have uses for lower budget ones. The importance comes in ensuring they are kept clealy separate in terms of specifications.
Ruthmann Italia was publically announced at Bauma: from left: Gianpiero Marti, sales and marketing director; Rolf Kulawik, Ruthmann and Ruthmann Italia managing director; Gianni Marti, Ruthmann Italia managing director; and Uwe Strotmann Ruthmann sales director and Ruthmann Italia director.
"If you have a low budget truck, you have to have lower performance, otherwise it won't work. That is the differentiation we give to the market, also as recommendation to the rental companies. If a company has low budget trucks in their fleet, which are technically near to the premium, they cannibalise their own machines."
One of the goals is to bring all the spare parts for Ruthmann Italia to its main factory in Gescher, Germany. "So, customers have the same contacts, the same performance, to send out the spare parts on the same day - totally different to what they have experienced in the Italian market."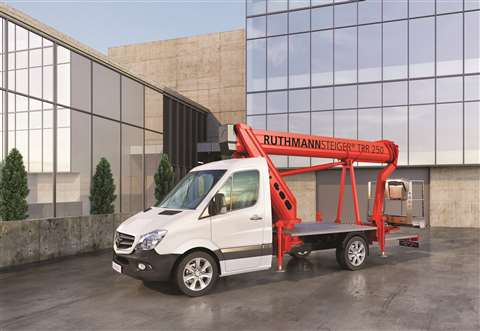 Service network
Ruthmann has also announced its next after sales service-related project, adding to the existing facilities in Seevetal and Gescher, completed in 2014 and 2015. Under the new sme, the capacity at Gross-Gerau is being expanded by more than 40%. Furthermore, properties have been acquired in Ingolstadt and Berlin. The centres also provide 'cross-brand service', for repair of components from other manufacturers.
Ruthmann's service network includes eight factory service stations in Germany and Austria and 11 service points, two of which are in France. Some 25 mobile workshop vehicles are controlled by this network.
"We have done all the training for the Bluelifts and the Ecoline; we have all the demo units in the yard and we can give spare parts and service. We are ready for what we want to do."
This year, the plan is also to develop the production side. This means a new building, to add to the original building in Italy and a newer one, just completed alongside it. And we will have a complete new building on the site with more than 1,500 square metres to build new Ecolines.
"Bluelift is a well-received product already," says Mr Kulawik and the company did not want to stop the orders to increase Ecoline product production.
Over the next six months Ruthmann will invest €1.7 million in the company, together with the Marti family. "Ruthmann did 37% more revenue this year, so we are able to do it by ourselves, and not to have money from a mother company."
The company is looking to sell a minimum of 53 Ecoline platforms in 2017. And outside Europe there is great opportunity, with a unit already having made its way to distributor in Australia Nifty Lift, delivered in kit form. This arrangement will be the same for all markets outside Europe, with platforms delivered as kits to be mounted on local trucks. In India, for example, Ruthmann's distributor, mtandt, which it signed up last year, is interested in kit mounting. "Kit mounting not only saves on transport costs," explains Mr Kulawick, but also saves on import duties in the likes of Brazil. ''
Ruthmann Italia was publically announced at Bauma: from left: Gianpiero Marti, sales and marketing director; Rolf Kulawik, Ruthmann and Ruthmann Italia managing director; Gianni Marti, Ruthmann Italia managing director; and Uwe Strotmann Ruthmann sales director and Ruthmann Italia director.
What is the synergy between Ruthmann truck mounts and Blueline tracked platforms? Mr Strotmann explains, "I don't think there is a synergy. Our motivation was to have the trucks. It was clear from day one we would also get the crawlers and we are happy to be back in the crawlers market, the more you dig in the more amazing it is."
As such the tracked platform market represents a learning curve. "I have trained the sales people and learned from our competitors what is good and what is bad, if you stand in front of the customers you must know what you are talking about." The Ruthmann Italia revenue goal is €7 million for 2017.
Looking to the future the company, as a whole, wants to be less dependent on Germany. "At the moment it is a fantastic, stable market but it will not always be. We have been growing year-on-year, but there will be a time when the numbers decline a little, then the company must diversify."