Ruthmann opens new service center
The new location will cover all previous service needs from the company's previous spot in Ingolstadt
Ruthmann has opened its new Bavarian service center. The new location will cover all previous service needs from the company's previous spot in Ingolstadt. Ruthmann invested €2.4 million and more than seven months of construction to get the service center up and running.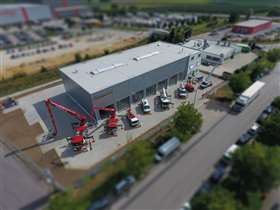 As part of the expansion initiative, Michael Zabel, service center manager, and his 11-member team moved into the new Bavarian service center. The service facility is in a large industrial park in Geisenfeld (Ilmendorf district.)
Ruthmann said since it was "not able to expand at [our] previous location in Ingolstadt, the company decided to build an entirely new service facility. Located just 15 km from Ingolstadt – on Germanenstraße in Geisenfeld-Ilmendorf – the ultra-modern service center has 13 service bays and a large wash bay."
In November 2017, an additional service center in Merklingen (Alb-Donau district in Baden-Württemberg) will be put into operation.
Construction is scheduled to begin in 2018.