Ruthmann unveils Steiger T 720 at Bauma
By Lindsey Anderson17 April 2013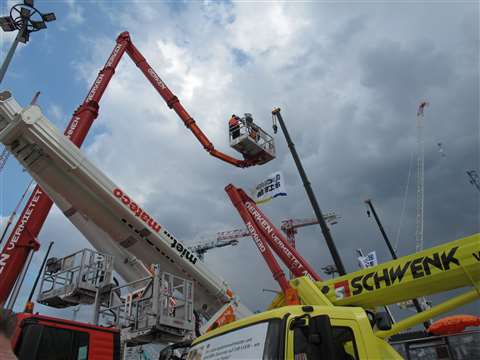 Expanding upon its High Performance range, German manufacturer Ruthmann used Bauma to debut the Steiger T 720, a 72-meter-working height aerial work platform with a movable jib.
The Steiger T 720 features a 38-meter lateral reach, 600 kg basket load capacity and permissible inclination of up to two degrees. The unit's movable jib allows users 5.5 m of extra boom length compared to truck-mounted machines without a similar jib, said Ruthmann's media relation's manager Gregor Schlingschröder.
"We also have optimized the standard telescoping and movable aluminium working cage," Schlingschröder said. "It can be extended in width hydraulically from 2.42 m to 3.82 m."
The four outriggers of the new T 720 can be controlled individually from the rear on both sides of the vehicle. "This feature facilitates better judgement when jacking and increases safety at the jobsite," Schlingschröder said. "The outriggers can also be controlled using the alternate control on the passenger side or directly from the control panel located in the working cage. The automatic-retraction mechanism saves valuable time and is very user-friendly."
The new unit comes after Ruthmann's biggest year in sales ever, having earned €95 million in 2012; a 27% increase over the previous year. Schlingschröder said since the High Performance Series was launched, the company has sold 55 units. "We've never built so many big machines before," he said.
The company also used Bauma to announce forthcoming models. In August, Ruthmann will debut the 38-meter-working height Steiger T 380. As well, in the fall in 2013, the company will release a modified version of its current Steiger T 720.