Safe Lifting stocks Green Pin shackle
By Christian Shelton22 January 2018
Dutch equipment rental firm specialising in serving the heavy lifting sector, Safe Lifting Europe, says it is the first rental company to stock the new Green Pin Power Sling Shackle range, made by Dutch manufacturer Van Beest. The Green Pin Power Sling Shackle range is available in capacities from 125 tonnes to 1,250 tonnes.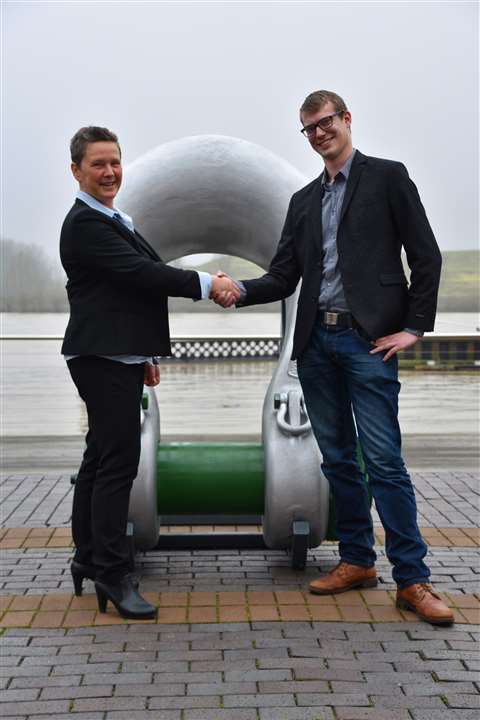 The Power Sling Shackle range was launched by Van Beest in 2017. According to the manufacturer, it has a unique design, with multiple handling points and a 10 per cent wider crown than any other shackle in the industry. It said the shackle enables users to lift the same load with a lighter wire.
The shackle has an optimal D/d ratio ratio (the diameter around the object upon which the sling is bent divided by the overall diameter of the sling being used), said Safe Lifting. It said this increases the bending efficiency of wire rope up to 85% and, when making a sling, customers can save up to 20 per cent on wire costs.
Van Beest said the Power Sling Shackle range has been extensively fatigue tested (over 40,000 cycles) and is the only DNV Type Approved heavy lifting shackle available. "It is the only heavy lifting shackle in the world that has been type approved by DNV [DNV GL standard DNVGL-ST-0378 – Standard for offshore and platform lifting appliances; and DNV GL standard DNVGL-ST-0377 – Standard for shipboard lifting appliances]. Products approved by this certificate are accepted for installation on all vessels classified by DNV GL," said Anja van Beest, export manager at manufacturer Van Beest.
Mark Heick, marketing manager at Safe Lifting, said, "We anticipate that these characteristics will suit the product for on and offshore maritime customers, particularly in the wind market. Not only is there much activity in that sector but the time-saving attributes of the shackle range will be attractive to a marketplace where evermore competitive tenders are contended…. We're committed to healthy stock levels and have multiple units of each capacity, up to 1,250 tonnes, available immediately. We need to be able to respond to demand for short-term rental for single lifts, and long-term hire for project durations."
Anja van Beest concluded, "Running large rigging projects for demanding end users is their [Safe Lifting's] core business. Many companies rely on their expertise to perform these jobs as quickly and efficiently as possible. These are exactly the kind of projects that benefit the most from this unique new shackle."