Salini Impregilo launches Project Italy
By Joe Sargent07 August 2019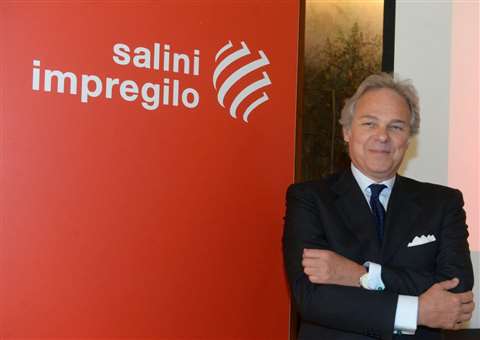 Italian construction firm Salini Impregilo has launched Project Italy or 'Projetto Italia' with the signing of two investment agreements.
Project Italy is part of the company's broad industrial plan and is aimed at strengthening the national sector of public works and construction, which represents 8% of the country's GDP.
The first investment agreement has been entered into with the controlling shareholder, Salini Costruttori, and CDP Equity - a company controlled by the Italian investment bank Cassa Depositi e Prestiti - while the second has been entered into with three as yet unnamed Italian banks.
Salini will now institute a non-divisible capital increase, to be delegated to the board of directors for a total amount of €600 million, with no pre-emptive subscription rights for existing shareholders, offered to institutional investors including Salini Costruttori, CDP Equity and the Financing Banks.
The signed agreements include (subject to the fulfilment of certain conditions) underwriting commitments relating to the capital increase by Salini Costruttori for €50 million, the protection of CDP's Equity for €250 million, and the financing banks for a combined figure of €150 million.
The new shares will be generated as part of the drive for increasing investment capital, with an underwritten value of €150 million.
The Company has implemented a stand-by pre-underwriting agreement for the newly issued shares, with unsubscribed shares underwritten, ensuring the full required capital can be raised.
Project Italy was first mentioned nearly a month ago and since then more details of what the scheme aims to accomplish has come to light. The project aims to implement aggregation with other Italian sector operators characterised by what Salini deems industrial excellence in diverse segments of the construction and infrastructure market.
The company says it expects greater efficiency within the group, by means of economies of scale and a reduction in its order book volatility.
The group also anticipates the improvement of its competitive capacity through aggregation of specialist expertise, which it will use to put itself in a market leader position in various sectors of construction.
The firm said it will take full advantage of the opportunities offered in the global market, in which €630 billion of infrastructure projects are expected in the next three years.
More directly for the company, an increasingly efficient building strategy will also be implemented with a focus on 'de-risking' the company's existing portfolio.
In a message sent to all staff at Salini, the company's CEO, Pietro Salini, said, "Progetto Italia began as an industrial project with the ambition of creating an even larger international group, capable of competing with the largest global players of our sector, and also capable of presenting itself on the market, by 2021, with €14 billion in revenues and €62 billion in backlog. Just 10 years ago, this was a dream. Today, we are working hard to make it a reality, to propel our Group into a new global scenario, creating value, for our company, but also for Italy as a nation.
"Intense, complex and challenging months lie ahead of us. Months of hard work and significant changes. Months during which everyone's contribution will be fundamental to build together something we will be proud of, a dream come true. It represents a further step in our growth process, growth for a company, like ours, that has always shown that courage, skill and passion can go a long way.
"I can assure you that I will continue to safeguard our Group's stability and growth, so that the new entity, that will have a new name, will be able to represent the values and experience that Salini Impregilo has consolidated in Italy and in every country where it works."