Sandvik goes big with tunnelling jumbo
By Mike Hayes08 October 2019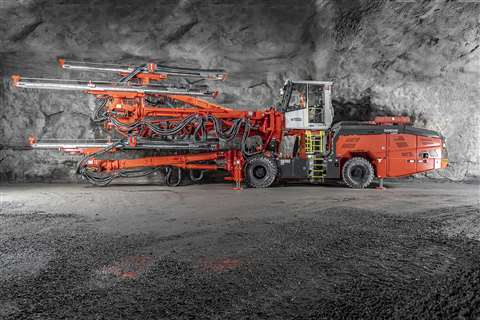 Swedish manufacturer Sandvik has unveiled its latest tunnelling excavation technology, the DT1132i jumbo drilling rig.
The heavy-duty machine features Sandvik's RD535 high-frequency rock drill, plus further rock tools for high-speed drilling.
The three-boom jumbo's modular design makes it a flexible and versatile rig, with operator-controlled boom positioning and full-face automatic drilling functions.
Sandvik says the new rig boasts a reduction in exhaust particle emissions of approximately 40%, while its penetration rate is 20% greater and accuracy and performance are also increased, due to the jumbo's adaptive drilling control capabilities.
Among its new features are a new 3m telescopic boom, optimised with a standard front wrist structure that provides 1m additional side coverage, plus 4m side coverage with telescopic adjustment.
A vibration-dampened cabin has also been designed specifically for the new rig, providing the operator with enhanced visibility. Noise level inside the cab is reduced by acoustic windows, while dust inside the cab is minimised via a filtration system.
The DT1132i has a Cummins B6.7 transmission, and a 168kW Stage V-compliant diesel engine, which, according to Sandvik, can be operated up to 5,000m above sea level without modifications.
The new engine promises a reduction in NOx emissions of up to 90% compared with stage 3 engines, as well as a more than 90% mass reduction for DPM.
The rig utilises a new carrier which uses more efficient hydraulic and water systems, including separate circuits for both drilling and tramming hydraulics and proportional flushing valves to adjust the flushing flow and inlet/outlet pressure monitoring.
For face drilling, the DT1132i comes with the new Sandvik Alpha 360 drilling system for the RD535 rock drill. This delivers features such as an optimised rod diameter with increased flushing hole size, increased flushing and higher penetration rates, as well as a new Sandvik Alpha 360 connection. The latter possesses a new larger bit thread for increased drilling power and straighter holes which gives higher advance rate per blast. For grouting, the GT38 system promises 50% less deviation and increased service life.