Sandvik introduces machine tech to streamline mining
By Jenny Lescohier29 September 2020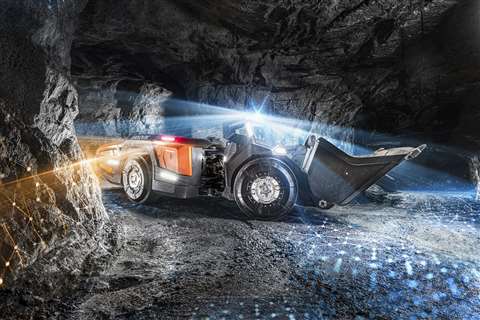 Sandvik furthers innovation in mining applications with the introduction of new concepts and machine models, including AutoMine and a battery-powered 18-tonne loader.
Sandvik Mining and Rock Technology revealed AutoMine, its future vision and concept for autonomous mining equipment, at its Innovation in Mining Virtual Event on 29 September.
The AutoMine Concept perceives its surroundings and environment in 3D and reacts to it in real time. These technologies allow vehicles to adapt and plan their own routes, and to find the most suitable paths even in continuously changing environments. Sandvik claims its obstacle detection, collision avoidance and 3D online mapping capabilities improve adaptability and increase flexibility.
"The AutoMine Concept is unique, because it has been designed ground-up for autonomous use. It is the world's first fully autonomous underground mining machine built specifically for automation," says Riku Pulli, vice president, automation at Sandvik Mining and Rock Technology. "This technology raises ease of use, effectiveness of asset utilisation and adaptability to a new level, resulting in higher productivity. These technologies will truly change the face and pace of autonomous mining."
This game-changing platform is a foundation for using the AutoMine technology in various equipment types and can be applied to any vehicle. The AutoMine Concept vehicle has a new industrial design without a cabin, and with built-in components for high reliability and productivity.
Because it's fully battery-electric, the AutoMine Concept drives sustainability in mining without carbon emissions.
In related news, Sandvik presents what it claims is the world's first 18-tonne battery loader, the LH518B, which has been designed from the ground up entirely around the loader's Artisan battery system and electric driveline.
The new LH518B battery-electric loader can fit in a 4.5 x 4.5 meter tunnel and carry 18-tonne loads. It features independent front and rear drivetrains, allowing high payload capacity while keeping a low overall height. The LH518B is equipped with three 2000 Nm permanent magnet motors. With no torque converter, transmission or engine to rev up, the loader is designed to be fast and agile.
There are no emission restrictions based on installed power to limit the electric motor selection, which enables the use of the most powerful motors available that are suited for underground conditions.
The LH518B is equipped with AutoSwap, a patented self-swapping system for the Artisan battery pack that takes about six minutes to complete and can be done in a passing bay or old re-muck bay with no overhead cranes or external infrastructure needed.
The AutoConnect feature available on the LH518B is designed to make swapping even easier and faster by automatically connecting and disconnecting the battery pack to the machine. Aside from unplugging and plugging in the charger, the operator doesn't need to leave the cabin, which saves minutes on the swapping procedure and decreases effort and risk in the swapping process.