Sanroc buys Jekko mini cranes
By Christian Shelton14 February 2018
Hong Kong-based construction machinery leasing and trading company Sanroc International Holdings has expanded its fleet with the purchase of three mini cranes from Italian manufacturer Jekko.
The owner of Sanroc visited Jekko's production plant in 2017 and subsequently ordered three Jekko units: an SPK60, an SPX424, and an SPX527.
The Jekko SPK60 has a 17.7 metre five-section main boom, plus a four-section telescopic luffing jib for a maximum tip height of 28 metres. It can also be fully operated by remote control.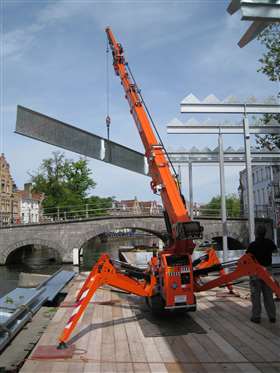 The SPX424 has an 8.5 metre five-section main boom and can handle a tonne at a height of nine metres. Maximum tip height with the hydraulic telescopic jib installed is 15 metres with a capacity of 300 kg.
The SPX527 can lift up to 2.7 tonnes with a maximum height of 18.3 metres and a working radius of 11.2 metres. A 600 kg hydraulic luffing jib with two extensions is also available.