Sarens Creators & Explorers: How We Harness the Power of Water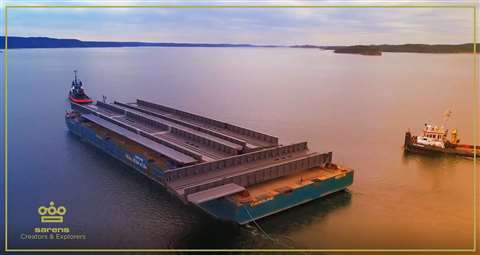 With a mighty fleet of sea-going and inland barges, Sarens dominates the waterways of Europe and beyond. Our enormous and trustworthy vessels carry the cranes, SPMTs, and jacks to lift heavy bridge components into place; load and unload heavy objects like offshore wind farm modules; and conduct special marine operations.
Although our origins are on land, with each bridge installed over the years, we have shifted closer to the aquatic world. With time, Sarens has evolved from hiring barges to developing a custom-built fleet of our own. These vessels have given us valuable footing in the maritime world and are the axis of our work on the water.
"There is an important connection between our barge activities and all other activities," says Jan Willems, Manager for Maritime Activities at Sarens. "We can put a crane on a barge, we can drive SPMTs aboard, we can use lift systems. This expands the possibilities we can offer to clients, both on land and on water."
Extraordinary Equipment
Today, Sarens' fleet includes 14 flat top barges, including four single barges and five sets of twin barges, and more than 80 different components for our innovative modular barge system. These barges can be mobilised with flexibility around the globe, allowing us to provide customised solutions for any client, any waterway, and any engineering challenge.
While our barges can carry enormous pay loads up to 20.000 tonnes, it is their stability and strength that set them apart. For example, for heavy lifts involving tall cargo, a barge must be large and stable enough to not flip over. Strength is also important: when a heavy weight is placed on both the bow and the aft, for example, it forces the barge to rise in the middle, like a banana. A barge must be able to withstand this force.
"If it is not strong—and a lot of barges are not as strong as they look—it will just break," Willems explains. "Our barges are exceptionally strong. Most are a lot stronger than the competition, which gives us an exceptional position in the market. Once a project becomes very heavy or very complicated, clients automatically come to Sarens."
Here is how our robust fleet of single barges, twin barges, and modular barges advances our work on the water:
Single Barges: Providing Stability and Strength
Measuring from 100m x 33m to 122m x 36,6m, Sarens' single barges are capable of transporting and installing wide loads that normal vessels cannot carry. Because of their dimensions, they serve as very stable platforms for installation.
This is why the Sarens barge Louis, for example, has been used to remove 3.850-tonne platform topsides from the North Sea's Valhall oil field complex and why the Sarens barge Paula was chosen to install a 580-metre bridge in Norway.
Twin Barges: Navigating Narrow Waterways
How do you sail a wide barge down a narrow river? When Benny Sarens designed our innovative twin barges, he considered this exact problem. In response, he created a special coupling system that allowed two smaller barges to sail independently, connecting to form a large single barge at their destination.
"He created a very, very strong connecting lock system—something that I haven't seen yet in the market," Willems says. "None of our competitors have made a similar replication."
Today, Sarens' twin barges navigate a vast European network of rivers and canals, including the river Seine in Paris. The Karel-Victor twin barge, for instance, has helped refurbish, repair, and remove many bridges along the Parisian waterway.
"What makes the twin barges special is that we can disconnect them to travel very far on inland waterways that are restricted by width, by height, by locks and by bridge passages," Willems explains. "We can sail up the river to remote areas on small riverways, bring them together again, and put a big crane on top."
Modular Barges: Creating Unexpected Solutions
Modular barges are the most flexible innovations in Sarens' fleet: composed of standard 40- or 20-foot containers, they boast the same special locking system as the twin barges and connect to form different combinations. They can easily be mobilized all around the world: anywhere a truck can go, Sarens modular barges can go.
"We put them into the water with a simple telescopic crane and then connect them again," explains Willems. "This means we can make huge barges on remote waters where other vessels cannot go, including on large lakes without a navigable river connection."
This is a key reason Sarens was selected to install 1.000-tonne pylons for the Champlain Bridge in Montreal. Due to the river's strong rapids, shallow waters, and powerful currents, normal vessel traffic was not possible. At the same time, the client needed a very large, stable barge to support the load of the pylons.
Sarens' solution was to place a gantry atop two modular barges travelling in parallel.
"We created a catamaran with the pylons in between, installing them with centimetre accuracy," Willems says. "It was a challenging and very beautiful project. No Canadian or American company could provide the solution Sarens did: a flexible combination of a vessel with big lifting capacity. These combinations are in the Sarens DNA. We excel at combined, specialised solutions, and that is where we make the difference."
Extraordinary Knowledge
To achieve all that we have on the water, Sarens has had to combine superior equipment with extraordinary insights. At Sarens, we know that working in aquatic environments requires a deep knowledge of engineering principles, maritime dynamics, international logistics, and the forces of nature. It has meant developing a different set of instincts and a respect for the elements.
"I learned during my long career not to fight against the water," says Willems. "When there is too much wind, when there are too many waves, no matter what you want to do, you cannot force it."
It is because of this that Sarens' team of engineers must understand the motion of the water and its currents, always considering the tides, quay heights, and small details that can have a big impact on maritime operations.
"Our engineering department creates solutions for each project with regard to stability, strength, and even motion analysis," Willems says. "We don't go out to sea before the engineering study. And of course, safety-wise, water has specific demands we must account for."
This deep understanding of the marine environment also allows Sarens to serve as an educator and guide to clients, especially those who may not be familiar with water-related works.
"A lot of our language involves terms from the maritime world, things we don't use on land," Willems explains. "It's not so difficult, but if you don't know it, it can feel a little uncomfortable."
Sarens is also adept at working within the patchwork of rules and regulations that govern the world's waterways.
"I'm very proud of what we did in Montreal for the Champlain Bridge project," Willems says. "One big logistical challenge was how to get a floating vessel into Canada, which is very protective of its waters. It took a month of negotiations with Transport Canada to get the barge certified and approved for operation. The barge was shipped as containers to Montreal, then dropped and connected in the water. The vessel sailed under the Belgian flag, with inland European certificates and some additional Canadian requirements, onto their river. It was a big challenge, but we succeeded—and it created a very good feeling."
Extraordinary Possibilities
Sarens' legacy is proof that there truly is nothing too heavy—on land or on water. Today, we pride ourselves on designing custom solutions for any client, any project, and any waterway. In addition to providing the right barge for any challenge, Sarens offers a complete service package that includes in-house engineering support, full SHEQ compliance, and all auxiliary equipment from mooring winches to ballast systems.
To work with Sarens on your next water-based project, please contact Jan Willems at maritime@sarens.com to discuss the possibilities.
"It's true that barges are only metal boxes that float on the water," says Willems, "but you could talk for hours about them, and the possibilities are endless."
In-Depth: The Sarens Fleet
Single barges
Caroline: 122m x 36m x 7,6m
Louis - Paula - Jan: 100m x 33m x 7,6m
Twin barges
Ruth - Silke: 90m x 30m x 7,6m
Hannelore - Jannika: 90m x 30m x 7,6m
Tom - Wim: 60,7m x 29,4m x 6m
Karel - Victor: 61,5m x 22,8m x 4,5m
Jozef - Rosa: 51,9m x 19m x 3,5m
Sarens modular barge (SMB)
80 modules for a variety of configurations